After volunteering for the 2011 Boston Marathon®, Marissa Capua became determined to run it someday herself. "Despite their pain, the runners had smiles on their faces," says Marissa, who was stationed just before mile 17 of the 26.2-mile race that year. "It was really inspiring."
"It was a very emotional moment and I don't think I've ever been that proud in my life," Marissa says about finishing last year's Boston Marathon®.
Last year she got her chance, running and raising funds for the Mass General Emergency Response Marathon Team. She ran in honor of her parents, who have both been treated at the Massachusetts General Hospital Cancer Center. The experience was so exhilarating, she's running on the team again this year.
It's not been an easy five years for Marissa's family. In 2014, her father was treated for pancreatic cancer. Then, in 2017, her mother was diagnosed with an aggressive form of brain cancer called glioblastoma. By marathon day last year, she had just finished a rigorous course of surgery, radiation and chemotherapy.
Last year's marathon had some of the worst weather in its history, with biting winds and relentless rain. Yet Marissa's mother and father sat there in the grandstand at the finish line, in their ponchos under umbrellas.
Through Rain and Wind
"It drove home the point that my parents are always there for me," Marissa says. "As I got close to the finish line, I scanned the grandstand and there was my mom smiling."
Her sister, Kristine Capua, and the rest of her family came running over to hug her and celebrate her achievement. They were there to also welcome her mother's sister, Julie Sgroi, who was also running on the Mass General Emergency Response Marathon team.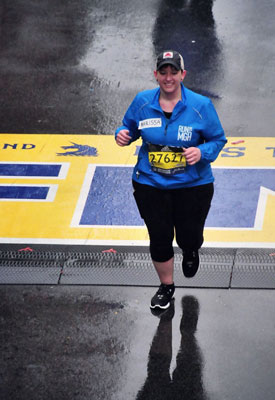 "It was a very emotional moment and I don't think I've ever been that proud in my life," Marissa says. "It's an amazing cause and I'm definitely looking forward to doing it again."
At this point, the Emergency Response Marathon team really is the family team. Her sister also ran for it several years ago, when she was a 911 dispatcher. They've all wanted to support Mass General's emergency preparation and response efforts, which were activated following the 2013 marathon bombings.
"And it's fitting too that it's for the hospital that has treated my parents so well and saved the lives of so many others," Marissa adds.
Marissa played rugby at the Worcester Polytechnic Institute, where she received her B.S. in Environmental Engineering in 2014. She started running her freshman year as part of her rugby training. Running, and occasionally lifting weights, is now her main way to stay in shape. She is currently a brewery technician at Craft Brew Alliance in Portsmouth, NH.
Tribulations and Celebrations
She's again taking advantage of the great team resources for training and group runs, as well as nutritional and fundraising advice. She's also training a little differently this year, "making sure that I'm keeping my legs moving every day," she says.
Like many runners during the rainy 2018 Boston Marathon®, she stuck her first name on her jacket with a piece of duct tape. Spectators look for the names to personally cheer runners on.
Her run is a tribute to all her parents have ever done for her. "It is a way to give back to them and Mass General," she says.
"It's so cool because it feels like they are cheering for you," she says. "It's just so powerful and got me through last year."
Her mother's cancer in particular was unexpected and difficult for her family. "But she's been positive throughout the entire journey and that keeps us going as well," Marissa says.
And this year the family is celebrating her father being cancer free for five years.
Giving Back
She's hoping the weather cooperates and her parents will be able to watch her run Boston again on April 15, 2019. Either way, her run is a tribute to all they've done for her.
"It is a way to give back to them and Mass General," she says.
Please consider supporting Marissa Capua and the other dedicated runners raising funds for Emergency Response.
For more information or to support the Emergency Response Team, please contact us.
John Hancock-Mass General Marathon Partnership is Powerful Source of Support
John Hancock's partnership with the Mass General Marathon Program continues to be a strong and unwavering source of key funding for hospital programs. For 22 years, John Hancock has provided Mass General runners with invitational entries for the Boston Marathon®, as well as an opportunity to fundraise on behalf of the hospital.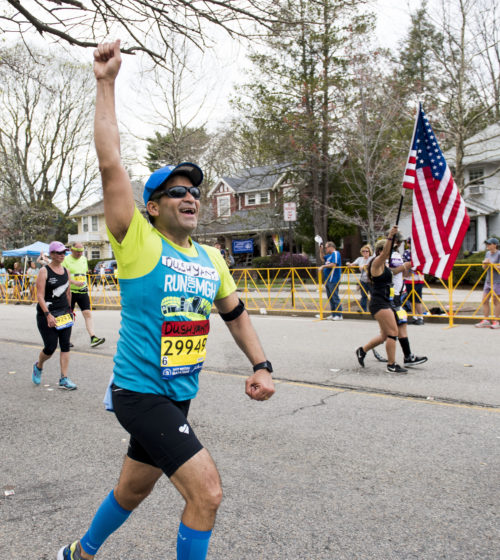 Mass General's Pediatric Cancer Team has raised more than $14.4 million since it was formed in 1998. Funds raised by this team – the hospital's longest running — support research and child-life activities for children with cancer.
In 2014, the Mass General Marathon Program expanded when awarded 40 additional entries to create the Emergency Response Team. These entries recognized the lifesaving response of hospital employees following the 2013 Boston Marathon® bombing. In the last five years, the ER Team has raised more than $1.9 million to advance the hospital's emergency preparedness and disaster medicine efforts.
Additional 2019 Entries
Thanks to John Hancock's support, Mass General has received 20 additional entries for the 2019 Boston Marathon®. Runners wearing them will raise funds to benefit the Home Base program. This Mass General-Boston Red Sox Foundation program helps veterans, active service members and their families deal with the invisible wounds of war.
Additionally, through the Run for MGH Team, runners who acquired their own entries for the Boston Marathon® raise funds for various Mass General programs that are near and dear to their hearts. Programs being represented by 2019 runners include: Caring for a Cure, Cystic Fibrosis, Down Syndrome, the Lurie Center for Autism and the Mootha Lab.
To learn more about the Mass General Boston Marathon® Program, please visit our website.