Expanding the Boundaries of Patient Care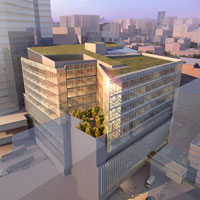 Since current facilities were not originally designed for today's multidisciplinary approach to care, in which teams of specialists in related medical areas co-locate and collaborate on a patient's examination, diagnosis and treatment plan, Mass General embarked on a major two-phase clinical expansion program. Phase I – the Yawkey Center for Outpatient Care — opened in October 2004. It houses outpatient services in cardiology, orthopaedics, women's health, pediatrics and the new Cancer Center, where all outpatient cancer services are centrally delivered. We are now in the construction stage of Phase II — the Lunder Building, which will address specific needs of the hospital's emergency services, radiation oncology, radiology, inpatient and outpatient surgery and related support procedures, and acute and intensive care inpatient capacity.
Critical Needs Addressed in the Lunder Building
The new Building for the Third Century of MGH Medicine will be a state-of-the-art outpatient and inpatient facility. An expanded Radiation Oncology unit will be located below ground to accommodate the special needs of radiation oncology. With 10 floors above ground, the building will house an expanded Emergency Department, three floors of integrated inpatient and outpatient services including operating rooms and imaging rooms and five acute care and intensive care inpatient floors.
The building will connect directly to the Yawkey Center for Outpatient Care and the core campus to ensure patient ease of access and physician and nurse efficiency. It will be built to accommodate new and evolving medical technologies ensuring that our patients will have access to cutting edge care.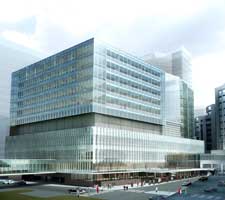 Offering a very visible and highly functional improvement to the overall hospital, the Lunder Building will feature a fully reorganized emergency services area. A multi-million dollar gift from renowned business leader, philanthropist and Mass General friend Sumner Redstone will make possible the enhanced Sumner M. Redstone Emergency Department. This world-class department will be bolstered by a protected emergency entrance, providing a weather-shielded environment for patients arriving at Mass General by ambulance. It also will feature amply expanded space to benefit Emergency Department patients, families, clinicians and staff. The Emergency Department handled approximately 78,000 visits last year, and historically more than half of the inpatient admissions to Mass General come via the Emergency Department.
The Radiation Oncology center will be redeveloped and expanded to accommodate the growing need for its services. The center — to be named the James M. and Ruth P. Clark Center for Radiation Oncology, thanks to a generous gift from two committed supporters — will be located next to the Francis H. Burr Proton Therapy Center to ensure patient ease of access and efficiencies in coordinating care to cancer patients undergoing radiation and proton beam therapies.
Three floors will be dedicated to inpatient and outpatient procedures. These floors will integrate operating rooms with pre- and post-operative services, such as radiology and imaging, to ensure efficient, timely and effective coordination of treatment.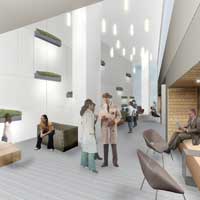 The top five floors in the Lunder Building will house up to 150 acute and intensive care beds, with floors dedicated to cancer, neurology and neurosurgery patients. Because of the serious nature of these patients' illnesses, all will be single patient rooms.
The building was constructed on the site of the old Clinics, Tilton and Vincent Burham Kennedy buildings.  Design was by NBBJ Architecture, Turner Construction managed the construction. Programming consultants were Meredith Spear and Jerry Darby of Kurt Salmon Associates.