June 23, 2016 marked the fifth anniversary of Massachusetts General Hospital's dedication of the Lunder Building. Its state-the-art technology has enhanced the care of thousands of Mass General patients.
"The Lunder Building has also become a model for other hospital building projects around the world."
"As I look back over the last five years, I am delighted that the building has exceeded our ambitious goals," said Peter L. Slavin, MD, Mass General's president.
"The technological advancements and patient and family amenities have enabled us to provide the highest level of care to some of our sickest patients," Dr. Slavin added. "The Lunder Building has also become a model for other hospital building projects around the world."
Lunder Building Features
Located at the heart of the MGH campus, the 530,000-square-foot facility features 150 patient beds and 28 procedure/operating rooms. The 2011 opening of the 14-floor facility allowed Mass General to expand, co-locate and augment services in many departments. These included cancer, neurology, neurosurgery, radiation oncology and emergency care.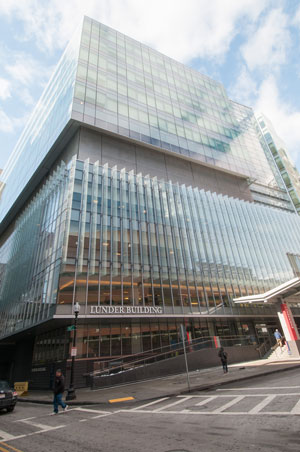 The Lunder Building's advanced features include a surgical suite with a powerful, ceiling-mounted MRI. The movable MRI allows surgeons in two operating rooms to perform delicate procedures, such as the removal of brain tumors, with unprecedented accuracy, safety and efficiency. Meanwhile, sound-reduction features such as rubber floors help keep patient areas quiet. The expanded emergency department includes a larger, covered ambulance bay where patients have privacy and shelter from the elements.
The Power of Philanthropy
The Lunder Building symbolizes the transformative power of Mass General's philanthropic partnership with its dedicated donors. More than 1,000 individuals and groups raised a total of $191.7 million in funding for the Lunder Building. At its 2011 dedication, a series of events honored many of those donors.
Peter and Paula Lunder, for whom the building is named, participated in those events along with their family, friends and hospital leadership. The Lunders and their charitable organization, the Lunder Foundation, supported construction of the building. They also helped to launch the Lunder-Dineen Health Education Alliance of Maine. The Alliance has identified gaps in health education in Maine and allowed Mass General to collaborate closely with Maine healthcare professionals to address those needs.