Former U.S. Sen. Paul G. Kirk, Jr. of Massachusetts understands that the wars of Iraq and Afghanistan are not over for today's veterans and families. This is why he made a planned gift to support The Red Sox Foundation and Massachusetts General Hospital Home Base Program. Home Base provides lifesaving care to veterans and their families affected by post-traumatic stress and traumatic brain injury. These invisible wounds are long-lasting for approximately one in three post-9/11 veterans.
The son of a World War II veteran and a retired Army Captain himself, Mr. Kirk's initial exposure to the more recent veterans stems from his tenure in the U. S. Senate. In 2009, after a distinguished career in public service and law, he was appointed to fill the vacancy created by the death of Sen. Edward Kennedy of Massachusetts.
His Senate assignments included the Armed Forces and Homeland Security committees. As senator, Mr. Kirk attended several funerals where he bore witness to the tragic losses Massachusetts families had endured. He recalls one funeral where the victim's young wife and mother spoke. "I don't know how they were able to do that," he says.
A Gift to Honor his Father
Mr. Kirk's gift is also a tribute to his father, Judge Paul Grattan Kirk (1904-1981). As commanding officer of the 101st Infantry Regiment, his father served with the 26th (Yankee) Division of the Massachusetts National Guard and the 7th U.S. Army in France, receiving five battle stars in Europe. "My father was a patriot who respected all individuals in every branch of service." Mr. Kirk says. "He would have been proud to be associated with Home Base."
Mr. Kirk first learned about Home Base at a kickoff event on Veteran's Day 2009 at Fenway Park. Meeting and speaking with young veterans that day stirred him to invest in the program's future. Practically speaking, Mr. Kirk's choice of a charitable gift annuity offered him and his wife an opportunity to donate appreciated stock and receive tax benefits and a continuous income stream.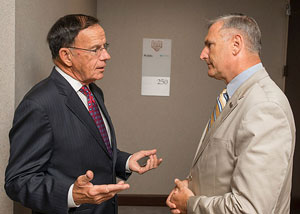 Sharing in the Sacrifice
Mr. Kirk hopes his gift inspires others to contribute. "We may not have been directly connected to a loved one who served, but that doesn't excuse us from our responsibility to share in their continuing patriotic sacrifice."
"The fact that these men and women are volunteers doesn't mean they are less brave or any less hurt," Mr. Kirk adds. "Those who joined the National Guard, expecting to do a weekend a month and a couple weeks in the summer, ended up going on four, five combat deployments in some faraway land. The best way I know to acknowledge their service and sacrifice is to now help them and their families on their rocky road to recovery."
Too often, the toughest part of war is coming home. Veterans who are 18–24 years old are four times more likely commit suicide compared to their civilian counterparts. Other side effects include divorce, high rates of substance abuse and disproportionally high unemployment rates.
An Ideal Place for Veterans
Internationally renowned, Mass General is the ideal medical leader of Home Base. The hospital lays claim to the nation's best psychiatry, physical medicine and rehabilitation and neurology programs. Its staff includes world experts in post-traumatic stress, traumatic brain injury, substance abuse and other related conditions.
In five years, Home Base has provided care and support for more than 7,500 veterans and family members and trained more than 14,000 clinicians. The word is getting out now about the difference Home Base makes. In the last year alone, visits to the clinic increased 30 percent.
"War is still going on for a lot of service families," Mr. Kirk says. "There is a debt that we still owe."
Gen. Jack Hammond, Home Base's executive director, aims to do more. He wants to transform the way care is delivered to veterans. Home Base is leading efforts to build a network throughout New England and across the country. At Mass General, Home Base is piloting a two-week program to address more complex needs and to enable more patients to obtain services.
Immediate gifts and future support through a charitable gift annuity, bequests, or other planned gifts are just what Home Base needs, Gen. Hammond says. "We are so grateful for this gift from Sen. Kirk and hope that others will follow his example. Our goal is to ensure long-term program stability and growth well into the future."
You Can Help
"War is still going on for a lot of service families," Mr. Kirk says. "There is a debt that we still owe. This is an opportunity for us as citizens to salute their patriotism by supporting the noble recovery mission of the Home Base Program."
To support Home Base, please contact us. To learn more about making a planned gift, please contact the MGH Development Planned Giving team.