Jim Thompson has made an indelible mark on Massachusetts General Hospital, serving in leadership positions for the past 29 years. In July, Jim will step down from his position at the helm of the Mass General Development Office where he has served for 19 years.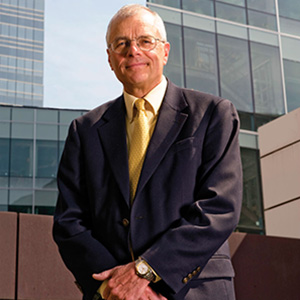 As chief development officer and vice president, Jim was responsible for building one of the most successful development programs in health care. During Jim's tenure, the MGH Development team raised nearly $2.7 billion, transforming the campus with capital campaigns for new buildings including Lunder, Yawkey, and Blake to name a few. Such efforts also provided critical funds for hundreds of patient care, research, education and community programs.
Under Jim's leadership, the hospital successfully completed the largest campaign in MGH history. The Campaign for the Third Century of MGH Medicine raised $1.72 billion, surpassing the original goal of $1.5 billion a year earlier than expected. More than 178,000 donors from around the world contributed to the Campaign. Beyond the numbers, this ambitious campaign was about impact—for Mass General and for patients and families everywhere.
An Inspiring Visionary and Mentor
"I was so fortunate to have spent the majority of my professional career at the MGH," Jim says. "It is a remarkable institution and it was a privilege to lead Development to enhance and build upon the culture of philanthropy in partnership with volunteers, donors and employees."
"Jim's deep commitment to our work and our mission has defined his tenure at Mass General."
Thanks to Jim, the Development Office's momentum continued far beyond the Campaign. A year after the Campaign, the Development team raised $268 million—its second best year ever. Meanwhile, the staff has grown to 130 from 35 in 1996. Today, more than 500 volunteers are committed to advancing Mass General's mission. And the number of events has skyrocketed from a few annual programs to more than 300 local, regional, national and international events annually including community fundraising initiatives.
"In his role as a leader, he is a trusted advocate who exudes warmth and integrity," says Peter Slavin, MD, MGH president. "Jim's deep commitment to our work and our mission has defined his tenure at Mass General."
"Jim has a unique ability to connect with people in a very personal way. His interest in others is genuine. His keen sense of humor delivered with a twinkle in his eye coupled with his devotion to his family make for an unbeatable combination. People love being with Jim, he just makes you feel better about yourself," remarks Brit Nicholson, MD, MGH chief medical officer. "His impromptu walks through the office and universal accessibility are much appreciated by staff. I admire Jim as a leader, a mentor and a friend."
Mass General wishes Jim well in his new role as senior vice president of Lahey Health System.