Lynn Black, MD, MPH, is no stranger to disaster. But when the veteran emergency responder from Massachusetts General Hospital stepped off a helicopter in southern Haiti five days after Hurricane Matthew passed through, she was shocked.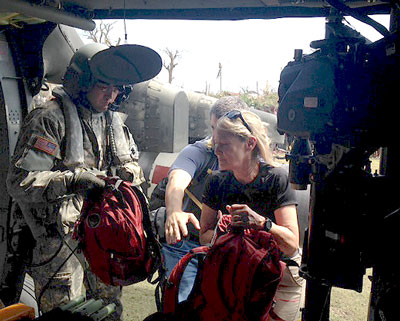 Dr. Black, a member the disaster response team organized by the Office of Disaster Response at Mass General Global Health, was one of five Mass General staffers who were part of relief efforts in Haiti. Another 10 responded to areas affected by the hurricane in the U.S.
The Hurricane Matthew Challenge
Backed by intensive planning and preparation, Mass General disaster response teams have a long history of responding to such catastrophes.
"Our goal is to send teams of professionally trained and equipped disaster responders to work closely with local communities, assessing and providing medical services for people who are affected," says Hilarie Cranmer, MD, MPH, director of the Office of Disaster Response. "Our responders to Hurricane Matthew took on an immense challenge and handled it with professionalism and compassion."
Dr. Black went to Haiti in collaboration with the St. Boniface Haiti Foundation, which has a hospital on Haiti's southern peninsula where the hurricane hit hardest and where she is on the board of directors.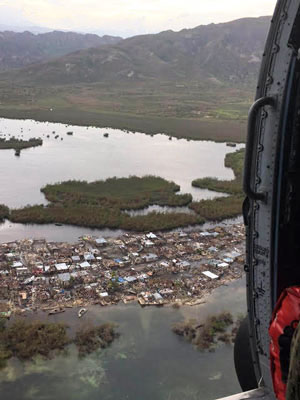 Devastation Beyond Her Experience
Although she has been to Haiti many times, including after the 2010 earthquake, the devastation of this storm was far worse than she expected and the response was far slower.
"We were the first people they had seen five days after the hurricane," she says. There were infants and pregnant women drinking unclean water, people with untreated injuries and only spoiled, rotted food to be found.
The female mayor took her by the hand and guided her through the crowd to a small medical clinic which was half destroyed.
"It was filled with people with festering wounds," she says. "They had run out of bandages. There was no clean water to wash them."
Mobilizing the Relief Effort
She and her colleague, Conor Shapiro, president of the St. Boniface Foundation, worked to determine what help was needed and to mobilize relief from organizations such as United States Agency for International Development and the military.
She entered a hospital in Les Cayes that had all but shut down because of the destruction. "There was a woman in active labor who had just been told to go home because they could do nothing for her," Dr. Black recalls. "She looked stunned."
Dr. Black learned that the woman's first child had died in childbirth and she was fearful the same thing would happen now. She bundled the woman into their vehicle and drove her to a small private hospital. The woman delivered her baby successfully a few hours later.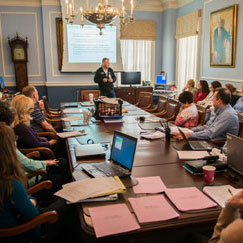 She also discovered three seriously ill infants, one with pneumonia, another suffering from severe malnutrition and a third with an unknown illness. She transferred two to St. Boniface Hospital, which was functioning well. The third did not go because the father was worried the hospital was too far from home. The doctor doesn't know what happened to the third child.
Long Road to Recovery
Dr. Black says it will be a long road back for the hurricane damaged parts of Haiti. Many farm fields have been swamped by seawater. Homes and other buildings need rebuilding and cholera, a disease exacerbated by a lack of clean drinking water, is on the rise.
She says Mass General is on the forefront of training and equipping disaster responders to go into such devastated areas.
"I am so proud of Mass General and its being so very dedicated and rigorous in having an appropriate response that will leave a sustainable impact," she says
To aid in the response to Hurricane Matthew, the Mass General Development Office has activated an emergency response fund that is used to provide social services support for emergency care, disaster relief and disaster preparedness training. Donations are being accepted online.
To learn more about Mass General Global Health programs, please contact us.