Carol and James Herscot want to transform the lives of children and adults with tuberous sclerosis complex (TSC). In 2005, they gave $10 million to establish a comprehensive care center that could provide patient-centered, multidimensional treatment to people fighting the complicated genetic condition. Since then, the Herscot Center for TSC at Massachusetts General Hospital has become more than a world-class treatment center—it is beacon of hope for individuals with TSC and the families that love them. Now, on the 10th anniversary of the center's opening, Mr. and Mrs. Herscot reaffirm their commitment, solidifying their legacy with a generous gift of $17.5 million.
The Herscots are longtime Mass General benefactors who have given generously to a variety of programs and initiatives.
The Herscots are longtime Mass General benefactors who have given generously to a variety of programs and initiatives. They supported construction of the Lunder Building, where the James and Carol Herscot Atrium is named for them.  Through the years, they have also provided support for cardiology, cancer research, chair endowments and facilities such as the Ellison Building and the Yawkey Center.
The new gift to the Herscot Center for TSC will help fill a crucial care gap that the Herscots understand all too well. When their son, Brad, started having seizures around 40 years ago, they struggled to find answers. At the time, few doctors had heard of TSC; even after a diagnosis, the Herscots had to fight for the best care possible. Carol explains: "It was a very difficult time. We went from one doctor to the next and no one could offer us guidance or advice. That's why this effort is so important to our family."
Finding the Right Doctor
Worldwide, TSC affects an estimated 1 million people, with approximately 50,000 diagnosed cases in the United States alone. It strikes all ethnicities and sexes equally—and almost all organ systems in the human body. TSC causes tumors that can lead to a diverse array of issues, including seizures, autism, developmental delays and learning disabilities, as well as kidney, lung, heart and skin complications. Such a multifaceted condition presents enormous treatment challenges; with appropriate treatment, though, many individuals with TSC live healthy, productive lives.
Eventually, the Herscots found a doctor who was up to the challenge: Elizabeth Thiele, MD, PhD, a Mass General pediatric neurologist and professor of Neurology at Harvard Medical School. Dr. Thiele is one of the world's foremost TSC experts, a doctor committed to improving the lives of her patients and, from the start, the director of the Herscot Center.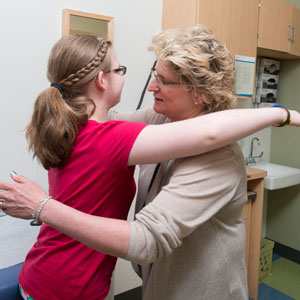 "Their gifts significantly expand and enhance our ability to coordinate and deliver specialized, comprehensive services," Dr. Thiele explains. "The Herscots have committed themselves to improving the lives of the children and adults in our care in ways that are real and measurable. Their many contributions to the Herscot Center for TSC at Mass General have made an impact that is profound and long-lasting."
Broad Access to TSC Services
Thanks to the generosity of Mr. and Mrs. Herscot and the dedicated work of Dr. Thiele, both adults and children can now access the diverse, long-term services they need. Based in the Center for Outpatient Care at MGH, the Herscot Center provides access to a team of over 40 top neurologists, nephrologists, nutritionists, genetic counselors, social workers and other TSC experts. Indeed, the Herscot Center renal group, comprised of nephrologists, urologists and radiologists, is the largest and most comprehensive group addressing kidney issues related to TSC in the world. Now, the Center — one of the few hospital-based programs to treat both children and adults — is widely recognized as a hub for research and education about the disease.
"Ten years later, the Center has exceeded our expectations," says James Herscot.
From the outset, the Herscots wanted the Center to be a reliable source of information and a real support system, a welcoming place where patients and their families can receive a continuum of care. "Ten years later, the Center has exceeded our expectations," says James Herscot. "We couldn't be more proud of the Center and our association with MGH." With this new gift, the center can continue to provide world-class care and, hopefully, continue to shatter expectations.
Support the Herscot Center
Help deliver specialized, comprehensive TSC care to every child and adult who needs it.
To donate to the Center by mail, please make a check payable to "MGH-Herscot Center Fund" and mail it to:
Massachusetts General Hospital
Development Office—Suite 540
125 Nashua Street
Boston, MA, 02114
To learn more about how you can support the work of the Herscot Center for TSC, please contact us.