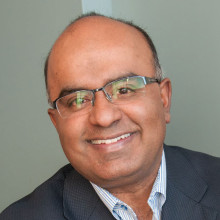 Sekar Kathiresan, MD, and his team are looking to genes for clues about preventing heart attacks.
His work is motivated by the patients who he has treated at Massachusetts General Hospital over the years as director of Preventive Cardiology. In 2010, he met a 41-year-old man who had a very strong family history of heart attack— even without risk factors like high cholesterol or high blood pressure. Despite modern medications, the man could not overcome his family history and needed bypass surgery at age 43.
Heart attacks are partly the work of genetics. If your mother or father had a heart attack at a young age (before age 55 for a male or before age 65 for a female) that increases your own risk by two- to three-fold, Dr. Kathiresan explains.
Genes Linked to Heart Attacks
Dr. Kathiresan wants to better understand which genes are linked to heart attacks and how they contribute to a person developing heart disease. His goals also include determining how researchers can apply knowledge gained from genetic research to improving preventive cardiac care.
But Dr. Kathiresan knows lifestyle choices play a critical role. As much as genetics, heart attacks are also the result of 40 years of cheeseburgers, a more sedentary lifestyle than our ancestors and our good fortune of enjoying a longer lifespan. Heart disease remains the leading cause of death for both men and women in the United States, despite the widespread use of medications and emphasis on lifestyle changes that have dramatically decreased the incidence of heart attacks since the 1950s.
Because Dr. Kathiresan regularly treats patients at Mass General, he is able to bring his clinical observations about family and lifestyle choices to his work with genes. The man who required bypass surgery at age 43 is participating in his studies and is doing well with treatment.
To investigate the genetics of heart disease, Dr. Kathiresan and his team are combing through the human body's DNA sequence. He compares the process to pouring over individual letters spread throughout the chapters of a huge book.
The team uses powerful DNA sequencing technologies and computer analysis of "big data" to do their work. From the 3.2 billion "letters" present on DNA sequences in our complete set of chromosomes, they have isolated 45 locations on DNA sequences that contribute to risk for heart attack. Of those, 10 relate to cholesterol, five relate to blood pressure and 30 do not relate to any known risk factors.
It is the identification of the 30 spots not correlated to known risk factors that excites Dr. Kathiresan. They are the ones that promise treatments beyond what we are currently doing to help people, he says.
With funding from the 2013 MGH Research Scholar Award, Dr. Kathiresan says he is now able to explore his boldest ideas and not limit his research to the goals of particular grants.
Searching for Protective Genes
Dr. Kathiresan focuses a portion of his research on the search for protective genes. These genes would help a person avoid heart disease and could be key in the development of new drugs to manage heart disease, he explains.
With funding from the 2013 MGH Research Scholar Award, Dr. Kathiresan says he is now able to explore his boldest ideas and not limit his research to the goals of particular grants. The research scholar model differs from many funding models out there because it invests in a researcher, not just a project, he says. "The research scholar awards are funding individuals with a track record of success," says Dr. Kathiresan. "The environment is important and resources are important, but most often, it is the specific individual who is critical for impact, in biomedical science or any other field."
For Dr. Kathiresan, impact and success will be defined by helping his patients. "If our work can help prevent people from having their first heart attack and subsequent cardiac events that damage their hearts, that would be the ultimate goal."
To learn about how you can support MGH Research Scholars like Dr. Kathiresan, please contact us.