With the temperature at 95 degrees and humidity feeling as thick as fog, almost everything on the New Hampshire seacoast had slowed to a crawl on Saturday, July 20, 2019. But the only concession made by the 64 bicyclists participating in the 2019 Granite State Quest fundraising ride was that they trekked 35 miles that day, instead of the usual 50.

They and the many volunteers and supporters behind the annual event have a connection to someone with cancer. Regardless of the weather, they look forward to the opportunity each year to raise funds for pediatric cancer research at MassGeneral Hospital for Children (MGHfC). The mission of the Granite State Quest, after all, is to conquer childhood cancer. Participants largely raise money through direct appeals to relatives, friends and colleagues, via email and on personalized fundraising webpages.
Organizers said this year's Granite State Quest fundraising total will probably reach $80,000. That pushes the total raised since the event began 17 years ago to $1.8 million.
The Granite State Quest Family
Through the years, the Granite State Quest community has become more like a family. And everyone is driven to let others know about the cancer research of the Pediatric Hematology/Oncology Unit at the hospital. They've seen children – including their own – beat cancer diagnoses after treatment and care at MGHfC.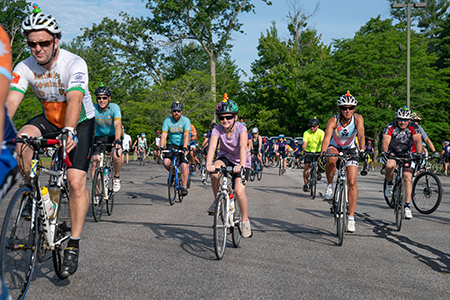 Consider the Regan brothers, 14-year-old Jack and 11-year-old Quinn, from North Attleboro, Massachusetts. They completed the ride along with their parents, Pete and Dawn, and 12-year-old sister, Ellie. Afterwards, the family sought relief from the sun under a tent at the Granite State Quest's staging ground, at the Timberland Co. headquarters in Stratham, New Hampshire.
From age three, Jack underwent nearly four years of treatment for leukemia at MGHfC. In 2018, Quinn was diagnosed with Ewing's sarcoma, a rare cancer. He completed his last round of chemotherapy at the hospital in May.
"The reasons we enjoy the Granite State Quest so much are the intimacy of the event, the easy-going coordinators and the fact that we are all here together making something great happen – especially coming from a place of pain, learning your child has cancer," Dawn Regan said.
"Cancer in isolation is unthinkable. With family and friends it is bearable, and with a community, you believe it is something you can beat."
"Everyone is so supportive," she added "and we have the opportunity to get to know families who have gone through a similar journey as our family."
In for the Long Haul
Brothers Gary and Martin Rooney feel that same tug. They appreciate the camaraderie that has formed around Granite State Quest participants' desire to beat the disease.
Their parents both lost cancer battles. Gerald Rooney, a World War II veteran, died when the Rooney brothers were young. Their mother, Ann, passed about 18 years later. Martin's first wife, Colleen, also succumbed to the disease. Like many other riders, Gary – 58, of South Berwick, Maine – and Martin – 61, of Newton, Massachusetts – learned of the Granite State Quest through word of mouth. This year marked Martin's 10th time riding and Gary's third go-round.
"Everyone behind this is great," Martin Rooney said. "They do everything the right way."
A Well-Oiled Machine
It's no surprise the Regans, Rooneys and everyone else who gets involved in the Granite State Quest quickly form a bond, according to Nancy Bassett, who coordinates food, beverages, tents and anything else that needs coordinating. "There's new people every year and the same people come back," said Ms. Bassett, who lost her 12-year-old son, T.J., to cancer 20 years ago. "Even in this heat, everyone is happy and thankful."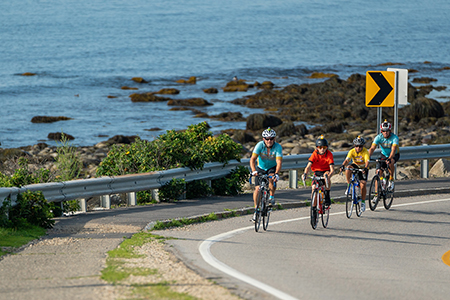 Ms. Bassett worked at Timberland with Bruce Taylor, who along with his friend Bonnie Monahan, wanted to start a cancer research charity in New Hampshire. Ms. Bassett and several other volunteers helped Mr. Taylor and Ms. Monahan get the Granite State Quest off the ground.
Mr. Taylor wanted to give back after his 8-year-old son, Alex, was treated successfully for a brain tumor at Mass General. One of his goals has always been to halt the emotional isolation felt by cancer patients and their loved ones.
"The thing I'm most pleased about is we think of this as a community," he said after the most recent event. "Cancer in isolation is unthinkable. With family and friends it is bearable, and with a community, you believe it is something you can beat."
You can still support the 2019 Granite State Quest! Please make a donation today.
Photos: Amanda Kowalski