Cancer in isolation is unthinkable, with family and friends it is bearable and with a community, you believe it is something you can beat. Thank you to all 2016 Granite State Quest participants for your commitment to conquering cancer, and congratulations on your ride.
We thank you again for participating in this year's GSQ and we hope you had as much fun as we did. More than once we heard someone say "you know, I enjoyed this more than those hot days." When coming upon a couple of riders at the beach thinking they might need some assistance, their reply was "no, we are just enjoying the view."

One of our favorite parts of the ride is the start when you can look forward and see the long flow of riders heading towards the beach – symbolizing the need and importance of a community mobilized to eliminate the terrible sting of cancer. The post ride BBQ is also a favorite, as friends, families, volunteers, alumni riders and new riders all come together for a wonderful celebration of accomplishment. Despite huffing and puffing and perhaps a few sore muscles, the middle of the ride is enjoyable as well.

With deep thanks and appreciation,
Bruce, Bonnie, Nancy, Susan, Frank, Greg, Bob and Jeff
More Information
About the Granite State Quest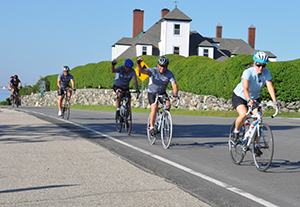 The mission of the Granite State Quest is to raise funds to conquer childhood cancer. Partnering with the Massachusetts General Hospital, the funds raised by The Granite State Quest will be specifically directed towards pediatric cancer research developed and initiated by the Pediatric Hematology/Oncology Unit of the Mass General Hospital for Children. The MGH team has world-renowned experience in treating leukemia, lymphomas and brain tumors.
Over the past 14 years, dedicated participants of the Granite State Quest have raised more than $1 million dollars. Thanks to generous in-kind donations from many businesses, 100% of the funds raised by the riders has gone directly to pediatric cancer research and patient care at MGH.
More about the ride and the day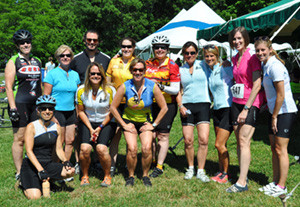 Starting and finishing at The Timberland Company in Stratham, New Hampshire, riders have the opportunity to bicycle 50 miles throughout southern New Hampshire. The route takes the riders along the beautiful NH coast and inland up and down the rolling hills of the countryside. Many riders return year after year to reconnect with new friends and riding partners – all committed to raising funds to help eliminate the terrible sting of cancer.
The day concludes with a post ride barbecue and celebration. Riders, volunteers and family members all gather to share stories of the day's ride. While there may be a few aches and pains, the riders find great comfort in knowing that they have become members of the community that is needed to bridge the gap between the hope and the reality of finding a cure for cancer.
Join the Granite State Quest in 2017. Please fill out the form below to receive updates on next year's ride.