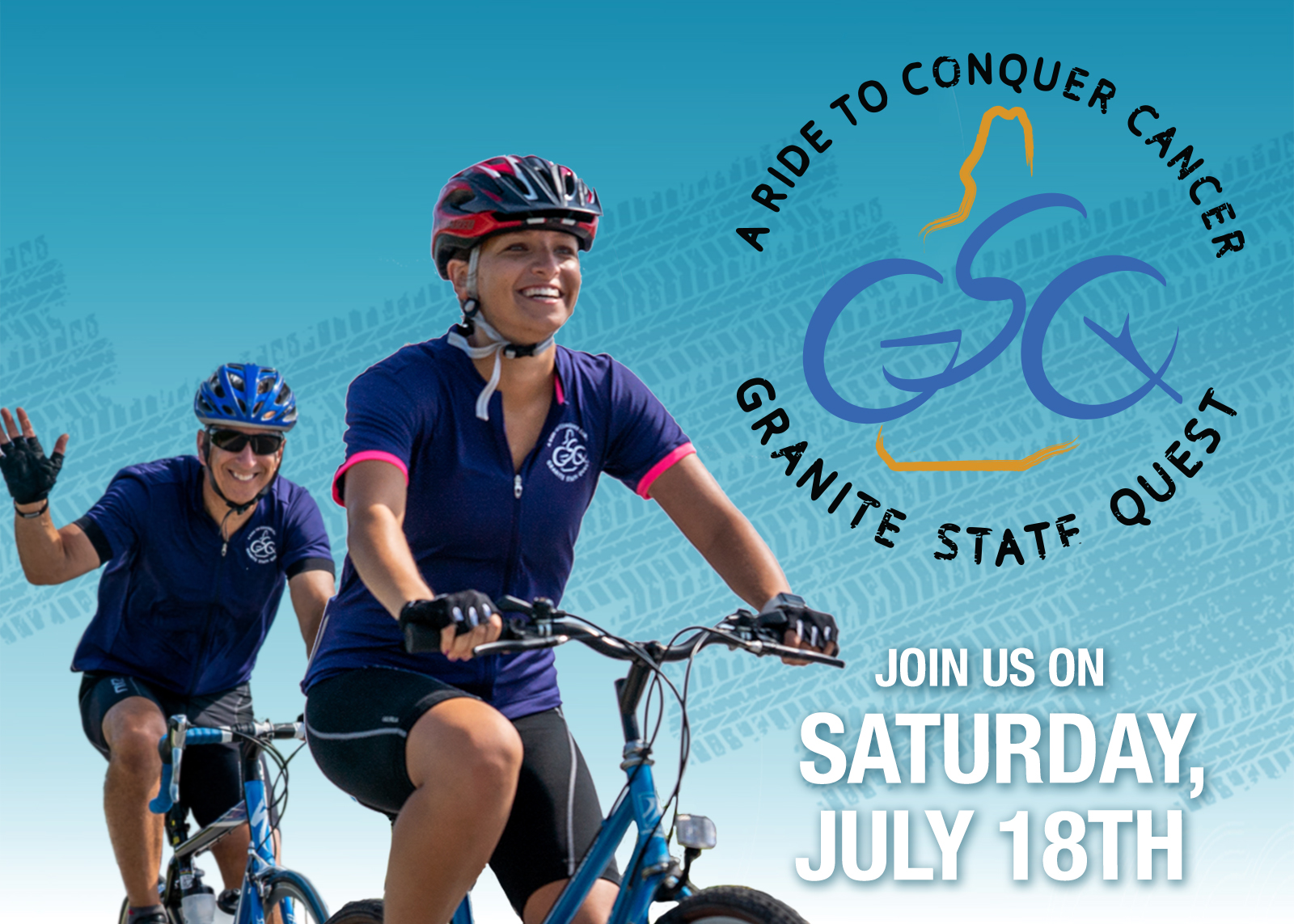 Granite State Quest 2020
Cancer in isolation is unthinkable, with family and friends it is bearable and with a community, you believe it is something you can beat. Join the Granite State Quest and ride to conquer cancer on Saturday, July 18.
HOW WILL YOU SUPPORT THE GRANITE STATE QUEST?
Details for the 2020 Ride

Date: Saturday, July 18, 2020 7:30 am
Start and Finish: The Timberland Company – Stratham, NH
Distance: 50 miles throughout southern New Hampshire
Registration Fee: $85.00
Capacity: 150
Fundraising Goals: $750 minimum per rider, $1,500 suggested
Event Goal: $150,000

About the Granite State Quest

The mission of the Granite State Quest is to raise funds to conquer childhood cancer. Partnering with the Massachusetts General Hospital, the funds raised by The Granite State Quest will be specifically directed towards pediatric cancer research developed and initiated by the Pediatric Hematology/Oncology Unit of the Mass General Hospital for Children. The MGH team has world-renowned experience in treating leukemia, lymphomas and brain tumors.

Over the past 18 years, dedicated participants of the Granite State Quest have raised more than $1.7 million. Thanks to generous in-kind donations from many businesses, 100% of the funds raised by the riders has gone directly to pediatric cancer research and patient care at MGH.
More about the ride and the day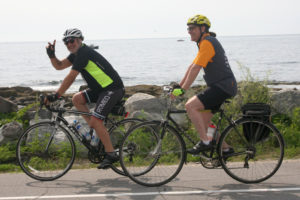 Starting and finishing at The Timberland Company in Stratham, New Hampshire, riders have the opportunity to bicycle 50 miles throughout southern New Hampshire. The route takes the riders along the beautiful NH coast and then inland up and down the rolling hills. Many riders return year after year to reconnect with new friends and riding partners – all committed to raising funds to help eliminate the terrible sting of cancer.
The day concludes with a post ride barbecue and celebration. Riders, volunteers and family members all gather to share stories of the day's ride. While there may be a few aches and pains, the riders find great comfort in knowing that they have become members of the community that is needed to bridge the gap between the hope and the reality of finding a cure for cancer.
Registration is $85 per rider and riders are asked to commit to raising $750 ($1,500 is suggested.). All funds raised benefit the pediatric hematology-oncology program at MassGeneral Hospital for Children.
Volunteer at the Granite State Quest
You don't have to ride to make a difference. The success of the Granite State Quest depends heavily on our volunteers. The Granite State Quest has numerous opportunities for you to participate, including registration, food and beverage service, mechanical support, medical support, route crew and after event celebration.
FREQUENTLY ASKED QUESTIONS
How can I sign up for the Granite State Quest?

Can I create or join a team?

Yes, you can create or join an existing team when you

register.

If you have any questions about creating or joining a team, please

contact us.

How much do I need to fundraise in order to participate in the Granite State Quest?

Riders are asked to raise a minimum amount of $750 with a recommended amount of $1,500. If you have any questions about fundraising, please

contact us.

When do I need to register by to ensure I get a bike jersey?

To guarantee a bike jersey, you need to register by May 15.

I have questions about using my web page or my fundraising dashboard. What can I do?

Please see our

how-to guide

for using your dashboard. If you have any questions or need any additional help, please

contact us.

My account email and password won't work.

Please complete the recover password form and your information will be e-mailed to you. If you are having problems recovering your user name, please

contact us.

How do I submit an offline donation?

We encourage all riders to solicit donations via their web pages for the fastest donation processing and most up to date totals. In the case of offline gifts, checks should be made payable to Massachusetts General Hospital, with "2020 Granite State Quest" and the rider's name in the memo field. Please mail offline gifts to:

Keith Erickson/GSQ Gifts

Mass General Development Office

125 Nashua Street, Suite 540

Boston, MA 02114

If you have question about offline donations, please

contact us.

Can I personalize a system generated thank you?

Yes – to send a personalized thank you message to your sponsors just log in to your account and visit your dashboard.

I made a donation and want to ensure it is credited to the correct rider.

You must visit the rider's page directly or use the search tab to locate the rider's page to making a gift in support of a specific rider. Any gift made on the rider's personal fundraising page will be credited to that person. The gift should appear immediately. If you have any issues with a gift appearing on the rider's page, please

contact us.

My company will match my gift; how do I start this process?

Many companies match charitable gifts made by their employees, retirees and directors. Please consult your company's human resources department to learn if your workplace matches gifts to hospitals and how you can request a matching gift. Your company will contact Mass General directly to confirm your gift. For more information about matching gifts, please

contact us.

How can a donation be listed as anonymous?

Your donor can choose to be anonymous when completing the gift form.

Can I make a donation in honor or in memory of someone?

Yes. After selecting a donation amount, please check the box next to "Dedicate my donation in honor or in memory of someone" and fill out the tribute form.