Massachusetts General Hospital has a long history of leadership in disaster response and humanitarian aid — and of leveraging its research and education initiatives to improve care worldwide. In 2006 the hospital formalized its commitment to these efforts by establishing the Center for Global Health.
The center is designed to support, advance and coordinate Mass General's international activities. Those efforts to improve community health cover everything from disaster response to research and primary care.
"Working at the invitation of partner organizations, we are able to apply Mass General's clinical expertise and innovative spirit in ways that make a profound difference for our neighbors here in Boston and around the world," says David Bangsberg, MD, MPH, director of the Center for Global Health at Mass General.
Mobilizing after Disaster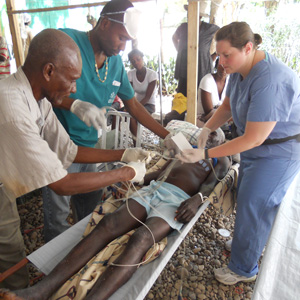 Mass General has deep experience in responding to disasters globally. Following Haiti's massive earthquake in 2010, the hospital quickly undertook a major initiative to provide desperately needed care, encourage capacity and support the ability of the Haitian people to sustain themselves. When Typhoon Haiyan hit the Philippines in 2013, rotating teams of doctors, nurses and pharmacists deployed from Mass General in the immediate aftermath and long into the recovery effort.
"We are all potential victims of disaster," says Hilarie Cranmer, MD, MPH, director of disaster response at Mass General's Center for Global Health. "Disasters are on the increase. Those that survive need water, food, healthcare. And we want to be able to respond — not just to give them mandates, but to give them dignity and the tools they need to survive after the disaster, to go on."

Collaborating on Research
The Center for Global Health also plays a pivotal role in large-scale, collaborative research initiatives along with smaller, targeted efforts. In 2009, for example, the establishment of the Phillip T. and Susan M. Ragon Institute united Mass General, Harvard University and the Massachusetts Institute of Technology with the dual mission of hastening the discovery of an HIV/AIDS vaccine and becoming a world leader in the collaborative study of immunology.
Improving Care at Home and Abroad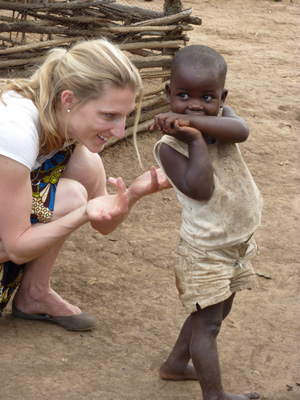 Building sustained and effective primary care is a challenge, whether in the poor farming regions of Uganda or at-risk communities in the United States. The Global Primary Care Effort (GPC) is working to develop leadership, pioneer new models of care and foster a community of learning to accelerate innovation in serving these vulnerable populations. The GPC's initial sites include rural Uganda, where it targets childhood malaria, pneumonia and diarrhea, and the urban Boston community of Chelsea, where there is a special focus on immigrant and post-incarceration populations.
At the heart of each of these efforts is the global entrepreneurship of Mass General's clinical staff, students and administrators. They are committed to enhancing and sustaining healthcare delivery worldwide. Their work relies on the resources and commitment of Mass General — and on the generous support of the larger community.