Until last summer, the Galizio family of Wayland, Massachusetts had no reason to know about a bewildering medical condition known as PANDAS.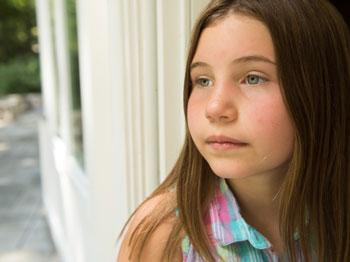 Then they departed on a Mediterranean cruise. What was supposed to be a fun-filled, once-in-a-lifetime trip quickly turned into a nightmare. Suddenly, 9-year-old Camy Galizio became terrified that the cruise ship was going to sink. Allergic to mangos, she obsessively worried that the fruit would be in her meals. On the flight home, Camy was convinced their plane would crash.
Camy had gone from carefree and joyful to worried and sad in a matter of days. Her parents, Heidi and Chris, watched with concern. "She was never scared of anything before. She really was a fearless kid," Heidi recalls. "It really just popped up out of nowhere," Chris adds. "All of a sudden she wouldn't touch the faucet, she wouldn't open the door, she was scared of bugs."
Learning about PANDAS
The family soon sought help from Daniel Geller, MD, at Massachusetts General Hospital, who works with children experiencing similar obsessive thoughts. Dr. Geller is director of the Pediatric Obsessive Compulsive Disorder (OCD) and Tic Disorder Program and the Mittelman Family Endowed Chair in Child Psychiatry. He is also an expert in pediatric autoimmune neuropsychiatric disorders associated with streptococal infections, or PANDAS.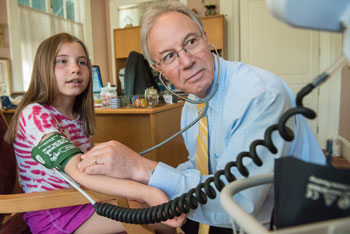 PANDAS is believed to be a misdirected immune response to strep. When the body detects strep bacteria, the immune system makes antibodies to fight the bacteria. In a child with PANDAS, it is hypothesized that the antibodies attack the strep molecules but also target the child's own tissues, including those in the brain. This immune response is believed to result in inflammation of the child's basal ganglia, the part of the brain involved with emotions, behaviors and physical movements. This abnormal immune response can cause OCD symptoms.
The concept that inflammation in the brain can cause a psychiatric disorder is not unprecedented, according to Dr. Geller. "There's lots of circumstantial evidence that immune and inflammatory processes in the brain are at work in many psychiatric disorders, including schizophrenia, bipolar disorder and autism," he explains.

And yet, among the general population and medical community, PANDAS is a relatively unknown condition, defined by the rapid onset of its perplexing and frightening symptoms. Few caregivers across the country have experience diagnosing and treating PANDAS. This leads to many kids being misdiagnosed and incorrectly treated.
Dr. Geller regularly receives letters from desperate parents around the world seeking advice for children they suspect might be suffering with the condition.
"We need to train more people and we need to disseminate knowledge," Dr. Geller stresses. 
Fearing the Family Dog
"We need to train more people and we need to disseminate knowledge," Dr. Geller stresses. "But until we have good quality knowledge to disseminate, it's all opinion. You've got to have research."
To that end, Kyle Williams, MD, PhD, director of the Pediatric Neuropsychiatry and Immunology Clinic, has teamed up with the Martinos Center for Biomedical Imaging at Mass General to develop an MRI protocol that would detect inflammation in the basal ganglia of the brain. Signs of inflammation would help clinicians establish whether a patient is suffering from PANDAS or pediatric OCD, which is not caused by a strep infection. The difference is key to determining the best treatment for each patient.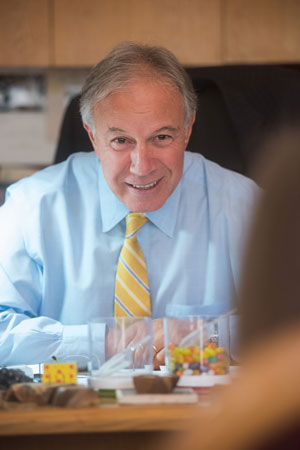 Camy Galizio's symptoms didn't stop when she returned home from the cruise. She wouldn't eat certain foods for fear of getting salmonella. She avoided petting her family's dog, Cinnamon, afraid he might pass on germs that would make her ill.
Swimming, once a favorite activity, proved especially challenging. Just looking at the pool made her mind race with worries: Was the water dirty? Would it make her sick?
PANDAS and Isolation
She began to isolate herself from her family, including her parents and two older sisters, Devon and Riley. "Some nights I would cry because I like to have someone rub my back as I fall asleep," Camy remembers. "But I was scared for anyone to come near my bed because they had germs. So my mom would sit on the floor and rub my back until I fell asleep."
A practicing psychologist, her mom Heidi recognized that the rapid onset of Camy's symptoms was a potential sign of PANDAS. A colleague suggested she reach out to Dr. Geller. He advised that Camy be tested immediately for strep. The results showed her strep count and two other important markers were twice the normal limit, all hallmark signs of PANDAS.
While most children who suffer with OCD will have a strep infection at some point in their childhood, a PANDAS diagnosis is made when there is a close association between the onset of the OCD symptoms and the strep infection.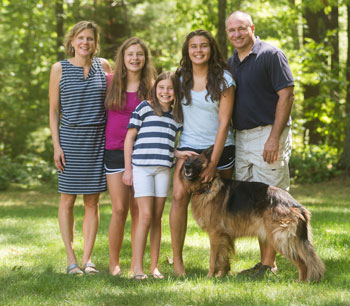 A Two-Pronged Approach
Camy began seeing Dr. Geller. He and the PANDAS team practice a two-pronged approach to treating PANDAS. It combines traditional cognitive behavioral therapy for managing OCD symptoms, and a long-term antibiotic intervention to combat the strep bacteria, the underlying cause of the symptoms. Dr. Geller also recommended that Camy have her tonsils removed to prevent future strep infections.
In addition to prescribing Camy with a long-term antibiotic and an anti-inflammatory drug, Dr. Geller connected the Galizio family with Carla Kenney, MA, LMHC, a licensed mental health counselor who specializes in home visits to treat PANDAS and pediatric OCD. She visits their home in Wayland to work with Camy on facing her fears through exposure therapy. Together, Carla and Camy confront the things she is afraid of — from turning on a light switch to cleaning her cat's litter box. Each session, Camy gets closer and closer to touching the things she is afraid of — first with rubber gloves and eventually with her bare hands.
Therapy has better equipped Camy to deal with her worries. "You have to boss it back," she explains. "If you have an OCD thought, you have to do the opposite."
Doing What She Loves
Almost a year after her initial diagnosis, Camy still practices her therapy every day. "If you don't practice every day, you won't get better," she says. But she is also back to doing the things she loves, including playing hockey, spending time with her pets and eating exotic foods.
"I'm so thankful he could help us and help Camy, because he knew exactly what to do," Heidi says.
Dr. Geller feels optimistic about Camy's prognosis, and credits her positive outcome to early detection and her commitment to therapy. While she still has some worries, she proudly says, "they are nowhere near as bad as they used to be."
Meanwhile, the Galizio family is happy to have Camy be Camy again. They are especially grateful to Dr. Geller for his role in putting a smile back on her face. "I'm so thankful he could help us and help Camy, because he knew exactly what to do," Heidi says. Adds Camy: "He knows a lot about how to help kids like me."
Mass General Clinic Meets Growing Patient Need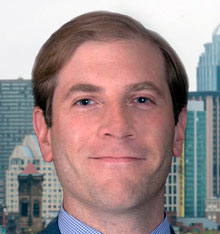 In order to meet the growing need for evaluation of children with PANDAS, the Department of Psychiatry at Mass General established the Pediatric Neuropsychiatry and Immunology Clinic, and recruited child psychiatrist Kyle Williams, MD, PhD, to lead the multispecialty clinic.
Dr. Williams believes the lack of knowledge about PANDAS can lead to physicians overlooking the possibility of a post-strep infection reaction in children exhibiting OCD symptoms. OCD is a common disorder, affecting 1-2% of the population.
Determining Who Has PANDAS
"The main issue that we deal with in our clinic, and in clinics across the country, is determining who has PANDAS and who doesn't," Dr. Williams explains. "We can't test someone's blood and say you definitely have PANDAS. The diagnosis is made clinically – from someone looking at a patient and knowing the symptoms."
Dr. Williams and the team he has formed in the clinic have evaluated more than 350 patients in the past three years. It is one of only a few clinics in the world that takes a multidisciplinary approach to diagnosing and treating PANDAS. Clinicians from the Department of Psychiatry work closely with colleagues in neuropsychology, infectious disease and immunology to treat patients and conduct research on the biological basis of the disease.
To learn more about supporting the Pediatric Neuropsychiatry and Immunology Clinic or the Pediatric OCD and Tic Disorder Program, please contact us.