Cancer care at the Massachusetts General Hospital Cancer Center is moving into a new, innovative era as the center protects patients from the coronavirus while continuing to deliver world-class care.
We've created a system that allows you to get more of what you need to take care of your cancer closer to home.
Telemedicine, video conferencing and the expanded use of Mass General's satellite facilities and partner hospitals are making cancer care easier, faster and better, says David Ryan, MD, clinical director of the Mass General Cancer Center, chief of the Division of Hematology/Oncology and the Shelby Memorial Professor of Medicine at Harvard Medical School.
"Cancer care has changed, but it has changed for the better," Dr. Ryan says. "One of the great things that has happened is that we've created a system that allows you to get more of what you need to take care of your cancer closer to home." Clinical visits and treatments, including participation in clinical trials, are becoming more available beyond the main hospital campus in Boston.
Mass General Cancer Center is a leading provider of cancer care in the Northeast, treating more than 22,000 new patients a year with the most advanced therapies and leading or participating in more than 500 clinical trials.
Rapid Innovation Delivers Lifesaving Cancer Care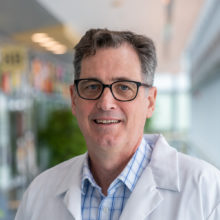 When the pandemic first accelerated in the Boston area in early March, the Mass General Cancer Center swiftly responded. Office visits were largely suspended and replaced with virtual visits. At the same time, the center continued necessary treatments for patients on active therapy. Special units were created at the Mass General Cancer Center in Boston to safely and separately treat cancer patients who had also contracted COVID-19.
The Mass General Cancer Center's satellite facilities in Danvers, Newton and Waltham and around the region expanded their role in delivering lifesaving treatments and conducting necessary hands-on diagnostic checkups for patients who wanted to stay closer to home while COVID-19 was spiking.
"We knew we could not shut down completely, because our cancer therapies are saving lives," says Ephraim Hochberg, MD, associate clinical director of the Mass General Cancer Center and the Ian K. and Isabelle P. Loring Endowed Chair in Lymphoma. "But we had to dramatically and rapidly alter the way we do things."
Adapting to Change, Patient by Patient
Each type of cancer presents different issues. Some blood cancers, for example, can be assessed remotely by reviewing lab results, Dr. Hochberg says. Other types of cancers, such as breast cancer or mouth and neck cancers, require in-person assessment.
"I have a patient in a distant part of Maine who normally drives 14 hours round trip to visit me for her 20-minute survivorship visit every year," says Dr. Hochberg, who conducted the patient's most recent checkup by video. "She's doing well, and she and her husband are very happy to save that 14 hours."
Telemedicine is making it easier for a cancer patient to meet with several experts in one meeting. "It's a process we call 'virtual multi-disciplinary care,'" Dr. Hochberg says. "You can have a medical oncologist, radiation oncologist and a surgeon on the same virtual visit." Even better, the experts themselves are finding it easier to get together in video panels to discuss each patient's case.
The process isn't without growing pains. Not everybody has access to the technologies that enable virtual visits. Disability, age, income or language barriers all can impede access to the video conferencing technology that is making telemedicine so seamless for others. For these patients, telephone calls, in-person visits, training and assistance with technology from hospital personnel are helping close this gap.
More Care in Community Locations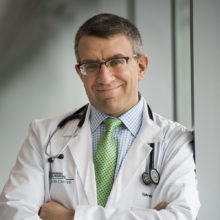 While video is bringing together patients and experts virtually, in-person care is increasing at Mass General Cancer Center's many satellite locations including Newton-Wellesley Hospital in Newton, Mass General North Shore in Danvers and Mass General Waltham, as well as several other locations. Two new associate directors of clinical research, Steven Isakoff, MD, PhD, and Rebecca Heist, MD, MPH, have been appointed to help pave the way for more clinical trials at the Mass General Cancer Center community and satellite facilities across the region.
Infusion centers for delivering chemotherapy treatments at Newton-Wellesley, Waltham and Danvers have quickly filled to capacity. And while Mass General Waltham does not yet have a clinical trials program, Dr. Hochberg sees it as an excellent opportunity for philanthropic dollars to help bring these innovative therapies to the near-western suburbs.
Welcoming Progress with Telehealth
The move to telemedicine is overdue. The medical insurance system has long resisted paying hospitals, doctors and other clinicians for telephone or video visits, says Dr. Hochberg. It took the pandemic to spur government and private insurance companies to cover remote medical visits and hospital leaders hope they will continue to do so indefinitely.
"Telemedicine is now a critical part of our strategy in cancer care," Dr. Hochberg says. "It must go on."
For more information about innovations in care at the Mass General Cancer Center or to make a donation, please contact us.