The signs of Grant Baker's feeding disorder began early. The little boy refused to sit in his high chair. He turned away from the mere sight of food or a baby bottle. He vomited frequently, was underweight and often sick. But no one knew why.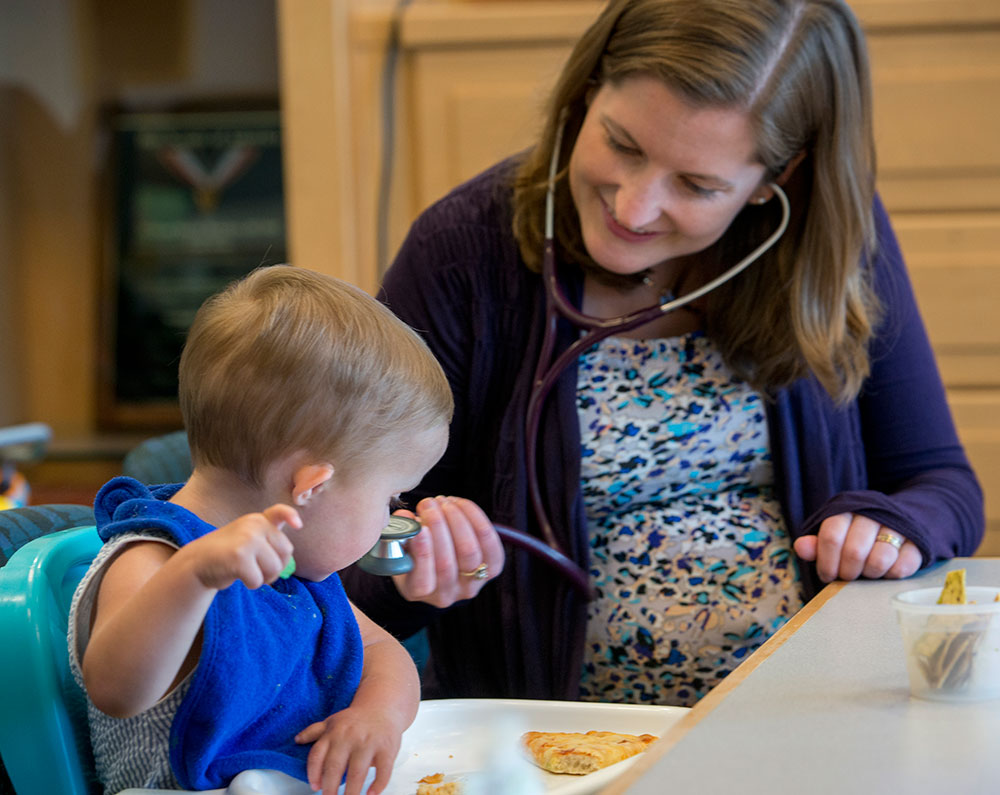 Even the diagnosis of a rare genetic disorder at age 18 months did not explain why Grant, "a happy-go-lucky little guy," according to his mother, Lindsey Baker of Lynnfield, Mass., wouldn't or couldn't eat enough.
Such children are now getting help at the newly expanded Center for Feeding and Nutrition at MassGeneral Hospital for Children thanks, in part, to the support of the A.W. Baldwin Charitable Foundation.
"Infants and children with certain disorders develop behaviors to avoid eating over time because it's painful or stressful for them," explains Lauren Fiechtner, MD, the center's director of nutrition. Whether the problem is caused by difficulty swallowing, gastric reflux, allergies, dental problems, premature birth, or disorders such as Down syndrome or autism, a child with a feeding disorder enters a dangerous spiral of food avoidance and weight loss.
Many Causes of Feeding Disorders
Many patients come from low-income families who are stretched thin by the demands of caring for a sick child.
Two years ago, the center, with the Baldwin Foundation's support, added new staff including Dr. Fiechtner, a gastroenterologist. It collaborated with the hospital's speech-language pathologists, pediatric dietitians, occupational therapists, a feeding psychologist and a social worker. For each patient, the center now fields a multidisciplinary team that addresses the medical, behavioral, dietary, and family issues for children with feeding disorders.
The center now serves about 14 patients a week up from only three a week in 2015. Many patients come from low-income families who are stretched thin by the demands of caring for a sick child.
A Parent's Anguish over Feeding Problems
Discovering why a child can't or won't eat often requires medical detective work. For Grant, the puzzle was more complicated than usual.

Born with signs of an unidentified disorder—two misshapen thumbs—Grant started to breast feed but Mrs. Baker, who has two older children, knew he wasn't eating enough and he wasn't growing. Then he began to vomit much of what he consumed.
The stress was enormous. "I started pumping and feeding him around the clock," Mrs. Baker recalls. "It was consuming every moment of my day and night and I have two other children." Grant went on a feeding tube.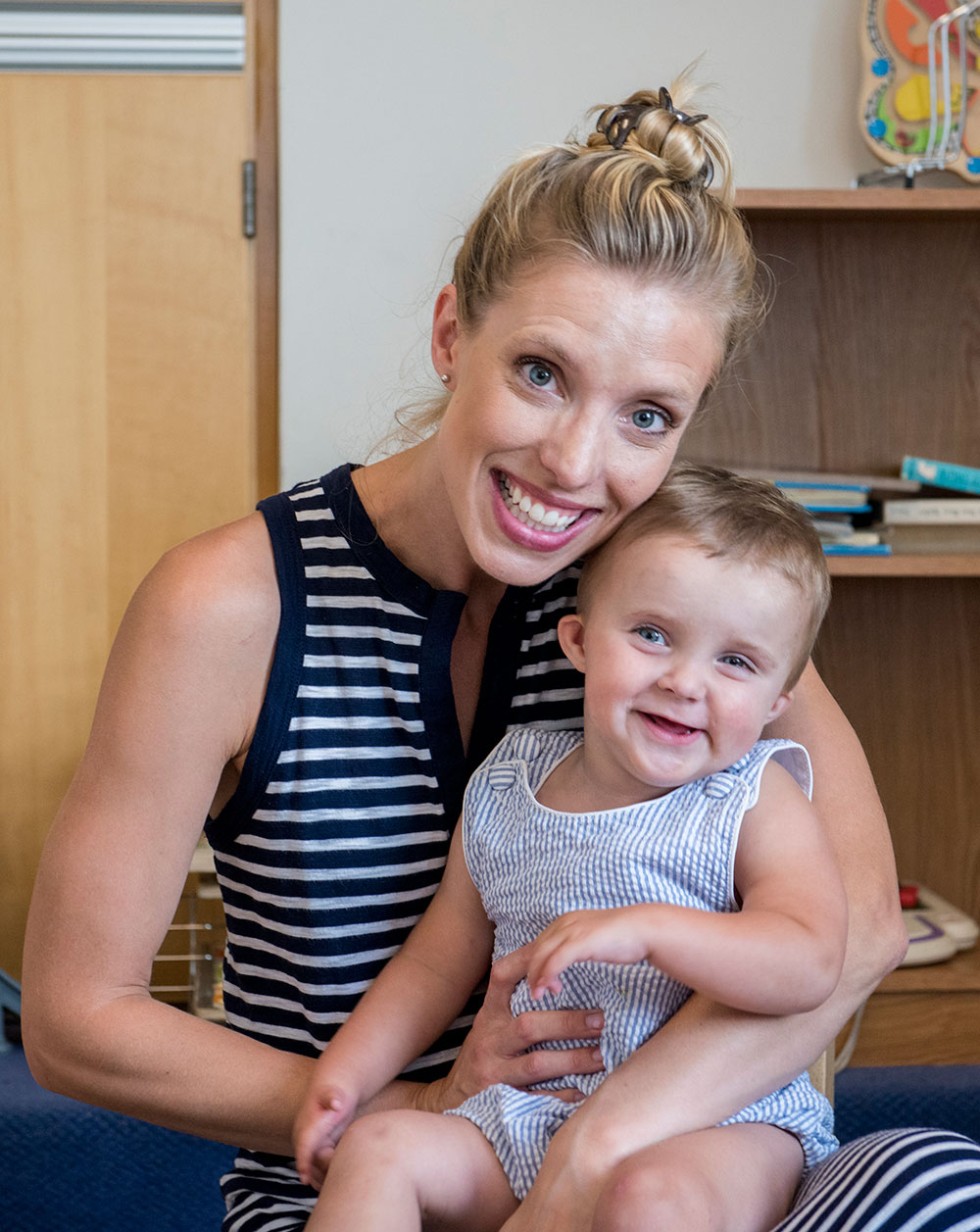 Detective Work Uncovers Cause
After much testing, doctors determined that Grant has a genetic disorder called lacrimo-auriculo-dento-digital (LADD) syndrome, which affects the eyes, ears, mouth and hands. It was a relief to finally have a diagnosis, Mrs. Baker says, but Grant's eating problems didn't improve.
When Grant and his mother came to the Center for Feeding and Nutrition earlier this year, they were desperate. "His weight was so low he was off the chart," Dr. Fiechtner recalls.
The team worked closely with Mrs. Baker to observe Grant's eating behaviors and plan treatments and feeding strategies. They changed his formula. That helped but, at 18 months, when most children are chewing and swallowing solid foods, Grant couldn't.
"He loved pizza," Dr. Fiechtner recalls. "He would put it in his mouth. But his cheeks would fill up and he wouldn't swallow it."
Mrs. Baker observed that he didn't seem to have enough saliva to moisten food in his mouth. Lack of saliva, sometimes a characteristic of LADD syndrome, can cause tooth decay, Dr. Fiechtner says. She noted that his teeth were badly decayed, infected and probably painful. She worked with a pediatric dental clinic that removed several decayed baby teeth.
Next, on the advice of the team, Mrs. Baker began spraying artificial saliva in Grant's mouth before eating. "He loves the spray," she says. "He opens his mouth for it."
Joining the Family Dinner
Grant is now two. He is gaining weight. He still gets most of his calories in liquid form but is taking on new semi-solid foods like guacamole and bananas. For the first time, he is happy to sit in his high chair to join the family at meals.
Grant and his family continue to face the challenges of his condition. But he has turned a corner on his feeding disorder. "He's a different child now," Mrs. Baker says, "He says, 'More, more, more!'"
"Failure to thrive is such an emotional and exhausting ride for parents," says Lee Graham, a Baldwin Foundation trustee. "Thankfully, the center is positioned to cover a range of diseases and conditions which are especially critical to the underserved population."
To learn more about how the Center for Feeding and Nutrition works with children with feeding disorders or to make a donation, please contact us.