When Judy and Edmund Cadorette of Framingham asked their daughter Michelle's oncologist at the Massachusetts General Hospital Cancer Center how they could help, he explained that philanthropy could advance the research on her rare and often misdiagnosed disease, malignant thymoma.
Fifteen years later, the Cadorettes' partnership with Mass General is going strong.
Fifteen years later, the Cadorettes' partnership with Mass General is going strong. Research support that started with modest community fundraising has grown to include individual contributions, charitable estate planning and profits from sales of Michelle's memoir, "Live with Courage; Lead with Hope." The book features her essays, speeches and humor, along with stories from those inspired by Michelle's enduring positive spirit.
One in a Million
Thymoma is an extremely rare tumor in which cancer cells form on the outside surface of a small lymph system organ in the upper chest, says Dora Dias-Santagata, PhD, FACMG, a molecular pathologist at Mass General. The tumor typically develops slowly and without symptoms for a while, she adds. "But in some cases it can be aggressive and spread to other organs."
Because of the tumor's hidden characteristics, Michelle's early symptoms were not recognized as thymoma at other hospitals. By the time she arrived at Mass General, her condition was stage IV thoracic cancer.
Over the next 14 years, Michelle underwent multiple surgeries and chemotherapy and radiation treatment. Through it all, she maintained her trademark optimism and sense of humor. Her attitude inspired caregivers to nominate Michelle to the Mass General Cancer Center's the one hundred and she was selected as an honoree at the 2010 event. She returned for a time to work as a teacher and running coach in Bow, New Hampshire. But in 2013, Michelle lost her battle at age 44.
Her parents were told the disease afflicts only one in 100,000. But the infrequency of thymoma didn't deter the Cadorettes from continuing the fight. "We always thought Michelle was one-in-a-million anyway," Judy says.
Support Comes in Many Ways
When Michelle was first diagnosed, her community rallied. Students and colleagues adopted a purple ribbon pin as a sign of support. One student organized a town road race that raised $2,000 for thymoma research.
"Our thymoma research program would not have been possible without the generous support of the Cadorette family," Dr. Dias-Santagata says.
Adding to funds their community raised in Michelle's honor, Judy and Ed established the Michelle Cadorette Fund for Malignant Thymoma Research at Mass General. Meanwhile, what became the Purple Ribbon Mother's Day 5K Run/Walk in Bow continues to benefit the fund each year.
Judy and Ed also have a bequest in their living trust that will increase the fund after they both depart. Mass General is the main charitable beneficiary of their estate, Ed says, "because the wonderful staff worked so hard for Michelle."
With their long-term plans in place, the Cadorettes joined the Phillips Society. This legacy society represents those who include the hospital in their estate plan, through a will or other planned gift, or who build an endowment fund. Then, at one of the annual Phillips Society luncheons, the Cadorettes learned of yet another way to diversify their philanthropy.
They overheard a conversation about the tax benefits and attractive income returns available from a gift annuity at Mass General. They did the math and decided a gift annuity would help to satisfy their financial and ongoing charitable goals.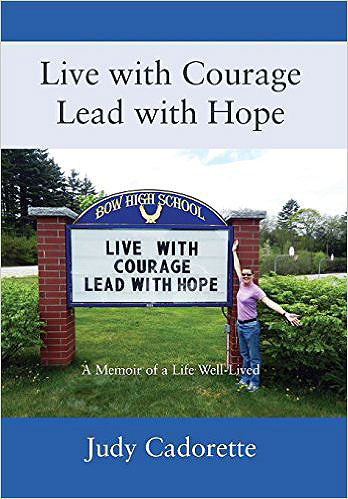 Thymoma Research Advances
New technology in tumor genomics has improved the prognosis for patients with more common and well-studied malignancies, Dr. Dias-Santagata says. "But rare tumor types have received less comprehensive attention, and the underlying causes of thymoma development and progression are still poorly understood."
Undaunted, Judy and Ed are excited about new genetic research carried out by Dr. Dias-Santagata and her colleagues. Current analysis of 50 thymomas is focused on why some tumors become aggressive and how best to treat them. And, in fact, preliminary findings at the molecular and genetic levels are somewhat promising.
These tests are being financed by the Cadorette Fund. It also supports a first-of-its-kind thymoma tissue bank that collects and centralizes fresh tumor tissue at Mass General. "Our thymoma research program would not have been possible without the generous support of the Cadorette family," Dr. Dias-Santagata says. "We are extremely grateful."
In the pursuit of a cure, even research directions that prove unsuccessful are necessary, Ed says, "so nobody will go down that dead-end street again." It all adds up to progress on a disease "that nobody has been able to put their fingers on until recently," he adds. "The research has come so far so fast."
To learn more about how you can remember the hospital in your estate plan and create a legacy to advance medicine, please contact us.