MassGeneral Hospital for Children (MGHfC) is devoted to caring for pediatric patients from birth to adolescence and beyond. Not that the importance of such continuity is always apparent to vigorous young patients like Josh Canales.
When the 16-year-old soccer player began feeling ill in the middle of a school day last February, he told the school nurse at KIPP Academy in Lynn, Mass., that he felt "crummy." It never crossed the freshman's mind that the medical device implanted in his brain at birth could be causing his symptoms. The hardware had, after all, allowed him to overcome a serious birth defect and enjoy an active childhood.
But over the next three days, Josh's symptoms worsened.  He developed a fever, nausea and a severe headache.  "I couldn't bear the pain," recalls Josh, who typically loves being the center of attention in his close-knit family.
When Josh's condition didn't improve, his parents, Cecilia and German, rushed him to the MGHfC Emergency Room.  After tests ruled out the flu or a urinary tract infection, doctors feared it might be something more serious. William Butler, MD, was called in. It was not the first time that the Canales family had placed their trust in the MGHfC neurosurgeon.
An Operation at Birth
Josh was diagnosed prenatally with spina bifida, a deformation of the spinal cord that can result in cognitive and physical impairments. It was a difficult time for Josh's parents, who had moved to the United States from Honduras less than a year prior. They were just 19 years old and didn't yet speak English. Dr. Butler relieved their anxiety by carefully explaining Josh's prognosis in Spanish.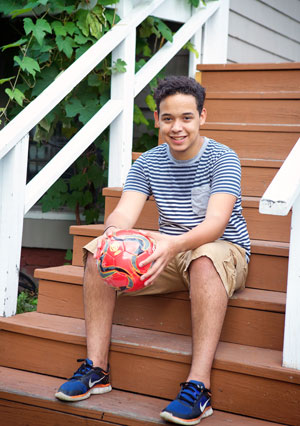 A cesarean section was scheduled for Josh's delivery, and, on the same day, Dr. Butler performed emergency surgery to close the opening in his spine. Four days later, he placed a shunt in Josh's brain to treat hydrocephalus, an accumulation of spinal fluid in the brain and a common complication of spina bifida. The shunt drained the excess fluid into Josh's abdomen.
The shunt altered Josh's life. The tubing was visible in the boy's neck and abdomen. And the device, though necessary, came with a risk: On a yearly basis, about 10 percent of patients with shunts develop infections that can result in severe illness and hospitalization.
But Josh was lucky. Many patients born with spina bifida are confined to a wheelchair. A prenatal MRI offered hope that Josh would be able to walk one day, and Dr. Butler remained cautiously optimistic. When Josh was 10 months old, Cecilia brought him to Dr. Butler's office for a regular check-up.
Standing on His Own
"I casually asked—how are his legs doing? Is he able to bear any weight?" Dr. Butler recalls. "I was hoping for her to give good news but set my face up so that if she said, 'No,' I wouldn't show any disappointment."
Cecilia put Josh on the ground and asked him to stand up for her. Slowly, he grabbed onto a chair and lifted himself up until he was standing on his own.
Installing another shunt was an option but Dr. Butler knew that, at some point in the future, his young patient would be at risk of another infection.
"Dr. Butler was so excited," Cecilia remembers. "He carried him out into the waiting room to show everyone that a baby born with spina bifida and hydrocephalus was walking on his own."
For the next 16 years, Josh lived a normal childhood. His early medical challenges gave him a positive outlook. His smile was contagious. One of four boys, Josh quickly adopted soccer as his passion.
"Since I was little, soccer has been a big thing in my family," says Josh who, as a freshman, made KIPP Academy's varsity team.  "It's an outlet," he adds.  "When I'm angry or sad, I play soccer."
A Dangerous Infection
In February 2015, after Josh fell ill at school, tests revealed the shunt placed in his brain at birth had become infected. Dr. Butler performed emergency surgery to remove it.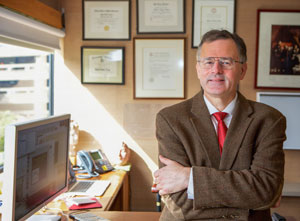 Installing another shunt was an option but Dr. Butler knew that, at some point in the future, his young patient would be at risk of another infection. Instead, the neurosurgeon determined Josh was a candidate for a surgery known as an endoscopic third ventriculostomy.  If successful, the operation would allow Josh to live without a shunt.
The procedure involves creating an opening in the third ventricle of the brain to redirect excess spinal fluid to parts of the brain where it can be circulated normally. Pioneered at Mass General in 1922, it is a complicated surgery that was seldom used in the decades before modern endoscopic technology was improved at places like Mass General.
These endoscopic advances include shrinking the size of the device so that it can travel within the ventricles of the brain without causing injury, as well as the introduction of sterilizable video cameras. The cameras can be attached to the endoscope and allow the surgeon and his team to view the procedure in real time on a large screen.
"To be with somebody who knows your story, knows what you've been through, knows everything about you in medical and personal terms is great," says Josh.
A Family's Full Confidence
"I'm privileged to be at this institution where we lead innovations in this area," says Dr. Butler, still one of only a handful of doctors who specialize in the procedure, which is still not widely available as a treatment for hydrocephalus.
There was a 30 percent chance that the surgery would be ineffective, and Josh would have to go back to the uncertainty of life with a shunt. But after so many years of care at MGHfC, the Canales family had full confidence in Dr. Butler and his colleagues.
"To be with somebody who knows your story, knows what you've been through, knows everything about you in medical and personal terms is great," says Josh. "I've known Dr. Butler for 16 years. The one word that comes to mind when I think of him is trust."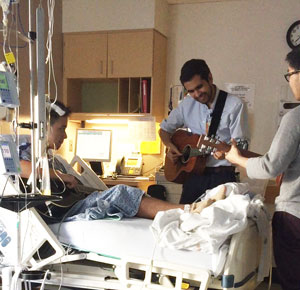 Music as Therapy
Following the surgery, Josh spent several weeks at MGHfC. He missed school, soccer and his friends. But the hospital's music therapy program, made possible by philanthropy, distracted him from his pain and even fostered his love for the guitar.
"Music therapy showed Josh how he could use music to cope, to relax, to inspire, and to help carry and support him through this difficult time," explains MGHfC music therapist Adam Sankowski.
And as the days passed, it became increasingly clear that Josh would now enjoy a life free of hydrocephalus and the fear of another shunt infection.
Opening the door to that future was gratifying for the neurosurgeon who had cared for Josh since birth. "You become a doctor because you want to help people," Dr. Butler reflects. "You work and work, the training and hours are long. But what you learn, works, if you apply it carefully in a measured way. With a patient like Josh, everything you've worked toward becomes real."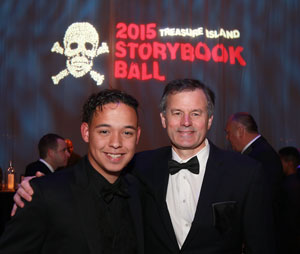 Like 1,000 Pounds Lifted
Today, soccer coach Gray Visco watches Josh as he runs drills alongside his teammates. His dark, curly hair is tied in a ponytail, and he wears a Cristiano Ronaldo jersey, in honor of his favorite player. Coach Visco can't help but marvel that just six months ago, the young athlete was undergoing a rare brain surgery.
"Josh doesn't use any of the medical issues he's had as a crutch to not run as hard as the next person," says the coach. "It's inspiring—most people have a hard time working at 100 percent without the obstacles he's had to overcome."
Indeed, as a teammate kicks the ball high into the air, Josh hustles to make the play, jumping to pass the ball with his head.
"With the shunt out, I feel care free," Josh says. "It's like I've had 1,000 pounds lifted off my shoulders."
To learn how you can support MGHfC programs and research that benefit young patients like Josh Canales, please contact us.