Christopher J. McDougle, MD, a clinical psychiatrist and researcher, has been director of Massachusetts General Hospital's Lurie Center for Autism the past five years. In this interview, he talks about the unique care that someone with autism receives at the Lurie Center and their research into causes.
How common is autism spectrum disorder?
When I started working with people with autism in the late 1980s, it was considered relatively rare. It affected two to four people out of every 10,000. Now it's considered common, occurring in one in 68 children. There may be some actual increase in prevalence, but really what's happened is that individuals who are much more mildly affected are included under the spectrum.
Each patient is unique. Even if they don't look at me or can't talk to me, I find a way to relate.
What's a day like caring for your patients?
An initial evaluation with me takes two hours, but each follow-up appointment typically lasts an hour. I might see a 12-year-old boy with autism who's nonverbal. His parents' relationship is being affected by the stress of his disability. He's got severe self-injury, biting himself and attacking his mother, and has been kicked out of his school placement.
The next patient might be a 35-year-old man, who is nonverbal. He has a genetic disorder called Angelman syndrome, which affects his social behavior and includes physical deterioration, so he is in a wheelchair. He has frequent seizures. He lives with his aging parents, but they don't have the resources necessary to manage him.
Then there's a teenage boy with intense, repetitive thoughts about Disney World. Lately, he's become psychotic and his thoughts are frightening. He puts stickers all over his wall to remind himself that these aren't real.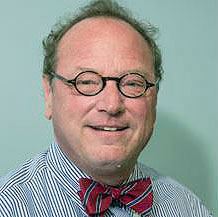 Each patient is unique. Even if they don't look at me or can't talk to me, I find a way to relate. If their way to say hello is to put their face right up to my face, I don't mind.
What are some examples of how philanthropy supports your mission?
After the initial evaluation, many of the things we do are not reimbursed by insurance companies. This includes family therapy, assistance dealing with aggression and self-injury, and finding the right school or vocational setting. Follow-up care is integral to our mission, but to do it, philanthropy is essential.
The clinic was established with an extraordinary gift from Nancy Lurie Marks and her family. One of their priorities is taking care of adults with autism, which most autism centers or clinics don't do. We take care of people from diagnosis, which could be as young as one year old, through adulthood.
We've found that the adults with autism clearly have brain inflammation.
The Nancy Lurie Marks Family Foundation continues as a critical partner and they have recently provided support to expand the research program, and have also made a challenge grant to sustain our clinical program. They will match each dollar we raise for clinical services with an additional dollar up to $5 million.
An important area of research that we are now investigating comes from a large philanthropic gift from Bob and Donna Landreth, who live in Texas and have a grandson with autism. Their focus has been to identify causes of autism and their gift is supporting promising research into neuroinflammation's role in autism.
Neuroinflammation is an inflammatory response in brain tissue, which can cause damage over time. What have you found so far about its role in autism?
About a quarter of our patients have a parent or close relative with an autoimmune disorder like multiple sclerosis, type I diabetes, psoriasis or ulcerative colitis. Inflammation often occurs as part of these diseases.
We're using combined PET and MRI imaging to determine if there is active inflammation in the brains of those with autism. Collaborating with Jacob Hooker, PhD, at the Martinos Center for Biomedical Imaging, we've so far scanned the brains of 15 adult males with autism and those without.
We've found that the adults with autism clearly have inflammation. It seems to affect areas of the brain implicated in autism—areas having to do with social behavior, memory and anxiety. The healthy controls also have inflammation, but it is more diffuse throughout their brains.
Brain inflammation could be a biomarker for early diagnosis of a sub-group of those with autism. Anti-inflammatory treatments could help them.
Describe your initiative to educate all physicians and staff about autism.
We're in the process of making the whole hospital autism-friendly, thanks in part to the Ruderman Family Foundation. To do that, we need staff in the emergency department, and in the inpatient and outpatient departments who understand the needs of someone with autism. Soon a majority of staff at Mass General will receive autism training.
What advice do you give parents when their child is diagnosed with autism?
I tell parents not to worry too much about the future. We take it six months at a time because a lot can change developmentally. With our comprehensive, lifetime care and support, we can help everyone with autism lead a full life.
To support the research and care provided by the Lurie Center, please contact us.