Holding up her mobile phone, Jessica Peters shows a photo of herself riding a recumbent bike. Scrolling through the next few photos, she is rock climbing, horseback riding and doing archery. Exercise and sports are her passion, says Jessica, who relies on photos to help her communicate.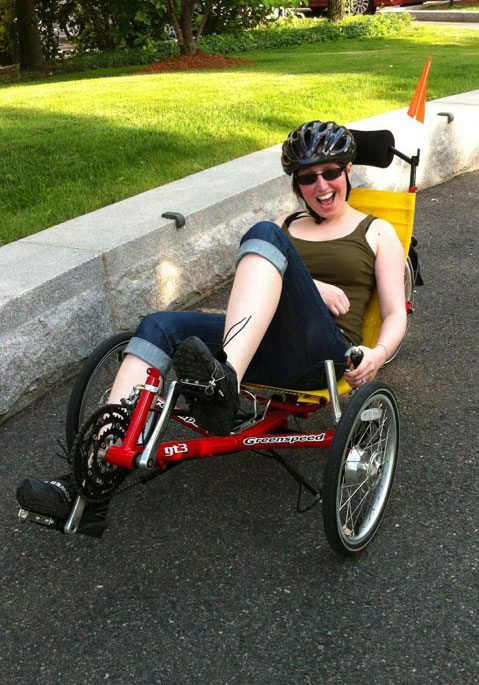 Jessica's speech is impaired by stroke — a blockage of blood to her brain that, at age 26, caused a language impairment called aphasia, plus paralysis in her right arm and leg.
With the help of her clinicians and therapists at Massachusetts General Hospital and Spaulding Rehabilitation Hospital, she has worked hard to exercise both her body and mind to restore some of her ability to move and speak.
Stroke Awareness Month
In honor of National Stroke Awareness Month, which is in May, Jessica is telling her story, using speech that is gradually improving, to raise awareness of stroke prevention and treatment.
"Biking builds strength," says Jessica, who was a real estate agent and avid athlete long before the stroke. During her recovery, she returned to her passion for exercise to augment the grinding routine of physical therapy required to rebuild strength in her leg and arm. She now can walk naturally but her right arm remains weak.
Jessica's neurologist, Lee H. Schwamm, MD, chief of the Stroke Service and vice chairman of Neurology at Mass General, says Jessica's dedication to physical activity is a good model for everyone. Exercise is good for the brain, he says. It not only helps people like Jessica recover from stroke but is a major component of stroke prevention.
"Doing a small amount of exercise every day rather than larger amounts of exercise on a few days helps you lay down a pattern in your brain."
Preventing Stroke with Daily Exercise
That's why Dr. Schwamm runs an annual stroke-prevention challenge called  #30X30StopStroke. He urges everyone to get 30 minutes of exercise a day for 30 days to "help prevent stroke, increase physical well being, and have some fun."
Stroke results when a blood clot or burst blood vessel prevents blood from delivering oxygen to parts of the brain, causing brain cells (neurons) to die.
Evidence shows that aerobic exercise for 30 minutes a day, 5 days a week reduces the risk of stroke, dementia and coronary artery disease.
"It's a powerful effect," Dr. Schwamm says, "It's one of the best interventions we have to offer. But it's remarkably difficult to get people to do it."
He urges people to try to make exercise a habit. "Doing a small amount of exercise every day rather than larger amounts of exercise on a few days helps you lay down a pattern in your brain," he says. "You're on your way to establishing a habit in the same way you form memories."
Stroke Affects Young and Old
Although stroke occurs most often in older people, some young people are also susceptible. Jessica, for example, has a genetic disorder called Ehlers-Danlos syndrome that weakens her blood vessels.
She had no idea she had the syndrome until, one night in 2011, a blood vessel tore, releasing blood clots that blocked the blood flow to her brain. She awoke with paralysis in her arm, leg, and with impaired speech.
She came to Mass General, where she began treatment with Dr. Schwamm. It was a long road back. But with the help of her clinicians and her family and husband, Jon Peters, Jessica worked hard to regain her strength and speech.
Pursuing Renewed Independence
Her dedication to physical therapy, exercise and speech therapy over several years has given her renewed independence. Not only is she walking and doing sports, but she is also driving a car with adaptive controls.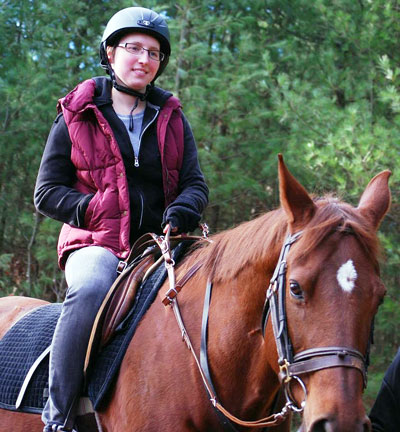 "I love to drive," she says. Driving enabled her to go back to work. But not as a real estate agent. "I bake dog biscuits!" she says, gleefully showing a photo of delicious-looking confections that a human with a sweet tooth might like to chomp.
At the New England Dog Biscuit shop in Salem, Mass., Jessica bakes and sells fancy homemade biscuits to people who love dogs. "Dog people are patient," says Jessica, whose speech has improved but still comes slowly.
Jessica also works to raise awareness about stroke and aphasia. She speaks to groups of health professionals and students to help them understand aphasia. She recently spoke in the Mass General Ether Dome, the historic site of the first operation under anesthesia.
Jessica has done an extraordinary job of rebuilding her strength, her speech and her life, Dr. Schwamm says. Most recently, Jessica has begun using a new muscle activated device to regain mobility in her right arm. "For Jessica, physical activity is a way to reconnect with her previous life," he explains. "Especially because of her language impairment, it's empowering for her."
To learn more about stroke prevention go to #30X30StopStroke or to donate, please contact us.