The latest novel from Elin Hilderbrand is something her readers look forward to each summer. With 11 consecutive books on the New York Times Best Sellers list, Ms. Hilderbrand's novels focus on the romance, friendships and, sometimes, tragedies that develop on the sunny beaches of Nantucket. Ms. Hilderbrand and her family live on the island year-round.
In 2014, after feeling a lump in one of her breasts, Ms. Hilderbrand underwent a biopsy that led to a breast cancer diagnosis. She underwent a double mastectomy at Massachusetts General Hospital. Two years and five surgeries later, Ms. Hilderbrand is channeling the encouragement she received from her readers and giving back to the hospital that saved her life.
One of the many things I am grateful for about my treatment is that I didn't have to go looking for a doctor. I was immediately assigned a phenomenal team.
You were diagnosed with breast cancer on Nantucket and received most of your care at Massachusetts General Hospital. What was that transition like?
In a time of extreme emotion and stress, the transition was seamless. One of the many things I am grateful for about my treatment is that I didn't have to go looking for a doctor. I was immediately assigned a phenomenal team. My surgical oncologist was Dr. Michelle Specht, my plastic surgeon was Dr. Amy Colwell and my medical oncologist was Dr. Steven Isakoff.
What makes your relationship with your care team at the Mass General Cancer Center so special?
Some things are magic, right? And some things are beyond our understanding. I was matched with three doctors I connected with deeply and feel are the best doctors on Planet Earth. Dr. Colwell and Dr. Specht are both blondes, like me, close to me in age, and they're both mothers. I was instantly in awe of the enormity of their expertise, the gravity of their day-to-day work and their compassion for their patients. After surgery, I met Dr. Isakoff. He is such a warm and wonderful human – his trademark being that he treats the person, not just the disease. I hold those three individuals in the highest of esteem, as well as every single person I met at Mass General.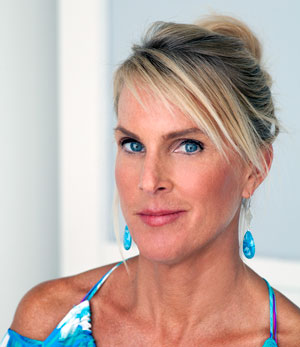 You have shared your cancer journey very publicly. Why?
My diagnosis came only weeks before my novel, "The Matchmaker," was released. In it, a character is unexpectedly diagnosed with cancer. It isn't breast cancer, but even so, the coincidence was frightening. I had spent a year trying to imagine the shock and fear felt by a 40-something woman who is told she has the disease. And then, whoa, nearly the exact same thing happens to me. I was about to go out on a 16-date tour where my audiences would be comprised of mostly women. I didn't feel I could read from the book or speak about it and not disclose my own diagnosis. Telling the world about my breast cancer was one of the best decisions I've ever made. I received an unbelievable amount of support and love from my readers, which I believe aided in my healing.
What are some of the ways you interact with other cancer patients?
Because I dedicated "The Rumor" to my doctors, as well as my appearances on CBS This Morning, I have heard from dozens of women being treated for breast cancer at Mass General – some by my same care team – as well as thousands of women across the country. I have bonded most closely with the patients at Mass General, and have formed friendships with a few women who are currently undergoing treatment. In addition, my publisher, Little, Brown and Company has helped me start a program called #mamastrong. Women can write about their breast cancer experiences on my website and in return, my publisher sends a box of my books to their local treatment centers. I have met women in person who have received the books. Good, bad or indifferent, my reader demographic is very similar to the breast cancer patient demographic.
The Friends are concerned with treating the entire patient, not just the cancer. What I found so vital during my treatment was not to let myself be defined by my disease.
What has been your readers' response to learning about your cancer journey?
There's one story I like to tell that demonstrates the love and support I have been shown. Twelve days after my double mastectomy, I traveled to Chicago for several events, much to the chagrin of Drs. Colwell and Specht. I was on serious pain medication and still had two drains in, but I traveled because I felt that cancelling Chicago would mean that I was too sick to go, and I was determined not to be that sick. My first event in Chicago was a blur. My second event was a brown bag lunch for 100 women at a library in Cook County. In the front row were two women: one with no hair and one with very short hair. After the event, they came to get their books signed and the one with very short hair said: "We have both had double mastectomies. Together, we have been through 36 rounds of chemo and 64 rounds of radiation. And we came today, Elin, to show you that you are going to be fine."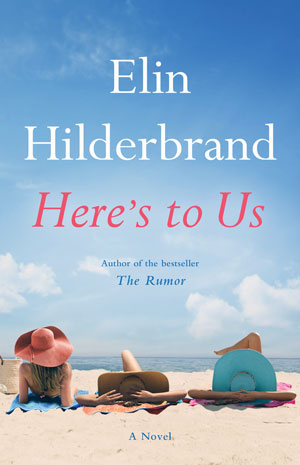 What I learned in that moment was that there were women far sicker than I was and they had fought the disease with courage and most of all, with grace. They took the pain and challenges of their disease and turned it into something positive that they could share with me. In speaking about my experience, that's what I also hope to do.
You were recently the featured speaker at the Friends of the Mass General Cancer Center's 2016 Spring Luncheon. Why are the Friends' programs so integral to the patient experience?
The Friends are volunteers who raise funds for a wide range of supportive care services at Mass General, all of which are provided to cancer patients and families at no cost. These services include music and art therapy, yoga, acupuncture, peer support programs, educational resources and more. The Friends are concerned with treating the entire patient, not just the cancer. What I found so vital during my treatment was not to let myself be defined by my disease. I have found great solace and more importantly a sense of wellness through yoga and massage and connecting with other women who have breast cancer. The Friends are providing services that are invaluable for the psyche.
Your new book, "Here's to Us," is scheduled for release in June 2016. Can you give us a little preview?
When I set out to write "Here's to Us," I wanted to revisit a theme in my novel "Barefoot" and write a female buddy novel…one where the relationship between women was more important than any relationship between a woman and a man. And I wanted it to be challenging for the women to connect. The result is a novel about the three ex-wives of one man who come together in a house on Nantucket after the man's sudden death. These women have despised each other for years, but upon reuniting, find surprising bonds develop.
For more information about the Mass General cancer care and the services supported by the Friends of the Mass General Cancer Center, please contact us.