With a shared passion for advancing medical science and patient care, two Boston area couples inspired more than 10,000 people to join them in raising more than $2 million in 2015 for the MGH Fund at Massachusetts General Hospital.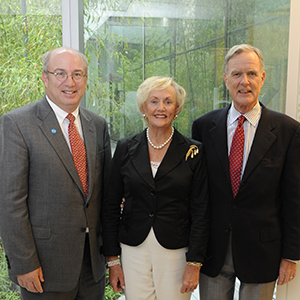 Early last year, Ann and Desmond Heathwood of Boston, MA, partnered with Dick and Marcy DeWolfe of Westwood, MA, to create a $1 million matching challenge grant for the MGH Fund, the hospital's primary source of flexible funding. The response was overwhelmingly positive. Thousands of generous donors rose to the challenge by making donations which were then doubled by the Heathwoods and DeWolfes to surpass the $2 million goal.
"We expected that we might see this degree of success but it happened so quickly and so substantially that both Ann and I are delighted with the outcome," says Mr. Heathwood, a successful entrepreneur in the field of asset management and director of the MGH President's Council.
The DeWolfes agree that the response from so many individual donors was impressive. Mass General is the kind of institution that inspires confidence, says Mr. DeWolfe, a leader in the finance and real estate industries and another director of the President's Council. "It is really one of a handful of great institutions around the country that functions well," he says. "It reinvents itself and always tries to be better."
Serving a Fast-Changing World
The MGH Fund serves a crucial role in the hospital's ability to meet the most pressing needs of its patients and clinicians in today's fast-changing healthcare world.
The DeWolfes and Heathwoods know that the MGH Fund serves a crucial role in the hospital's ability to meet the most pressing needs of its patients and clinicians in today's fast-changing healthcare world. That's because gifts to the MGH Fund are unrestricted and not tied to a specific program. Therefore, these funds are available to be used when and how they are most needed.
The MGH Fund supports a wide range of programs and initiatives including the Home Base Program for veterans, grants for minority medical students and global health. Other examples include diagnostic cancer technology, childhood obesity prevention, stroke screening, rare disease research and community health programs in underserved areas including Chelsea and Revere.
Mass General President Peter L. Slavin, MD, directs the MGH Fund. "Our lifesaving work would not be possible without donations to the MGH Fund," Dr. Slavin says. "These gifts are put to use immediately to improve patient care, advance research and serve local and global communities that are less fortunate."
Building the Future of Medicine
Confidence in Dr. Slavin's judgment guided the DeWolfes to direct their most recent gift to the MGH Fund. "I'm not a scientist or a doctor and I know Peter Slavin has the expertise to judge better than I do the best use of these funds," says Mr. DeWolfe. A committed philanthropist focusing on health care and education, he is former chairman of the Board of Trustees at Boston University and a director of the Boston Foundation.
The Heathwoods concur. "I thought that an institution like Mass General would be so much better at filtering all the competing demands in medicine. They are like the portfolio manager and I am the person who supplies the funds," says Mr. Heathwood.
The Heathwood's philanthropy is directed toward health care and inner-city education including scholarships at Nativity Preparatory School and the Fordham Preparatory School. Mrs. Heathwood, a former nurse, is a loyal supporter of nursing education.
MGH Fund Supports Innovative Research
Looking forward, the Heathwoods and DeWolfes are pleased to see their dollars going to work at Mass General. For example, resources will be directed toward the Research Scholars Program which supports talented young and mid-career medical researchers doing innovative, risk-taking research that otherwise might go unfunded by more conventional funding sources.
"Both my wife and I are risk takers and entrepreneurs," says Mr. Heathwood. "We like to support these very talented people who have a dream and are putting all their efforts into it."
To join the Heathwoods, the DeWolfes and Mass General's committed community of donors, please contact us.