I'd like to thank the more than 63,000 people from all around the globe who donated to Massachusetts General Hospital last year. Your gift helped us raise a record-breaking $584 million. Your commitment strengthens our capacity to transform patient care, advance bold research, educate medical trailblazers, and improve the health of communities near and far.
This year, our gratitude goes even deeper. Your support to fight COVID-19 helps us lead the way in responding to this unprecedented global health crisis. We are honored by the number of people who have reached out in so many ways.
Mass General was founded on the principle that "when in distress, every man becomes our neighbor." In 2020, thanks to your generosity, Mass General serves as a beacon of hope and a temple of healing for our neighbors around the world.
These are extraordinary times. Thank you for standing with us.
With much appreciation,
Peter L. Slavin, MD
President, Massachusetts General Hospital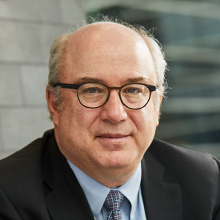 Peter L. Slavin, MD
President, Massachusetts General Hospital