Welcome to the Massachusetts General Hospital Donor Report for 2019. We are so grateful for the many generous gifts that help strengthen patient care, advance critical research, educate medical trailblazers and help save lives in our local community and around the world. Here are just a few of the many inspiring stories of donors who supported our work in 2019.
These gifts and the stories behind them have helped Mass General continue to advance our mission of excellence and serve as a beacon of hope and a temple of healing for our neighbors, near and far. Thank you to each and every donor who has made a difference, including all who have supported the hospital's response to the COVID-19 pandemic by giving to our Emergency Response Fund. We are humbled and honored to consider you important members of our Mass General family.
Donor Impact Stories
People who support patient care and research at Mass General find inspiration in their own lives and the lives of those around them. Their gifts impact the future of medicine, global health and the quality of care for countless patients. We gratefully present their stories here.
A Thank You From the President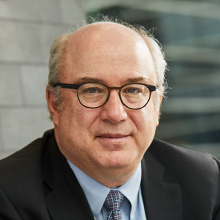 "Mass General was founded on the principle that 'when in distress, every man becomes our neighbor.' In 2020, thanks to your generosity, Mass General serves as a beacon of hope and a temple of healing for our neighbors around the world."
READ FULL LETTER
Peter L. Slavin, MD
President, Massachusetts General Hospital