When it comes to addressing childhood obesity, earlier may be better. A Massachusetts General Hospital for Children (MGHfC) study will start prevention beginning at pregnancy—long before babies taste their first spoonfuls of food.

Named "The First 1,000 Days," for a child's critical period of growth and development from conception through age 2, the study will follow families during that time to help them choose healthy lifestyles.
"Reversing the childhood obesity epidemic will begin with consistent advice from doctors and dependable support from clinical and public health professionals to parents," says Elsie Taveras, MD, MPH, chief of General Pediatrics at MGHfC and an obesity researcher who runs a clinic for children with weight-related medical problems.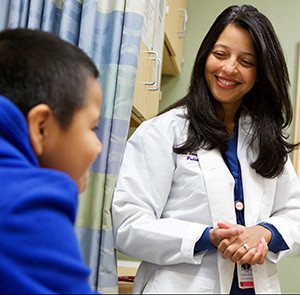 The five-year study will be led by Dr. Taveras and Derri Shtasel, MD, MPH, executive director of The Kraft Center for Community Health at Partners HealthCare. In addition to Mass General health centers in Chelsea and Revere, the effort involves federal nutrition programs like the Women, Infants, and Children program.
Childhood Obesity Concern Grows
Childhood obesity is a growing concern. In the United States, one in 10 infants is overweight. By kindergarten, that number increases to one in five. Research has shown that women who enter pregnancy overweight or obese or who gain too much weight during pregnancy have a higher risk of their offspring also becoming overweight or obese.
The new study reflects Mass General's long-running commitment to reversing the obesity epidemic and providing care throughout the lifespan. Mass General's community health centers already have several programs that encourage exercise and improve access to healthier foods.
Here are some of the health recommendations Dr. Taveras and her team have developed for families.
If you can, breastfeed. If you use a bottle, pay close attention to the child's cues that she has eaten enough and is no longer hungry.
Learn to tune in to your child's cries. She may not always want a bottle. Instead, she may be sleepy or want to be held.
Hold off introducing solids until at least 4 months old. If possible, wait until 6 months.
Do not expect toddlers to clear their plate every meal. Toddlers know when they are full. Do not offer fun foods, like cookies, to entice children eat when they are not hungry.
Adopt a zero-per-day family policy on sugary beverages such as fruit juices and sports drinks.
Focus on Weight During Pregnancy
The First 1,000 Days study aims to make it easier for pregnant women to maintain a healthy weight and determine whether childhood obesity can be prevented with nutrition and physical activity-related text-messages and one-on-one support from health coaches.
Healthcare providers currently recommend pregnant women avoid alcohol and add folic acid to their diets. Dr. Taveras expects the study results will prove that maintaining a healthy weight is important, too.
"Societal myths, like the joke that pregnant women are eating for two, are untrue and contributing to unhealthy weight gain," Dr. Taveras says. "In reality, it's more like eating for about 1.2."
Study researchers will enroll pregnant women and their partners who receive care at MGH health centers in Chelsea and Revere.
Establishing Healthy Habits
At MGH Revere HealthCare Center, about 58 percent of women starting pregnancy are overweight or obese, says Tiffany Blake-Lamb, MD, MSC, an obstetrician and Kraft Center fellow involved in the study. Entering pregnancy overweight or obese can put women at increased risk for complications during pregnancy and delivery, she adds.
Pediatrician Alexy Arauz-Boudreau, MD, MPH, who is leading the study at MGH Chelsea, says by first grade, 47 percent of children are overweight or obese.
She works with families to establish healthy habits. Early on, she helps parents distinguish between their babies' cries, so they do not over-feed a sleepy child. During the toddler years, Dr. Arauz-Boudreau helps families understand that appetites vary with growth spurts, and children do not need to eat the same amount at every meal. She also recommends eliminating juice and sugary drinks, which contribute to weight gain and cavities.
"Kids eat what they see their parents eat," Dr. Arauz-Boudreau says. "Families can help children establish a healthy relationship with food by focusing on the quality and variety of food in their child's diet. Teaching children to listen to their body's hunger cues and practice moderation is an important life lesson."
Model for the Nation
The study is a first step in a larger effort. "If anybody's going to figure out how to prevent childhood obesity, Dr. Taveras is the person who can do it," says Allison Bauer, senior director of health and wellness at The Boston Foundation, a major funder of the study. "We hope the results are healthy kids in Boston and a model for the nation."
This study is also supported by Dr. Taveras' Ofer and Shelly Nemirovsky MGH Research Scholar award. If the current study is successful, philanthropy could expand the program to help the more than 3,600 babies born at Mass General each year. New funds could support more health coaches, physician training and information technology. Future steps include broadening the program to include child care professionals and community-based organizations for young people.
To support research to prevent and treat childhood obesity, please contact us.