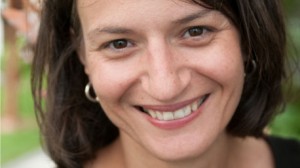 Ellen Huberman had both of her ovaries removed in 2009; when she recovered, she had both of her breasts removed. What's unusual about Ms. Huberman is that she was totally healthy when she was wheeled in the operating rooms at Massachusetts General Hospital for both of those procedures. Ms. Huberman, who lives in Newton, Mass., opted for the oophorectomy and double mastectomy as a preventative measure after testing positive for the BRCA2 mutation, which predisposes women to a 50 to 85 percent risk of breast cancer and up to 45 percent for ovarian cancer.
Her mother had had breast cancer at age 37 and a maternal aunt had it as well, "so my two sisters and I always knew that we were at high risk," says Ms. Huberman. Her sisters tested negative for the mutation. Two years ago, at age 56, she came into the Center for Cancer Risk Assessment (CCRA) at MGH to undergo a series of tests to determine her own risk. "Getting the results was shattering but necessary," she recalls.
Detecting ovarian cancer in its early stages is difficult and the surgery to remove ovaries is minimally invasive, so she decided to address the ovarian risk first. She underwent surgery at MGH to remove them.
Opting for Preventative Breast Removal
The more arduous decision concerned her breasts because they relate so closely to body image and sexuality, and the surgical procedure for breast removal is more complex. Early detection is more reliable than for ovarian cancer, but she wasn't sure she wanted to wait for the day a scan would come back showing a tumor. She was a voracious information-gatherer when it came to understanding her risk, and initially she considered the option of increased screening. But on further review, she decided go with preventive mastectomy.
Months later, she checked herself in to Mass General where she had both of her breasts removed, with follow-up reconstructive surgery in which she received implants.
"Just because it's frightening and threatening to contemplate the possible results of genetic testing — and it was for me — fear is not a compelling reason not to get tested."
"Just because it's frightening and threatening to contemplate the possible results of genetic testing — and it was for me — fear is not a compelling reason not to get tested," says Ms. Huberman. "I don't know whether what I did saved my life and I will never know, but I now have a peace of mind that I would never have had otherwise. I'm grateful I had the information to make an informed decision."
Most cancers are considered sporadic and are not inherited: people are more likely to develop cancer due to chance, environmental exposures and some lifestyle factors. But about five to 10 percent of all cancers are hereditary, meaning that a person has a genetic mutation that predisposes them to the disease.
Today, a growing volume of information about genetics of cancer and scientists' ability to test for the genetic roots of certain cancers means that cancer patients and their families are able to be tested for hereditary cancers. That, in turn, can inform the need for frequent surveillance and scans, preventative measures like mastectomies and lifestyle changes, as well as the use of personalized medications that target specific gene mutations.
Mass General Leadership in Genetic Testing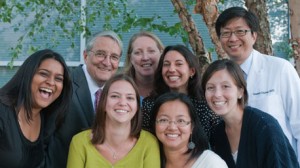 Mass General's CCRA is a world leader in the field of genetic testing and consultation, offering expertise in hereditary syndromes including gastrointestinal cancer, breast and ovarian cancer, melanoma, endocrine cancers and renal cell carcinoma and Von Hippel–Lindau disease (a rare but hereditary cancer that also predisposes patients to other kinds of tumors). Those five areas are the common areas of need, but the program screens for a series of the other cancer-related syndromes.
Most patients are referred to the CCRA by their oncologists when their oncologists suspect there may be a genetic component. Other individuals are referred by their primary care physicians or are self-referred, some of whom do not have cancer but have family members with cancer and are worried about what may be in store for them or their children.
"Because hereditary cancers are so rare, many of the people we see end up not having a genetic abnormality, so a lot of our job involves reassuring people that they have no genetic predisposition."
"Because hereditary cancers are so rare, many of the people we see end up not having a genetic abnormality, so a lot of our job involves reassuring people that they have no genetic predisposition. That is not to say, however, that they have no increased risk of developing cancer and we can assist them and their doctors in devising a good plan for screening," says Kristen Shannon, MS, CGC, the program manager and senior genetic counselor of the CCRA. Ms. Shannon oversees a team of genetic counselors and helps coordinate care with the physician leaders in each of the five specialty areas. Daniel A. Haber, MD, PhD, who directs the Cancer Center, is CCRA's director.
But for the patients who do test positive for a genetic abnormality — after a thorough family history is taken and patients undergo a series of blood and other tests — "We can really save lives by knowing this information early," says Ms. Shannon. "And we're continuing to learn more and more about all the genetic mutations associated with cancer, so we're only poised to grow further."
The CCRA literally was a lifesaver for Beth Lambert. She was in her mid-30's when one of her brothers, Steven, died of stomach cancer at age 46 only months after diagnosis, and when her mother was diagnosed with colon cancer. Imaging scans rarely show gastric cancers, so regular screenings are virtually useless, which is partly what makes it one of the deadliest cancers. Biopsies can be excruciating for patients and not always accurate. So genetic testing is the best option for prevention — which for stomach cancer means one thing only: a total gastrectomy, or removal of the entire stomach.
A Cancer Warning for Siblings
Acting on the advice of her mother's oncologist — who surmised there might be a genetic component after hearing about Steven's death — Mrs. Lambert's mother, Mary Walsh, went to the CCRA to be tested. She tested positive for the CDH1 gene and was told it predisposed her to a nearly 83 percent risk of getting stomach cancer, a 39 percent risk of lobular breast cancers and an increased risk of colon cancer. "We were surprised: We would have never made the connection between my mother's cancer and Steve's cancer, but thank goodness the connection was made for us," says Ms. Lambert. She and her three other siblings were immediately tested.
Of the four of them, three tested positive, including Ms. Lambert. Within months, Beth and her brother Michael had their stomachs removed by Sam Yoon, MD, from the Division of Surgical Oncology at MGH. (Their sister Kathy had hers removed near her home in Texas). In all three siblings, pathology reports from the surgeries revealed early-stage cancer cells in the stomach, despite all being symptom-free.
At a petite 5' 2", Mrs. Lambert weighs about 100 lbs. less than her pre-surgery self. She never feels hunger pangs reminding her to eat, nor the feeling of fullness warning her to stop or slow down, because her esophagus is connected directly to her small intestine. She must eat small, healthy and frequent meals. If she eats too quickly, she feels nauseous.
But her new reality is not something she complains about. Much of her energy is devoted to her role on the board of directors of the charitable organization called No Stomach for Cancer, which was started to raise awareness and funding for stomach cancer care and research.
"The genetic tests we did saved our lives," says Ms. Lambert, who with her husband has two children and lives in Worcester, Mass. (The kids will be tested as they reach adulthood). "Steve died so all of us could live — that's how I look at it. And it was the tests at the Mass General Cancer Center that saved all our lives."