Andrew Cappetta will run the 2019 Boston Marathon® for his late mother, Joan, whose strength and selflessness during cancer treatment have inspired him to train for five months and raise money to help children with cancer.
"My mom was incredibly strong. She never wanted us to worry."
Joan Cappetta was diagnosed with pancreatic cancer in 2012. At the time, her four children were on the cusp of adulthood, and some had left the family's Hollis, New Hampshire, home to pursue college and careers. Andrew, her youngest, was a senior in high school.
For two years, Joan received care at the Massachusetts General Hospital Cancer Center. She underwent surgery, chemotherapy, radiation therapy and several other procedures. She did not want her children to move back home or place their dreams on hold. She told them that she knew they were always with her in spirit.
"My mom was incredibly strong," Andrew says. "She never wanted us to worry. She would tell us that the biggest tragedy of all would be if we stopped pursing our own opportunities."
Losing a Loved One
Pancreatic cancer is aggressive — about 20 percent of patients survive one year after diagnosis. Andrew credits his mother's longer survival to the care she received at Mass General.
Andrew explains his gratitude for Mass General on his marathon fundraising page."From the beginning, my family was told that the odds of beating this disease were small," he writes. "However, that never weakened the spirits of my family or the care that the team of providers, nurses, secretaries and support staff provided. I will forever be grateful for the quality of care that my entire family received during the hardest part of our lives."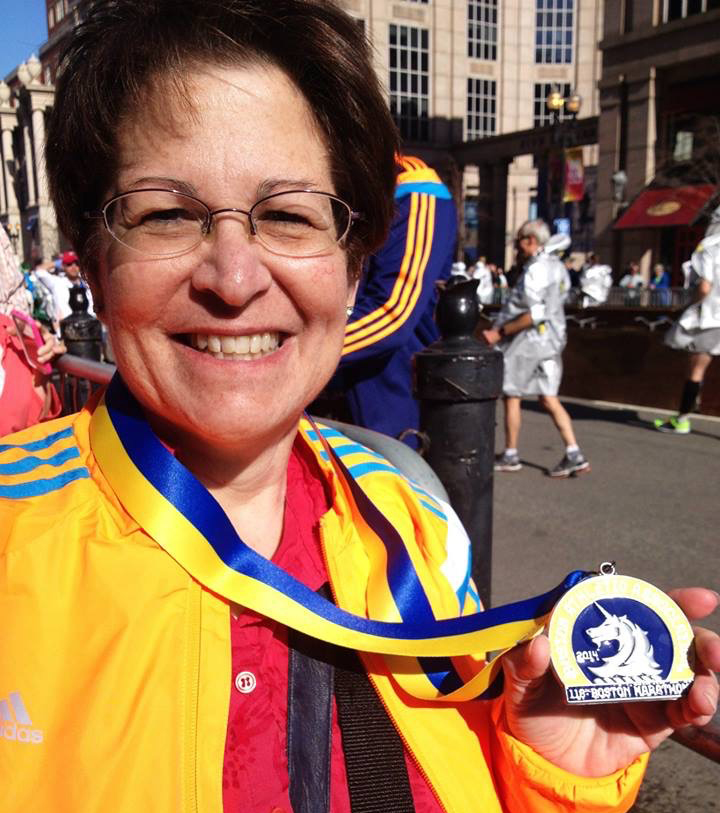 Joan passed away on Oct. 15, 2014, surrounded by her family, following complications after a courageous two-year battle. Andrew tears up as he remembers saying goodbye to his mother. He was 20 years old and a student at the University of New Hampshire, his mother's alma mater.
Now, Andrew lives and works in Boston. He thinks that while his mother would be proud of him for running the marathon, she would also be nervous about her "Andrew-man" taking on such a grueling race.
Running to Give Back
Andrew's father, Charles Cappetta, MD, is a pediatrician in Nashua, New Hampshire. His aunt, Ann L. Prestipino, MPH, senior vice president, Surgery, Anesthesia, Emergency Medicine and Clinical Business Development, has worked at Mass General for her entire 38-year career. All three of his sisters, Kate, Kelsey and Alyssa, are pursuing careers in health care and they all worked at Mass General at some point in their careers. Andrew also had an internship at the hospital.
"Every day I marvel at my family members' selflessness and the impact they are having upon the lives of others," he writes on his marathon fundraising page.
Andrew says the marathon has given him a way of giving back, adding that the decision to run a marathon was not difficult. Because he is healthy and enjoys staying active, he feels at ease with training. He has also run half-marathons. His older sister Kelsey has run several marathons and has offered tips and encouragement. She told Andrew: "Just run one mile at a time, one day at a time."
While training, Andrew reflects on his mother's strength.
Confident about Boston Marathon® Goal
"Even on the worst day of training, when your legs hurt and you are tired, it's nothing compared to what these children with cancer are going through," Andrew says.
So far, Andrew has raised more than $11,000 for Mass General Hospital's Pediatric Cancer Team through generous donations from friends and family members. He is confident he will reach his personal fundraising goal of $15,000.
As he prepares for the marathon, Andrew thinks of his mother and reflects on her strength in facing pancreatic cancer. He hopes by giving back, he can help to make a difference in the lives of children battling cancer.
To make a donation to the Mass General Hospital's Pediatric Cancer Team, please contact us.
John Hancock-Mass General Marathon Partnership is Powerful Source of Support
John Hancock's partnership with the Mass General Marathon Program continues to be a strong and unwavering source of key funding for hospital programs. For 22 years, John Hancock has provided Mass General runners with invitational entries for the Boston Marathon®, as well as an opportunity to fundraise on behalf of the hospital.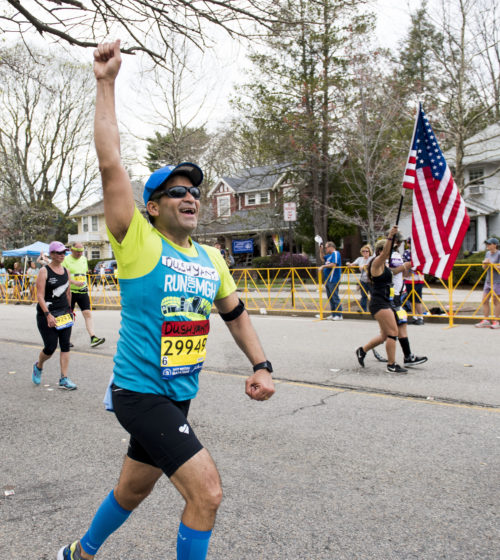 Mass General's Pediatric Cancer Team has raised more than $14.4 million since it was formed in 1998. Funds raised by this team – the hospital's longest running — support research and child-life activities for children with cancer.
In 2014, the Mass General Marathon Program expanded when awarded 40 additional entries to create the Emergency Response Team. These entries recognized the lifesaving response of hospital employees following the 2013 Boston Marathon® bombing. In the last five years, the ER Team has raised more than $1.9 million to advance the hospital's emergency preparedness and disaster medicine efforts.
Additional 2019 Entries
Thanks to John Hancock's support, Mass General has received 20 additional entries for the 2019 Boston Marathon®. Runners wearing them will raise funds to benefit the Home Base program. This Mass General-Boston Red Sox Foundation program helps veterans, active service members and their families deal with the invisible wounds of war.
Additionally, through the Run for MGH Team, runners who acquired their own entries for the Boston Marathon® raise funds for various Mass General programs that are near and dear to their hearts. Programs being represented by 2019 runners include: Caring for a Cure, Cystic Fibrosis, Down Syndrome, the Lurie Center for Autism and the Mootha Lab.
To learn more about the Mass General Boston Marathon® Program, please visit our website.