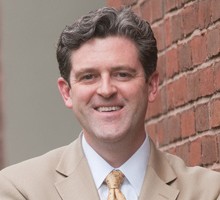 Employees of Massachusetts General Hospital were asked if they wished to become patients of a new clinic called the Ambulatory Practice of the Future (APF), a pilot project that aims to solve some of the challenges facing primary care. The APF is led by David Judge, MD, an internist at the Bulfinch Medical Group at MGH, where he is assistant medical director. He is also co-program leader in Clinical Systems Innovation at the Center for the Integration of Medicine and Innovative Technology (CIMIT).
He sat down with Mass General Magazine to discuss what this new practice is all about — and how it might serve as a new model for primary care nationwide.
What needs fixing in primary care today?
Because there are too few primary care physicians to serve patient demand — and this is happening all over the country — doctors feel forced to do brief 15- to 20-minute visits with patients, sometimes shorter. Oftentimes doctors will see 20 or more patients in a single day, some of them with complex needs that simply can't be covered in a quarter-hour. In between those visits, we do not have enough time to communicate with patients and keep them engaged in their own care plan. We're reactive, not proactive. That works for some patients, but not all. We know we're not giving patients what they need today. That's not good for patients, and it demoralizes doctors and discourages young physicians from venturing onto the primary care career path. It's a broken model.
What will the APF do that other primary care practices don't?
Mass General employees are our patients; Mass General is paying for their care because MGH is self-insured and pays directly for the cost of its employees' care, as well as for many of their spouses and children. We believe that providing high-quality primary care to our employees and their adult dependents will lower the overall cost of care for MGH.
The essence of the APF is that teams of specialists — not just physicians, nurse practitioners, registered nurses, medical assistants and medical secretaries, but also care coordinators whom we call "health coaches" — care for each patient. In many cases, the nurse practitioners, nurses and health coaches handle the more routine issues and actively outreach to patients at home by phone and e-mail to ensure patients are following their care plans. That frees up physicians to spend longer periods with patients who really require their expertise. We expect quality of care to jump significantly.
But with all that new staffing, it sounds more expensive than today's model. Is it?
This model does require a large investment for staffing, computers and the design of a new space that will suit this new model, with rooms for patient support groups, classes and spaces for individual health teams to meet with patients and conduct health education, which is a big part of our plan. We're fortunate that Mass General believed in the potential of this model enough to make that initial investment in the APF. But we've gone through sophisticated business development planning processes and we're confident that in the long-run — and perhaps even in the short-run, two or three years from now — we'll see the payoff in reduced costs because of fewer emergency room visits, and the fact that we will have successfully staved off some measure of preventable illness and disease.
Companies are drowning in the cost of paying for employees' health coverage, which is growing and growing every year — so I think the time is right for doing what we're doing. Some other healthcare organizations are doing similar things that have shown some positive impact in reducing costs, so we are optimistic.
Walk us through an example of how you treat a patient in this new model.
In the APF, the patient works with his or her care team to define a set of personal health goals. Let's say a 50-year-old man's goal is to dance at his daughter's wedding. He's overweight, has diabetes and arthritis of his knee. So we map out the time frame, get him working with a dietician and a physical therapist, and our health coaches will stay in close touch with him to motivate him and ensure he's monitoring his diabetes and keeping his blood sugar levels low. We have technologies that we're developing that will electronically transmit important information — such as blood sugar levels, blood pressure, weight — to the care team without bringing the patient into the office so we can catch a red flag before a person's condition worsens. We could keep on top of his diabetes in this way and hopefully help him to become an expert in managing his own health care and to reach his goal.
Will the APF be a testing ground for new ways to improve communication with patients?
Absolutely. Our collaboration with the MGH Lab of Computer Science and my role at CIMIT enable me to have my finger on the pulse of the newest and best technologies that enhance communication and quality of care. One of the things the APF is doing, for instance, is that each patient will have a personal web page that contains his or her personal health record including test results. It allows patients to set goals and enter information that their care team can view.
Are patients worried about losing access to their doctors? Likewise are doctors worried about losing touch with their patients?
In all our research leading up to the launch of the APF, we heard loud and clear from patients and physicians, "But we don't want to be separated!" I think that if we do a good job orienting patients with the team members and if we show them all these great new means of communicating — and ensure them that information exchange between the members is thorough and constant — then we'll be able to successfully create the culture shift. And that's exactly what it is: a shift away from thinking that the only person who can provide the necessary care is the physician you know and trust. Patients will quickly learn that they are actually gaining an entire team of healthcare professionals whom they can trust, and will be able to maintain a relationship with their physician and to have more meaningful time with him or her. I really see our model as fitting in with the national movement to create "medical homes" that rely upon multidisciplinary care teams around patients to effectively meet all of their needs.
If the APF succeeds in its mission, what's next?
Our intention is not only to increase the quality of care and the care experience for patients while lowering the overall cost of that care for MGH, but to influence health policy by establishing new models and methods of payment reform. We hope the APF will be able to serve as a blueprint for primary care redesign nationwide.