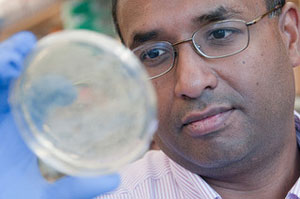 Every day in the intensive care units (ICUs) at Massachusetts General Hospital, life hangs in the balance. Patients are tethered to machines. The machines breathe for them, pace their hearts and sift waste from their bodies. Tubes deliver nutrition and supply antibiotics.
On the fourth floor of Ellison Building, in the Surgical Intensive Care Unit — one of Mass General's many ICUs — healthcare providers move quickly from room to room. Alarms, beeps and flashing red messages on a board at the end of the hallway update them on their patients' status.
But in a lab on the same hospital campus, a regenerated human heart operated mechanically beats inside a bioreactor. The heart, re-engineered with new cells to the structure of a donor organ, looks translucent. It has a hopeful glow. Some day, researchers would like to transplant lab-restructured hearts into patients from ICUs and set those hearts beating, naturally, without machines.
Regenerated organs are part of the vision of the new Mass General ICU. Saving most lives is not good enough. And sending some patients home with oxygen tanks or to live out their days in nursing homes is not restoring the quality of life that patients ultimately desire.
MGH critical care clinicians want more patients to leave the hospital stronger. They envision a time when they may be able to offer new organs, use patients' genes to guide treatment and better identify which bacteria are making people sick.
"It's impossible to take care of patients and not think about what one might do better," says J. Perren Cobb, MD, director of the newly formed MGH Critical Care Center.
The past is not far behind
Critical care, also called intensive care, began in the United States in the mid-1950s during the polio epidemic. Polio virus patients were dying of a type of respiratory failure, called paralytic poliomyelitis. The invention of the iron lung — a tank respirator that a person would lie inside — provided a solution to support breathing. But, there were not enough respirators to meet the need.
In Copenhagen, Denmark, a group of physicians found an alternative. By placing a mask-like device over the patient's face or by placing a tube in the windpipe, they could support breathing using oxygen delivered by a bag. Medical students, nurses, dental students and other hospital staff worked in shifts, pressing the bags day and night. If they stopped, the patients died. Dr. Cobb shares this story with his medical students.
The past challenges show how far critical care has come, but the story reinforces what we know today: "We rely largely upon the healing powers of the body," Dr. Cobb says. "And we wait, along with family members at the foot of the bed, knowing that we've created an environment that we think is optimal for healing."
Some of the most common drugs given in the ICU today are antibiotics, to target infections, like pneumonia. Other measures support hearts, lungs and kidneys. About 90 percent of patients who enter ICUs recover, but to improve the lives they lead in the years that follow, Dr. Cobb and his colleagues at Mass General know they need to shift the focus and culture of the ICU.
"Physicians need to work less as individuals and more as members of healthcare provider teams. We need to develop protocols and work together to provide optimal care as well as efficient and safe care. That's the future of medicine," according to Jeanine Wiener-Kronish, MD, anesthetist-in-chief, Anesthesia, Critical Care and Pain Medicine.
Shifting medical culture is not easy, especially with the current structure of ICUs in U.S. hospitals. Because ICU patients have unique problems, the units are typically run by specialty. Mass General has 133 ICU beds distributed across various departments — medical, surgical, cardiac-surgical, cardiac-medical, neuroscience, neonatal, pediatric, burn and transplant care. But there is room for more efficiency and cost-savings from establishing life-saving protocols to ordering equipment.
Nationally, care for critically ill or injured patients represents about 15 to 20 percent of inpatient budgets at hospitals, Dr. Cobb says. That's a huge percentage of healthcare dollars that will only increase as the baby boomers age. By 2020, the demand for critical care services could go up about 38 percent, according to a report prepared for the U.S. Health Resources and Services Administration.
Dr. Cobb's plan is to integrate engineering principals into critical care to tackle inefficiency.
Dr. Cobb's plan is to integrate engineering principles into critical care to tackle inefficiency, an approach he calls "health engineering." One goal is to examine patient flow through the system with colleagues at the Massachusetts Institute of Technology (MIT).
On a Friday in March, Dr. Cobb has his pager on and is seeing patients in the surgical ICU. He has a soft and steady voice, well-suited to the floors with the hospital's sickest patients.
As he walks the halls, wearing blue scrubs and a white coat, the floor is fairly quiet, except for the constant beeping of machines that monitor patients. Dr. Cobb has ideas about how to make the beeps less disruptive, but more effective. He has lots of ideas.
Dr. Cobb greets his staff as they assess a male patient who had been brought to the ICU from surgery for a hip fracture. A multidisciplinary team of nurses, respiratory therapists and other specialists surround the patient, everyone working to get him comfortable and assess him. They check that he can wiggle his toes. The caregivers put socks on him and tell him to take slow, easy breaths. Dr. Cobb places a stethoscope on the man's chest.
After the team settles the man into bed, most of them move outside the patient's room. On trays, they lay out his chart. Everyone takes notes. By working as a team, they can ask each other questions and make decisions about the best course of treatment.
Teamwork is one of the most important aspects of such care and one that will need to be strengthened to create a better ICU. Dr. Cobb believes that teams will need to grow beyond medical staff to include engineers and researchers to help analyze data from genes and look at how to move patients in and out of ICUs more efficiently, while providing the best care.
Dr. Cobb gets excited when he talks about the ICU of the future. His eyes light up behind his glasses. He prefers the term "reanimation" to intensive care. It's the word critical care doctors in France use to describe what they do.
Recently, he wrote about "reanimation" in a journal article recognizing the history of critical or intensive care. Intensive care is what is provided, not the goal, Dr. Cobb says. "Reanimation is the idea of bringing somebody back to a productive life, who otherwise would be dead," he adds.
If possible, Dr. Cobb would love to name the next ICU a "reanimation unit" to introduce people to the concept at Mass General. It's part of his vision to broaden how the public and even staff think about the ICU.
In 2009, Dr. Cobb was recruited from Washington University in St. Louis to lead the effort to establish the MGH Critical Care Center, an umbrella structure designed to better coordinate the multiple ICUs at Mass General. Mass General's Critical Care Center is the first in New England.
Dr. Cobb was attracted to Mass General because the hospital has a strong intent to integrate research into ICU care and is ready to build on the collaborative efforts across ICUs that are already under way.
When he arrived, Dr. Cobb began working with ICU leaders to standardize patient care and with scientists to integrate research. Together, Dr. Cobb, Benjamin Medoff, MD, chief of the Pulmonary and Critical Care Unit, and Ulrich Schmidt, MD, PhD, medical director of the Surgical Intensive Care Unit, instituted 24-hour faculty care in some ICUs at Mass General. Patients do better when experienced faculty are on site to advise medical residents and interns. Although this isn't the norm at American hospitals, Mass General has preliminary data that shows it is improving patient care here.
"The vision for the MGH Critical Care Center is, in the next 50 years, to figure out how to get patients off machines and have them do well."
Dr. Cobb's long-term goal for Mass General's ICUs is a big one. "For the first 50 years we figured out how to hook patients up to machines," he says. "The vision for the MGH Critical Care Center is, in the next 50 years, to figure out how to get patients off machines and have them do well."
To accomplish that he wants to strengthen partnerships with researchers who are tapping into our organs' healing power of regeneration and the new possibilities of stem cells. The goal is for people to leave the ICU stronger, with greater potential for full rehabilitation, Dr. Cobb adds.
The promise of stem cells, new organs and improving outcomes
Our organs are biological machines that sometimes break. In the hospital, many patients have a specific problem in one organ, like their lungs or heart. "It's just so tragic because the rest of the person is completely intact," says Jay Rajagopal, MD, a Mass General pulmonologist.
Dr. Rajagopal explains that following an injury, the body can have two responses — scarring or healing. If you cut the human skin, for instance, the body typically forms a scar which often fades as healing progresses. But scarring can be dangerous to a human organ. Working with lung cells in his lab, Dr. Rajagopal and his researchers are trying to reduce scarring to a minimum and bolster the recreation or regeneration of lost tissue.
Other Mass General scientists involved in regeneration include physician-researchers Joseph (Jay) Vacanti Jr., MD, and Harald Ott, MD, who are working on the heart, lung, pancreas and kidney.
Dr. Ott begins by cleaning a human organ from a donor with soap. This opens the cells and flushes the system. A framework of tissue remains. On that framework, or scaffold, he adds new cells. The cells attach themselves to the scaffold and form new tissue.
In hearts, spontaneously beating muscle forms within seven to ten days in culture, giving researchers hope that one day, they will be able to literally grow a heart.
The re-created heart inside the controlled environment of the lab bioreactor looks promising. In lungs, within seven to ten days, the tissue has matured enough to exchange gases, which is the most important function of the lungs, one that patients with end-stage lung disease desperately need.
Creating organs in the lab could reduce the need for human organ donors and the many complications, like rejection, that can occur following transplantation. Dr. Ott is working toward the day when a person comes in with a heart problem, and researchers take that person's cells and grow a new heart in three months. The scaffold projects have proven to be a catalyst for bringing various groups at Mass General together, and may lead to other discoveries that help support patients' lungs, kidneys and other organs, he says.
Dr. Rajagopal's lab in the Center for Regenerative Medicine at Mass General collaborates with Dr. Ott to use the same technique to grow lungs. Today, Dr. Rajagopal and his researchers can take a person's skin cells, make those cells into stem cells, and encourage those cells to grow into lung cells.
In Dr. Rajagopal's lab in the Richard B. Simches Research Center, postdoctoral and student researchers work on lung cell projects. Under hoods, researchers load stem cells — so tiny you cannot see them with the human eye — onto plates and then store them in incubators at 37 degrees Celsius, or body temperature. Within a few days to a few weeks, the cells grow.
Dr. Rajagopal and Dr. Ott are working on growing lungs from the cells of patients with cystic fibrosis, a common fatal genetic disease that causes lung infections and excessive lung scarring. As a result, patients must be hospitalized often, frequently in ICUs, and thedisease drastically shortens their lives. "What we're trying to do with the cells from these patients is fix the genetic defect in their lung stem cells and then make airway tissues that do not carry the disease gene," Dr. Rajagopal says. Further down the line, they hope to reinsert the new cells into patients. Drs. Rajagopal and Cobb are working to move research similar to what is being tried with cystic fibrosis patients to ICU patients.
Richa Saxena, PhD, a geneticist at Mass General, is beginning to study whether genes could be used to predict a patient's reaction to treatments for pneumonia, a common reason that people end up in the ICU. She thinks genetics may provide answers that could improve treatments and eliminate time now lost on what is not working for an individual patient.
"Physicians in critical care do a lot of trial and error to try to figure out what is going to work, with the drugs and with the trajectory of each patient who comes in," says Dr. Saxena. "It's hard to predict who is going to get well and who will not."
Caring for a patient based on specific genes or the specific bacteria causing the illness is the way to revolutionize critical care, says Dr. Wiener-Kronish.
Consider pneumonia. One of its forms is caused by a bacterial infection. When diagnosing pneumonia, physicians review an X-ray of the patient's lungs and look for fluid. Other measures, such as bacterial cultures, help further classify pneumonia, but are capable of identifying only 20 percent of the microbes that exist in the world, Dr. Wiener-Kronish says.
If physicians could make better use of genetics to look at the DNA — the genes — in bacteria, then they could identify all of the microbes. Molecular biologists are identifying bacteria that dwell deep in the ocean and in caves miles beneath the earth. She says medicine should be able to bring that technology to the hospital.
Critical care providers could then develop classifications for common diseases treated in the ICU that are as specific as classifications for many types of cancer. As a result, physicians would know what treatment of medication to use and patients could be cared for in a more efficient way, reducing costs and saving lives, Dr. Wiener-Kronish adds.
Coordinating ICU care at Mass General goes back to Henning Pontoppidan, MD, an anesthesiologist, recruited from Denmark, a country where breakthroughs were made in treating patientswith polio during the epidemic. Fifty years ago, Dr. Pontoppidan created the first critical care unit at Mass General, the respiratory intensive care unit, to improve patient safety and group patients with lung failure together. He also formed a committee to organize the Mass General ICU community. That committee, the Clinical Operations Committee, now functions as part of the MGH Critical Care Center. Taylor Thompson, MD, director of the Medical Intensive Care Unit, and Colleen Snydeman, RN, nursing director of the Cardiac Intensive Care Unit, co-chair that committee today.
Committee members are taking best practices from individual ICUs and molding them into processes that can be applied in all Mass General ICUs.
A few years ago, the committee tackled reducing bloodstream infections. These dangerous infections develop in hospitals, as the result of catheters placed in patients' veins.
Committee members reviewed the medical literature and decided on a standard approach. They now use a checklist of steps and a nurse serves as the observer to verify that the process is followed. MGH materials management developed a common equipment kit. Now, everyone has the same tools and follows the same procedures.
The result: bloodstream infection rates dropped 75 percent, initially, Dr. Thompson says. When an infection occurs, the situation is catalogued in a database and reviewed. Committee members are considering similar approaches for ventilator-associated pneumonia, another infection patients can acquire while in the hospital.
Dr. Wiener-Kronish sees the hospital of the future as a place that essentially is all ICUs, or patients under close monitor. The goal for Mass General is to make sure that all of its current ICUs establishstandard practices — to ensure consistent, optimal care and efficiency among units.
She believes this is the time for ICU care to push forward. "I think your mantra has to be, 'What we're doing is OK, but we can do better."
If you would like to learn more about the intensive care units at Mass General, please contact us.