The 1811 Society is a special giving circle comprised of the MGH Fund's most generous donors.
Established in Mass General's bicentennial year, The 1811 Society honors our friends who make a gift of $1,000 or more to the MGH Fund each year. The 1811 Society celebrates a tradition of philanthropy that provides energy and support to our hospital as it begins its third century of medicine.
"Mass General is a global leader uniquely positioned at the epicenter of medicine and research. The MGH Fund is the key we use to unlock that potential." – Peter L. Slavin, MD, President, Massachusetts General Hospital
The 1811 Society is made up of donors who care deeply about health care and are committed to investing in the future of medicine and biomedical science. Mass General is renowned worldwide as an innovator in biomedical research, clinical care and global health solutions. Gifts to the MGH Fund through The 1811 Society make extraordinary advancements possible – from groundbreaking discoveries to lifesaving treatments.
Many members of The 1811 Society have become supporters because they or a loved one were once a patient at Mass General.  They have experienced firsthand the cutting-edge, compassionate care provided at Mass General.
Support the Future of Medicine
In appreciation of your commitment to Mass General's mission of medical excellence and innovation, as a member of The 1811 Society, you will:
Enjoy invitation-only special events presented by the MGH Fund
Have the opportunity to interact directly with the world's foremost medical experts and hospital leadership
Receive publications that share how gifts to the MGH Fund

 

are making a difference at Mass General
In short, you will have an insider's view of the groundbreaking work being done everyday at Mass General – work that would not be possible without your generous support.
A New Level of Leadership
On May 24, 2012, charter members of The 1811 Society gathered for an exclusive event at Mass General in celebration of their leadership, commitment and generosity.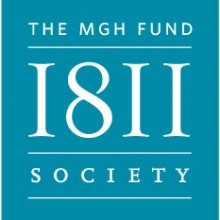 More than 100 guests were treated to a private viewing of the newly opened Paul S. Russell, MD Museum of Medical History and Innovation.   Hospital leaders also thanked supporters for their vital role in keeping Mass General at the forefront of today's dynamic healthcare environment.
Carl J. Martignetti, chairman of the Mass General President's Council, a key volunteer group for Mass General, personally expressed his gratitude to members of The 1811 Society who accepted the Bicentennial Challenge.  The Bicentennial Challenge campaign, put forth in 2011 by Mr. Martignetti alongside Jim and Lisa Mooney, inspired many generous friends of the hospital to join The 1811 Society.  The effort raised a remarkable $1.1 million to help meet Mass General's most pressing needs and most promising opportunities.
You can support the future of medicine as a member of The 1811 Society. Make your gift of $1,000 or more to Mass General today or contact us to learn more about The 1811 Society.
Giving Levels
The 1811 Society donors who give at the following levels are honored as members of special giving circles.
$1,000 annually                      Member
$10,000 annually                    President's Circle
$25,000 annually                    Third Century Circle
The Founder's Circle was created to honor the founders of the Bicentennials Challenge, Carl J. Martignetti and Jim and Lisa Mooney, in recognition of their extraordinary gift of $250,000.