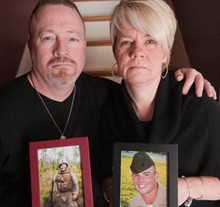 Last summer, a co-worker suggested that Mike Kelly get in touch with the Home Base Program, a partnership of the Red Sox Foundation and Massachusetts General Hospital that supports military veterans and their families. By then, Mike and his wife, Carol, knew they needed help.
Eric, the younger of their two sons, was among the U.S. Marines then engaged in a gritty offensive against the Taliban in the Marja district of Afghanistan's Helmand province. Marine deaths in that area were making headlines. The Kellys could sometimes hear explosions during sporadic calls from their son.
The Mansfield, Mass., couple lived for the contact even though it did little to dispel the anxiety that began after their other son, Sean, went to Iraq as a U.S. Marine in 2005. At one point, the Kellys received a letter — wrong, it turned out — offering condolences for his death. When Sean did finally come home, the changes the Kellys saw added to their fears for Eric.
"It's like a monkey on your shoulder that never goes away," explains Mike, who says Home Base was a godsend at a time he and his wife were feeling desperate and alone.
Helping Veterans of Iraq and Afghanistan
With a combination of medical care, counseling, education, research and advocacy, Home Base aims to help veterans of Iraq and Afghanistan and their loved ones deal with the invisible wounds of war. While diverse, the program's efforts revolve around traumatic brain injury (TBI), combat and deployment related stress, and post-traumatic stress disorder (PTSD).
Working in collaboration with the Department of Veterans Affairs (VA) and the Department of Defense, Home Base provides direct services and referrals to affected veterans and their families, striving to find those not already receiving treatment and counseling else­where. Over the long term, it is designed to broaden public awareness of such issues and provide a model for other private-public partner­ships nationwide. As the Kelly family's story shows, the program is also inspiring some of the people it touches to help others.
"Outreach has a multiplier effect," says John Parrish, MD, the program's director. "We will teach the future teachers, and provide our communities with the skills to care for our veterans, ultimately greatly magnifying Home Base's impact."
As a battlefield doctor for the U.S. Marines in Vietnam, Dr. Parrish helped care for hundreds of wounded warriors. To keep working, he brushed aside his reactions to the carnage and shunned treatment. "I know the stress of war and how it can wreck one's professional, social and family life," says Dr. Parrish.
PTSD may arise after someone personally faces the threat of death or severe injury or witnesses another person in that situation. Some re-experience the trauma with flashbacks and nightmares. Other symptoms may include withdrawal and depression along with a state of hyperarousal that can spawn insomnia, anger and panic.
Calls for a Broad and Sustained Response
TBI involves damage to the brain's internal connections, tissues and blood vessels. In combat, it is often a result of the sudden force of a blast or explosion. Symptoms include headaches, dizziness and blurred vision in addition to problems with memory, concentration and sleep. Because TBI is often the result of a brush with death, it frequently occurs along with post-traumatic stress.
While the terms are relatively new, the conditions aren't. Some Civil War veterans were said to suffer from "nostalgia" or "soldier's heart." Many World War I combatants were treated for "shell shock."
Experts say that while most veterans exposed to combat experience post-action stress, not all will not develop symptoms of PTSD. But researchers and veterans groups maintain that many who need treatment will not seek it, fearing they will be deemed weak, infirm or unfit for further military duty or even civilian employment. The result can be years of personal turmoil and struggle for veterans and those who love them. The issues that can arise include sleep deprivation, violent outbursts, substance abuse, marital discord and homelessness.
Since the terrorist attacks of Sept. 11, 2001, more than two million U.S. service members have been deployed to Iraq and Afghanistan. Nearly one-third have returned suffering from the invisible wounds of war, according to a study by Rand Corp in 2008. Of them, only about half seek help from a physician or mental health provider, the same study estimates.
Although medication can be used to reduce the severity of PTSD symptoms, the cornerstone of treatment has been cognitive behav­ioral therapy. It involves a client talking with a therapist about the traumatic events, with an eye toward changing the client's understanding of and reaction to them. Depending upon the sever­ity of the individual case, treatment for TBI can involve multiple strategies, including physical, speech and occupational therapy.
Amid projections that the conflicts in Iraq and Afghanistan are likely to result in increased mental-health needs for decades to come, VA and Pentagon officials have called for a broad and sustained response by the federal government and society at large.
The needs arising from the current conflicts are likely to be complex. Improvements in medical care and body armor mean more warriors are surviving horrific physical wounds that would likely have been fatal in earlier conflicts. Amid the widespread use of improvised explosive devices, or IEDs, in Iraq and Afghanistan, the Department of Defense reported nearly 31,000 diagnosed TBI cases in 2010, up from about 12,000 in 2005.
Focus on the Needs of Returning Veterans
Meanwhile, satellite phones and other communication tools allow families to stay in closer touch with loved ones overseas, but those same gadgets also have brought the hostilities closer to home. Repeated deployments to the warfronts have added to the stress, particularly for reserve and National Guard units that hail from areas like New England, which don't have large military bases and related support services.
Within the VA Boston Healthcare System, which has treated nearly 10,000 veterans of the Iraq and Afghanistan conflicts, the response has included creation of the Center for Returning Veterans (CRV). The CRV provides assessment, individual and group counseling, and medication management for veterans struggling with readjustment difficulties who have not sought VA mental-health services through traditional channels. Director Erin Scott Daly, PhD, says part of the center's mission is to break through the stigma attached to seeking such treatment. She works closely with Home Base, which the VA helped plan, and sees the organization as a partner. "There are certain people who, for one reason or another, won't access our services," says Dr. Daly, a psychologist. "We want to make sure there are other options out there."
The Boston Red Sox Foundation, the philanthropic arm of the baseball team, and Mass General began discussing the joint effort that would become Home Base in 2008.
The foundation has helped to raise funds, draw attention to the issue and encourage returning veterans to seek help. Popular Red Sox pitcher Tim Wakefield has filmed a public service announcement and home plate at Fenway Park serves as the finishing point for the annual 9K Run to Home Base fundraiser.
Reaching Out To Veterans' Families
For Mass General, Home Base reflects a 200-year-old tradition of providing compassionate care designed to meet community needs and informed by the latest research. The hospital's involvement has helped make Home Base a focal point for related research into PTSD and TBI via the Center for Integration of Medicine and Innovative Technology, or CIMIT, a consortium of Boston-area academic medical centers, universities and research facilities.
Home Base links individual veterans in need of care to MGH physi­cians and the VA and advises caregivers throughout New England about how to better recognize and treat such conditions. It employs psychologists and social workers to work directly with veterans' families and to help them find other services.
The program's staff also includes several veterans who have person­ally dealt with combat-related stress. Seeking veterans in need, these outreach coordinators visit college campuses, homeless shelters and public gatherings. Their work ranges from talking fellow veterans through their fears about even seeking treatment to arranging transportation to medical appointments. "The worst-off guys don't want to come here and they are the ones who need it most," says coordinator Roger Knight, 32, an Army Special Forces veteran who served in Afghanistan.
Bob Davis, another outreach coordinator, hoped the problems he brought back from his second deployment to Iraq in 2006 would fade like jet lag. As a medic and behavioral specialist with the Army Reserve, the 36-year-old had counseled frontline soldiers during the peak of the insurgency. Among other things, that meant helping the men of one unit grapple with the kidnapping of two comrades who were later found beheaded. The emotional toll on Mr. Davis was compounded by sometimes excruciating upper-body pain that began after an enemy rocket exploded about 15 feet from him.
After the homecoming parties, Mr. Davis spent weeks shooting video-game zombies, getting into fights and drinking. Urged to seek help by his wife, he says counseling from the VA and later Home Base gave him tools to better understand and control his memories. Now he hopes talking about them will help other veterans open up and deal with theirs. "For some, it's a natural point to start," he says.
That was true for Jon Zagami, an Army reservist who returned to the Boston area in 2004 after spending about a year in Iraq. Once outgoing, he came back edgy and distant. In restaurants, he refused to sit where he couldn't see the door. He shunned treatment and wouldn't say much to his family. "I knew the boy who went overseas, but I didn't know the man who came home," says Michael Zagami, his father.
No Point in Talking
After the young veteran suffered a stroke while attending college, doctors told the family his military medical records indicated he had suffered several head injuries in Iraq. One was the result of a bomb blast. In another instance, he was kicked in the head while on crowd control duty.
Jon slowly recovered physically but, by the time his younger sister, Jaime — also the veteran's advocate, confidant and tutor — convinced him to visit Home Base, he had decided there was no point in talking about Iraq with anyone who hadn't been there.
Bob Davis had. Jon recalls that, during their first conversation, the Home Base coordinator described an Iraqi missile that soared over his head a few days before in the 2003 invasion of Iraq began. Jon realized that, in those hours before his combat experiences began to unfold, he had been in Kuwait watching that very same missile. "He could relate to everything I was saying," says the 26-year-old, now a business development manager for a Boston staffing agency.
The encounter helped persuade Jon to begin seeing a Mass General doctor for therapy. And something else changed. With Jaime beside him, the veteran who once refused to talk about his experiences with anyone was soon talking about them to reporters and at public gatherings.
Jon thinks his story might provide hope to veterans still trying to cope on their own. In the meantime, meeting more of them is helping him feel less alone. "There is a real sense of community there," he says.
Michael Zagami passed along news of his son's progress to another father with sons in the military. As supervisors in the engineering department at Children's Hospital Boston, he and Mike Kelly had known each other for years.
"Where is My Son?"
Carol and Mike Kelly thought they were prepared when their son, Sean, went to Iraq as a Marine in 2005. Mike is a Marine veteran and Sean had talked about joining the military since he was a little boy. After his deployment, family and friends were supportive and the Kellys threw themselves into shipping sometimes massive packages of goodies to Sean.
But their son couldn't call often and news reports from Ramadi, where he was based, told of relentless, bloody fighting. Fearing the worst, Mike soon found himself praying there would not be any strange cars in the driveway when he came home. "Your mind races," recalls Carol, an administrator at a Boston-area nursing home. "You're thinking, 'Where is my son? What is he doing?'"
One afternoon, Mike was talking to Carol on his work line when his cell phone rang. It was Eric, their other son. The high school junior was distraught. "I've got something to tell you but I don't want to tell you this," Mike remembers him saying. "They mailed us a letter that says Sean got killed." Almost screaming, Mike passed the word to Carol. Over the phone, he heard her pass out and hit the floor.
Back home, the Kellys comforted their other two children. Craving details, they called anyone they could think of who might be able to tell them more. Their list included the Marine Corps, members of Congress, humanitarian groups, friends and friends of friends who might have connections. They called through that night and into the next.
Finally, Mike Kelly was asking the Red Cross for help when he got a call on his other line. It was Sean. "I almost fell to my knees," Mike says.
Word that his parents thought he was dead had reached Sean in Iraq soon after he had returned from nearly three weeks of tension-filled patrol duty. The work could be grim: He later told his parents about seeing children used as suicide bombers and witnessing a buddy sitting next to him shot dead. Around 3 a.m., a sergeant toting a satellite phone came into the plywood shack where Sean was sleeping. The sergeant told him he needed to phone home.
Sean and his Marine buddies got ready for patrol with dark humor. After Sean told the other Marines about making the phone call, they kidded that no bullet could kill him because he was already dead. Sean remembers the thought that kept running through his head: "Is this what is going to happen to me?"
The condolence letter had been written with good intentions. The city council in Cambridge, Mass., had been passing resolutions honoring service members nationwide who had been killed in Iraq and Afghanistan. The council routinely mailed related letters to the various branches of the military, which then forwarded them to the individual families involved. The letter the Kellys of Mansfield, Mass., received in a Marine envelope had been meant for the family of a Sean Kelly from New Jersey, a U.S. Marine who had indeed been killed in Iraq.
Carol and Mike are grateful for the subsequent apologies they received from the Marines and don't blame the military. Carol thinks about the other Kelly family. "What we felt for those 33 hours is what these people will feel for the rest of their lives," she says.
On Oct. 15, 2005, about 30 friends and relatives joined the Kellys at Boston's Logan Airport to welcome Sean home. Later that day, he wore a crisp, dress blue uniform to his aunt's wedding. The bride had written a special toast for her nephew. Older veterans came out of the crowd to shake his hand.
But the high spirits faded. One evening, Carol asked her son to visit a relative who had been particularly helpful to the family during his deployment. Not feeling like socializing with anybody, Sean said no. As they argued, he sat down in front of a television just in time to catch a news account about a Marine from his outfit. The corpo­ral had been shot dead by a sniper just days before the end of his third deployment to Iraq. "I saw that and I started crying," Sean recalls.
In the months that followed, Sean grappled with memories that sometimes seemed all too present and real. While driving in Jamaica Plain one day, he pulled his dad's pickup off the road to shake a persistent tailgater who reminded him of a suicide bomber. The ten­sion intensified after his brother Eric joined the Marines and went to Afghanistan last year. When Eric described how that country smelled during a phone call one night, Sean literally felt as though he was breathing in Iraq again. "I was a basket case," says the veteran who, at long last, sought counseling at the VA.
For Warriors Yet To Come Home
Carol and Mike wanted help, too, but the first therapist they visited turned out to be a generalist with little experience with the issues confronting them.
They had a different reaction to psychologist Bonnie Ohye, PhD, clinical director of the Home Base Family Support Program. The Kellys say she won their trust by carefully listening to their family's story and, week after week, gentling guiding them toward new perspectives about their own deployment-related trauma.
The Kellys say having a safe, quiet place to examine and discuss their memories somehow made them seem less terrifying and potent. With Dr. Ohye's guidance, the Kellys have started a family support group of their own. Along with helping others learn from their experience, it has reduced their sense of isolation. "I was not in good shape and she really helped me out," says Carol. Although Eric came back to the states in January, he is likely to be deployed again in the fall. While back in the Boston area visiting his parents recently, the Marine tried to explain the threat and pressure of almost daily firefights. He played a video clip from Afghanistan, shot with another Marine's helmet cam. It showed men from Eric's unit sprinting for the cover of a tree line while under heavy mortar, rocket and small-arms fire. The Marine brought pictures of comrades who had died and spoke in detail about standing guard over a medic as he tried in vain to staunch the bleeding from a good friend's neck wound.
For his part, older brother Sean says the therapy sessions at the VA are helping him come to grips with his memories, keep on top of a solid job and, with his wife expecting, prepare to become a father.
He sometimes still worries about what others will think about him needing such care but thinks he has plenty of reasons to talk about it. Three Marines he knows have killed themselves. His brother is headed overseas again and his parents will continue to need the type of support Home Base provides.
Meanwhile, there are tens of thousands of other young warriors still in Iraq and Afghanistan who will eventually come home. "People have no idea what they are going through," Sean says. "I would like somebody to know."