This marks the third year that MassPort Firefighter Greg MacCurtain is running the Boston Marathon® in honor of his daughter, Abby, who suffers from a rare mitochondrial disorder called Leigh's Disease.
"Hearing the words that your daughter has a disease that has no cure, no answers, and no treatment paralyzed us."
When Abby was born in 2011, she appeared perfectly healthy in most respects. "She was absolutely a bundle of joy, with the most precious smile and laugh," Greg says. But her poor sucking ability, noisy breathing, constant spitting up, and rigidity in her limbs, concerned her parents. "During cuddles, we could feel and hear fluid in Abby's chest," he adds.
Greg knew in his gut something was really wrong. But it took the next several months to find out what it was. When Abby was ten months old, she started getting high fevers and viral infections. Testing kicked into high gear, and an MRI revealed lesions in a group of structures at the base of her brain — a telltale sign of Leigh's Disease. This degenerative disorder comes with a grim prognosis, and her parents were told that Abby wasn't expected to live past two years of age. "Hearing the words that your daughter has a disease that has no cure, no answers, and no treatment paralyzed us," Greg says.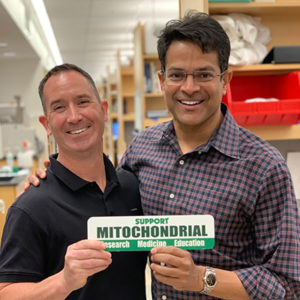 However, Abby beat the odds. She just celebrated her ninth birthday. While she can only say a few words, she's incredibly expressive. She's a people-person who lights up when engaging with others. She loves the colors pink and purple, loud music, riding on the school bus, and dancing by spinning around in her wheelchair.
A Team of Experts
After receiving Abby's diagnosis, the family made their way to Massachusetts General Hospital, and to pediatric neurologist Melissa Walker, MD, PhD, and director of the Pediatric Mitochondrial Disorders Clinic. For the past six years, Dr. Walker has overseen Abby's participation in the clinical trial, based out of Akron, Ohio, that's testing a new drug to treat Leigh's Disease. Abby has responded incredibly well to the experimental drug. Although it can't cure her condition, it is successfully staving it off. Dr. Walker acts as the family's main point of contact for the trial and plays quarterback to coordinate Abby's large team of Mass General specialists outside of Neurology — Genetics, Pulmonary, Gastrointestinal, Orthopedics — especially whenever Abby is admitted to the hospital.
"I hope to bring more awareness to the disease itself and also to Dr. Mootha's work. If anyone can find a cure, he can."
Dr. Walker is also a research fellow in the Mootha Laboratory. Here, Vamsi Mootha, MD, leads a research team dedicated to understanding mitochondrial biology. Mitochondria are the powerhouses of cells, producing most of their energy. Inherited defects in mitochondria give rise to devastating, and often deadly infantile disorders like Leigh's Disease.
Research in Dr. Mootha's lab focuses on both fundamental and translational research, which carries implications for the many rare and common forms of mitochondria disease. All of the proceeds Greg raises through the marathon will go, as they have in the past two years, directly to Dr. Mootha and his team of researchers. "Abby is a champion who lights up the room," Dr. Mootha says. "I'm constantly inspired by her, and by her father's devotion to our lab's work."
Support From the Sidelines
Typically, Abby waits at the finish line on Marathon Monday with her brother, Tomas. But because the 124th Boston Marathon will be held as a virtual event, Abby will get to go along. As he does for their for-pleasure runs, Greg will push Abby, now 50 pounds, in a specially made running chair in front of him. The father-daughter running team started when Abby was five years old. "She's such a happy, vibrant girl and we didn't want her to be stuck in the house all the time," Greg says. "I brought her outside in a running stroller. She felt the wind and giggled, and absolutely loved it. It took off from there."
Greg will miss seeing Dr. Mootha and Dr. Walker, since they haven't yet missed the chance to root him on. But he's still determined to raise $5,000 for the lab this year; since he started fundraising for the Mootha Lab in 2018, he has raised nearly $11,000.
"I hope to bring more awareness to the disease itself and also to Dr. Mootha's work. He's the real deal, and absolutely brilliant — but so down to earth," Greg says. "If anyone can find a cure, he can."
If you would like to support Greg and Abby, please visit Team Abby Mac's fundraising page.
To learn more about the important research taking place at the Mootha Laboratory, please contact us.