Accepting life on life's terms can be difficult. But it's a lesson worth mastering as we age because our outlook can affect how we handle stress, says Laura Malloy, an instructor at the Benson-Henry Institute (BHI) for Mind Body Medicine at Massachusetts General Hospital.
Ms. Malloy is director of the BHI's Successful Aging program, a popular eight-week course for people age 65 and older. Her goal is to help participants learn stress management and coping skills.
"It's easy to look at the negative. I try to cultivate positivity in the class."
"We have a choice of how we want to view things when we are stressed," Ms. Malloy says. "It's easy to look at the negative. I try to cultivate positivity in the class."
Three Things Appreciated
When stressed, people can become over-focused on what's not going well, explains Ms. Malloy who is a licensed independent clinical social worker. The Successful Aging program is based on BHI's Stress Management and Resiliency Training (SMART) program, an evidence-based training that helps individuals of all ages learn stress management techniques like breathing exercises, yoga and mindfulness and cultivate self-care skills to improve overall health.
During one exercise, Ms. Malloy asks students to write down three things they appreciated that day. By thinking about a laugh shared with a friend or a delicious meal, they begin to realize how much is good in their lives. The process removes the attention from what is stressing them, Ms. Malloy explains.
Aging can bring stress, but there are ways to problem-solve on how to deal with it, through eating well, exercising and practicing relaxation, she says.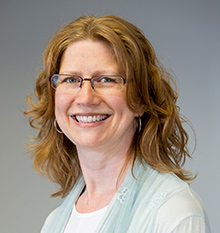 Stress Management for Aging
Many class participants are facing significant life changes, such as the loss of a loved one, retirement or concerns about living independently.
They learn from group sessions where they share health and personal challenges, explore their thoughts and feelings and learn more adaptive ways of thinking so they can have a more helpful and balanced view of their situation. Ms. Malloy also teaches the group physical interventions to manage stress, such as breathing exercises and chair yoga. Chair yoga is safe for most people and provides an effective way to relieve muscular tension, Ms. Malloy says.
"If stress is exacerbating our symptoms, then, if we lower our stress, the hope is we can reduce symptoms caused by conditions such as insomnia and anxiety," Ms. Malloy says.
Research from the BHI has shown that relaxation techniques can lower blood pressure. A 2012 study of the Successful Aging course found participants increased their confidence and morale following sessions. The course is covered by many insurance plans.
Continuing to develop these skills outside of class is important, Ms. Malloy says. Participants are given CDs with 10- to 20-minute daily meditations. "The techniques relax the body, quiet the mind and help us get off the train of everyday thoughts," she explains.
A Big Birthday
Elizabeth Cook, a retired therapist for cancer patients at Mass General, took the course recently.
"My 80th birthday, for me, was looming large," the Boston resident remembers. Neither of her parents lived past their 80th birthday, so she was anxious about the future.
Elizabeth worked with Ms. Malloy and classmates on the skills involving loving kindness, empathy and acceptance. She also wrote down what she was grateful for each day, which she found helpful.
Ms. Malloy was able to bring together people who were experiencing stress for different reasons, Elizabeth says. "She created a safe place for people to come and share," she says.
To make a donation to support the Benson-Henry Institute for Mind Body Medicine, please contact us.
Tips for Successful Aging and Stress Management
Decrease stress
Stay fit
Be vitally engaged (volunteer, cultivate a hobby)
Do aerobics for the mind (crossword puzzles, Sudoku)
Get good nutrition
Get rid of the gripes – Be Happy
Use social support, like friends and social activities
Cultivate a sense of humor
Get enough sleep and rest