October 2016 marks the 90th anniversary of the publication of A.A. Milne's children's classic, "Winnie-the-Pooh." On Oct. 15, MassGeneral Hospital for Children (MGHfC) paid homage to the whimsical tale at the 2016 Storybook Ball. More than 500 guests joined Pooh and his friends as The Castle at 130 Columbus Ave., Boston, was transformed into the Hundred Acre Wood.

The annual fundraiser for MGHfC raised more than $1.6 million to support research initiatives and patient care programs.
The program spotlighted the work being done in medical genetics at MGHfC. The Genetics and Metabolism Program is at the forefront of advances that are helping physicians better understand the basis of many health conditions and allowing the hospital to deliver more personalized care. State-of-the-art genetics laboratories, worldwide collaborations and research trials ensure patients have access to the latest testing and treatment options.
One Family's Gratitude
"Winnie-the-Pooh" is a tale of innocence, hope and love, and so guests were introduced to 10-year-old John Peters and his family from Haymarket, Virginia. When JP, as he's known to his family, was just six months old, he was diagnosed with a complex genetic condition known as Duplication15q Syndrome, which causes seizures. By the time JP was five years old, he was having several dozen seizures a day. This significantly impacted his development and his ability to communicate. His family feared he would not make it to his sixth birthday.
Guests were introduced to 10-year-old John Peters and his family from Haymarket, Virginia.
Then they were connected with Ronald Thibert, DO, director of the Dup15q Clinic at MGHfC. Dr. Thibert placed JP on a high fat, low carbohydrate diet known as the ketogenic diet to treat his seizures. Almost immediately, the family saw a break in JP's seizure pattern. After four short months on the diet, JP was having just a few seizures a day and was able to stand with support and make eye contact with his family.
With his seizures under control, JP has made significant developmental strides, including learning to walk with support and communicating via an iPad. JP's parents marvel at how far he has come in the past five years. "If it wasn't for Dr. Thibert, I honestly don't know that JP would be here today," his mom says.
Need for Continued Research
Storybook Ball co-chairs Demi Isenstadt, Tiffany Ortiz and Paige Sutphin opened the evening's program. It included speakers Thomas Lynch Jr., MD, chairman and CEO of the Mass General Physicians Organization, and Ronald Kleinman, MD, MGHfC physician-in-chief. There was also a special video message from Red Sox slugger David Ortiz thanking guests for their support of MGHfC.
Allan Goldstein, MD, MGHfC surgeon-in-chief, spoke about looking forward to Storybook Ball each year, and why it means so much to him to be a part of the MGHfC team.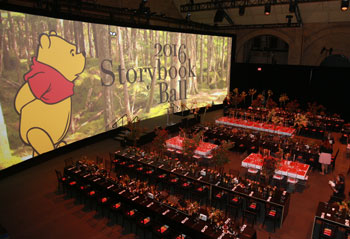 "We are committed to taking care of the whole child and their family, not just the disease. And honestly that's not enough," Dr. Goldstein told guests. "We need to continue to do the research that helps us understand these illnesses, develop new ways to diagnose them, discover better ways to prevent or treat them, and train the next generation of clinicians to do it even better."
Magical Storybook Ball Decor
Designed by Rafanelli Events, the evening's decor included handmade clouds, an 18-foot beehive and a giant screen with custom animation, which brought the Hundred Acre Wood to life.
Guests played luxury booth games for high-end prizes donated by local supporters and businesses. There was also a live auction, where guests bid on packages including a private jet to Bermuda and accommodations at Rosewood Tucker's Point, and tickets to watch a Red Sox game from an executive suite and meet Sox outfielders.
Proceeds will fund important programs for the hospital's youngest patients and their families.
To learn more about supporting MassGeneral Hospital for Children, please contact us. To donate to Storybook Ball, click here.