Before the COVID-19 pandemic, then ninth grader Shoshana Martin of Dorchester, Boston, had little free time. She was scheduled to the max with school, homework and volunteering with younger kids.
The Youth Scholars Program gives students an extra boost to help them succeed in school.
When classes moved online, Shoshana had more unstructured time, but she felt lost and unmotivated and struggled to complete her homework.
She turned to the Youth Scholars Program at Massachusetts General Hospital for guidance — a program she had joined before the pandemic shut down schools.
The Youth Scholars Program usually offers in-person learning, giving students the opportunity to explore science and health care careers and helps to prepare them for college. Shoshana says she felt excited last winter when she arrived for sessions at Mass General's Boston campus.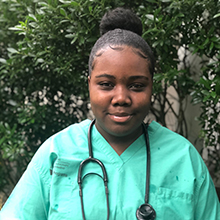 Then, the pandemic moved the Youth Scholars Program online.
Despite the challenges of online learning, Shoshana says the program helped her through a difficult spring. She learned about diagnosing patients, practiced tying surgical knots and made new friends.
Helping Students Succeed
Beginning in elementary school, Mass General's Center for Community Health Improvement (CCHI) youth programs aim to increase students' interest in science and health care and spark college aspirations and preparedness.
One of those programs is the MGH Youth Scholars, which starts in ninth grade. For more than two decades, this program has supported students from Boston, Chelsea, Charlestown and Revere, giving them an extra boost to help them succeed in school.
Participants receive homework help, mentoring, college entrance test preparation and guidance on applying to college. The program also supports students in college and beyond. The goal is for students to graduate from college and enter the workforce with a strong sense of academic fortitude and confidence.
Many Youth Scholars have done just that.
In the year 2019 – 2020:
124 high school students and 101 college students participated
There has been a 100 percent high school graduation rate
93 percent of scholars went on to college
Four scholars were high school valedictorians
Five scholars attended Ivy League schools
400 Mass General staff and faculty acted as mentors and supervisors to CCHI programs
Scholars' college graduation rates are 50 percent higher than peers at Boston Public Schools

over a six-year period

One scholar from the high school class of 2012 is attending medical school
Youth Scholars Program Pivots During COVID-19
Getting into the high school program is competitive. In the 2019-2020 academic year, more than 100 students applied for 30 spots in the ninth-grade Youth Scholar class, which began in January 2020.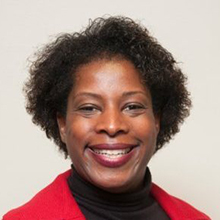 During the pandemic, the program quickly pivoted from a hands-on, in-person experience to virtual learning.
In addition to hosting online homework help, virtual career panels and medical simulation sessions, program leaders reached out to students and their families to see how COVID-19 had affected them.
Communities served by the Youth Scholars Program were hit hard by COVID-19, says Christy Egun, senior director of Boston Partnerships, Equity and Inclusion for CCHI at Mass General. Many Youth Scholars' families worked in the hospitality industry and lost their jobs, she explains.
"Communities served by the Youth Scholars Program were hit hard by COVID-19."
The Youth Scholar Program responded with grocery gift cards to families who needed food. A Mass General social worker connected families with resources to help them navigate paying their rent. And leaders offered support when family members contracted COVID-19 or had concerns about community violence in Boston.
"We want to be an extension of their families, and we know the pandemic has not been easy for many of our students," Ms. Egun says.
Moving Compassion Online
Caroline Hone, the ninth-grade program coordinator, says that the pandemic's timing so early in the program made it more difficult for students to form friendships this year.
Ms. Hone also had to learn how to run the program online by working with mentors and hosting small group sessions. The online classes gave Ms. Hone an intimate peek into her students' lives. Once she watched as a student bounced a younger sibling on her lap during an online class and didn't miss a beat.
Ms. Hone checked in with her students by phone every week. "I would ask, how they were doing," she recalls. "I don't know that many other people were asking them that question." She spoke to her students about the importance of sleep routines and maintaining homework schedules.
As the online program developed, Ms. Hone discovered some students had bonded and were texting each other to discuss college aspirations and COVID-19.
Gaining Confidence
The Youth Scholars Program helped sharpen Shoshana's focus on online learning and set aside the comforts of home, like her cozy bed during school time, she says.
"My mentors gave me this driving momentum to never keep another idea just in my head, ever again."
The program also helped Shoshana discover something new: Confidence.
"In school, I used to feel shy. And when it came to giving my ideas; I felt like my ideas were not good. But my mentors in this program gave me this driving momentum to never keep another idea just in my head, ever again," Shoshana says.
Ms. Hone is proud of the ninth-grade class. "I think it was remarkable that the ninth graders had the ability to stick with us, even when our program looked so much different than what they thought they were signing up for," Ms. Hone says. "I really appreciate their diligence and persistence."
Meanwhile, Ms. Egun and Ms. Hone say they continue to plan for "anything and everything" to help the students through another uncertain year.
Philanthropic Support
During the pandemic, two of its major corporate supporters, the Biogen Foundation and Vertex Foundation, made donations to ensure that the Youth Scholars Program and other underrepresented youth in the Boston area could continue to receive education and career inspiration.
Biogen Foundation committed to funding the new MGH Youth Neurology Education and Research Program, which drew applicants from the MGH Youth Scholars Program and other students underrepresented in STEM. A total of 31 high school seniors and college undergraduates participated in the program's paid mentored neurology research internships in the summer of 2020.
With the Vertex Foundation, Mass General is launching the MGH Virtual Tele-Health Teaching Clinic and simulation program for the upcoming year. Through this new platform, students will interact with Mass General clinicians and role play as members of the health care team, working together to "meet" patients and "make" diagnoses through a simulation as they get an advanced introduction to the art and science of modern medicine.
To learn more about the Youth Scholars program or to make a donation, please contact us.