Longtime supporters of Massachusetts General Hospital, Arthur, Sandra and Sarah Irving made a $1 million donation to support the Mass General Emergency Response Fund and the critical work the hospital is doing to address the COVID-19 pandemic. Below is a note from the family, explaining the sentiment behind their very generous gift. We are fortunate to consider them part of the Mass General family.
We are happy to know our gift is helping. Everyone at Mass General is working really hard to help sick patients get well. Our gift is meant to be an expression of respect and gratitude and encouragement to all those on the front line team who have been working selflessly, tirelessly and bravely in the care of sick patients. Any one of those patients could easily have been any one of us.
We know that whenever we've had to call on the Mass General Team to help, they have always been there for us. And so when we received a letter from your leadership telling us about the threat of the coronavirus, how fast approaching it was, and how important it was to be ready, we knew this was a time you really needed us, all of us. We've thought a lot about the leadership team at Mass General over the last few months and all the decisions they've had to make. Our gift is our way of thanking them – the doctors and medical teams who have been our strength during our own personal battles.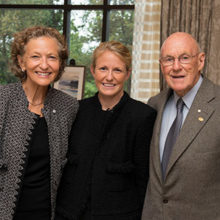 Our way of answering the call for help was our gift of one million dollars to the Emergency Fund at Mass General. We think it's important to answer the call of leadership. It's lonely at the top sometimes and we need the support and kindness of one another when it comes to tackling some of life's most pressing issues.
In this instance, the priority was that the front line be prepared for the COVID-19 crisis and a large number of sick people. Mass General needed the necessary armament to face a real battle. The spirit of our gift was to best prepare the doctors and nurses in having the necessary equipment for them to care for sick patients and importantly to protect themselves from becoming sick.
We have thought a lot about the many sick patients – because of COVID-19 – and we hope our support will just help them get well.
We have been strong proponents of the knowledge component of health care and our gifts to Mass General over the years are meant to enhance the research efforts of some of the world's best researchers at Mass General. We know researchers are working around the clock there to find answers and we salute them because their knowledge is our best medicine.
In times of crisis, all of us are called on to help the best way we can. Our gift to Mass General is our best way of answering the call to help. It is a personal gift from your Canadian friends Arthur, Sandra and Sarah Irving. For the first time in history when the border to the United States is closed, our hearts remain open as an expression of giving, and thanking, and wishing for good health, and finding answers.
Again, thank you most sincerely, Mass General.
– Arthur, Sandra and Sarah Irving