It started five years ago with a crazy, audacious dream. Brian Skotko, MD, MPP, wanted to bring the expertise of his Down Syndrome Program at Massachusetts General Hospital to the world. In August, that dream has come alive with the launch of the web platform called Down Syndrome Clinic To You (DSC2U).
Mass General's universe of knowledge makes it the ideal springboard for DSC2U.
DSC2U will change the medical landscape for families who have a loved one with Down syndrome, Dr. Skotko says, adding that just 5 percent of such families in the U.S. receive care from a specialist in the field. The majority get their care from a primary care physician who sees — at best — a handful of patients with Down syndrome.
How DSC2U Works
When families access DSC2U online, they submit their concerns and medical information about their loved one with Down syndrome. The computer immediately analyzes the results based on an algorithm playbook developed by Mass General experts. Families receive two personalized care documents, one for themselves and one to share with their primary care provider, with recommendations tailored to the specific needs of the person with Down syndrome.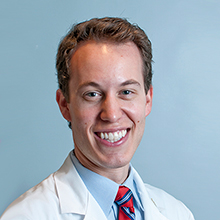 What's the best way to teach children with Down syndrome how to read? Is your child eligible for Social Security? Is it time for your child to get a sleep study? What about resources for siblings? These are some of the questions DSC2U can help answer.
The Mass General Advantage
Mass General's universe of knowledge makes it the ideal springboard for DSC2U. "There's never been a clinical question that I couldn't find help for within our hospital system," says Dr. Skotko, who refers patients to specialists throughout the hospital — from celiac disease to obstructive sleep apnea, co-conditions common to people with Down syndrome.
The path to launch DSC2U at Mass General started with a generous grant from the Patient Centered Outcomes Research Institute to develop the one-of-a-kind system. A team, led by Jeanhee Chung, MD, MS, from the MassGeneral Laboratory of Computer Science engineered DSC2U.
Founding philanthropic supporter, LuMind IDSC Foundation, provided a leadership gift that covered three years of operating expenses that helped the team prepare for a commercial launch and become financially stable. "DSC2U would not be possible without LuMind IDSC's support," Dr. Skotko says.
"Increasing access to treatments is a mission focus," says Hampus Hillerstrom, chief executive officer of LuMind IDSC Foundation. "More importantly, we are honored to collaborate with Mass General to provide DSC2U to approximately 190,000 individuals with Down syndrome in the United States currently lacking access to the best practices in health care from Down syndrome medical experts."
More than 200 families throughout the country participated in a two-year pilot that tested and incorporated constant feedback on the system. The DeNobles, who live locally, also understand the value of DSC2U.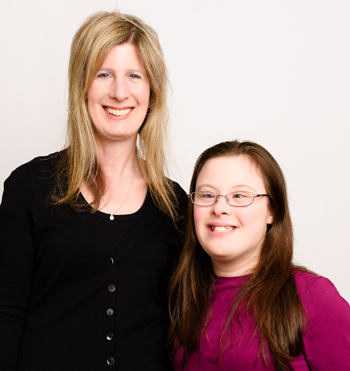 "Not all pediatricians understand the nuances of caring for someone with Down syndrome — even height charts are different," says Allyson DeNoble. "We are fortunate to see Dr. Skotko in person, but we also want families in other states to benefit from the clinic's resources. The website is easy to use, and people will find it helpful to have information about issues like nutrition, hearing and guardianship, which are important as people with Down syndrome age." 
Expert Down Syndrome Care for All
DSC2U is not telemedicine. Patients do not meet with Dr. Skotko or anyone on his team. Instead, Dr. Skotko says, "we downloaded our brains," to put the information provided in the clinics online.
"It is impractical for primary care physicians to stay up to date on every recommendation, so we're simply bringing our know-how, our experience to the families and the primary care physician," he says. "We want to turn every primary care physician into a Down Syndrome specialist. This is a sustainable, scalable way to do this."
Digging deeper, Dr. Skotko admits that the real impetus for DSC2U is Kristin Skotko — his 40-year-old sister with Down syndrome who lives in Ohio. "I wanted to do something for Kristin and for so many others like her who deserve the kind of knowledge we offer in our clinics," he says.
Next Steps for DSC2U
Families can access DSC2U for $49 each time, which supports the cost of maintaining and improving the program. Dr. Skotko is hopeful that insurance companies will cover these fees for families in the future.
"If there's one thing that we have learned from COVID-19, it's to embrace technology."
Updating DSC2U annually is a priority. Dr. Skotko is clear that the project is not complete until every family in every country can access the program, now available in Spanish and English. Adapting it culturally is part of this process, and his team plans to work country by country to make that happen. Philanthropy is the key to achieving this goal.
"If there's one thing that we have learned from COVID-19, it's to embrace technology," Dr. Skotko says.
He views DSC2U as a model for future programs like Turner Syndrome2U, Diabetes2U — any condition where Mass General expertise can help clinicians on the front line.
"We feel a responsibility to beam our knowledge out," Dr. Skotko says.  "And that's what we are proud to do, starting with DSC2U."
To make a donation or learn more about how you can support the Down Syndrome Program at Mass General, please contact us.