When Alec Donahue was asked to change his neurology appointment to a virtual visit, he didn't hesitate. "It was like having a buddy call to check in on me," says Donahue, a competitive cycling coach from Easthampton, Mass.
In March, when the COVID-19 pandemic began threatening the safety of patients and clinicians, Donahue was among the thousands of Massachusetts General Hospital patients who had their in-person appointments shifted to "virtual visits." Although most non-essential visits have been canceled, patients who need regular ongoing care due to their chronic disease, a recent discharge from the hospital or an urgent issue are encouraged to schedule a virtual visit.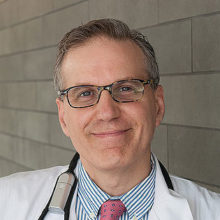 "I like seeing people in person," says Donahue, who was having a follow-up visit after a stroke, "and it was my first time talking to Dr. [Aneesh] Singhal, but he was friendly, and easy to talk to and got my wife involved in the conversation. Best of all, since I live in western Mass., I didn't have to upend my day to get to the appointment."
Mass General's ability to ensure more than 90 percent of appointments scheduled through the end of May could take place via video or phone was made possible thanks to the hospital's Center for TeleHealth.
"Mass General has been at the forefront of efforts to provide physicians and patients with another option for the delivery of medical care," says Lee H. Schwamm, MD, founder and director of the Center for Telehealth, vice president of Virtual Care in Partners Digital Health and executive vice chair of the Department of Neurology. "Our experience and infrastructure allowed us to pivot quickly in this time of crisis."
To absorb the massive expansion in the number of providers who need to connect to patients, physicians have turned to Zoom, Skype, Facetime and other video platforms in addition to the EPIC video platform connected to Mass General's electronic health record system. Dr. Schwamm says established protocols guide these interactions and preserve patient privacy. His teams have been working closely with other Mass General Brigham hospitals to provide guidance and support.
Two Decades of Telehealth Experience
Mass General has been exploring the benefits of telehealth for more than 20 years. In 2000, Dr. Schwamm launched a program designed to reduce the impact of acute stroke in remote locations by providing swift, evidence-based evaluations by Mass General stroke neurologists. The original TeleStroke program led to improved  recovery rates and today provides 6.5 million New England residents with access to Mass General experts. The success of TeleStroke led to the launch of Mass General's Center for TeleHealth in 2011 and over the years, the program has expanded to more than 20 departments.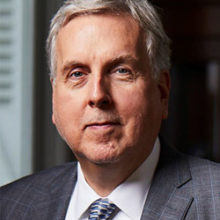 Maurizio Fava, MD, chief of the Department of Psychiatry, says that, "in the midst of the COVID-19 crisis, the entire department has shifted to provide virtual visits, connecting by video or audio with our patients to keep them safe and provide uninterrupted care. At this time of uncertainty and added anxiety our patients are universally appreciative, and their responses can be uplifting and invigorate us in our work."
While respecting physical distancing, virtual visits are still interactive. Dr. Singhal says even though his appointment with Mr. Donahue was their first meeting, "It was possible for me to complete nearly all aspects of the examination and spend adequate time answering questions."
Mass General's telehealth experience is also helping to take the pressure off the emergency department (ED) and inpatient units. Dr. Singhal, who is also the vice chair of Neurology, Quality and Safety, Department of Neurology Stroke Service, rolled out a rapid follow-up virtual visit clinic to allow neurology patients with suspected minor stroke or transient ischemic attack to be discharged directly from the ED and thus avoid a lengthy ED stay or inpatient admission.
Virtual Visits in Isolation Wards
"The mainstreaming of digital health tools and collaboration software will be one of the few silver linings to come from this pandemic."
While Dr. Schwamm has called telehealth the 21st century version of the house call, he says there are also opportunities to use the technology in the inpatient environment.
"We launched a brand-new virtual care solution to help make sure that we can care for patients in the hospital, to reduce the time providers spend in the room with infected patients, while spending more time face-to-face over video. In a world where every interaction involves a gown, mask and face shield, seeing the nurse or provider face-to-face can be a vital and humanizing experience," Dr. Schwamm says. The program was launched initially in the isolation wards using iPads mounted on IV poles. This system allows clinicians to immediately "see" the patient; and allows residents to learn about care without compromising anyone's safety.
The increasing level of comfort both patients and clinicians have with virtual visits, Dr. Schwamm says, will help integrate telehealth more widely after the COVID-19 crisis is over. "The mainstreaming of digital health tools and collaboration software will be one of the few silver linings to come from this pandemic, and it is likely that many of the newfound digital skills and innovations will remain long after the pandemic has resolved," he says.
To learn more about how you can support Mass General's response to the COVID-19 pandemic, click here.
Mass General's Center for TeleHealth was able to ensure that more than 90 percent of patient appointments scheduled through the end of May could take place via video or phone.
June 12, 2020