For Liss Murphy, walking her son, Owen, to school is the best part of the day. The short walk to and from school would once have been impossible for the 46-year-old Dedham resident. More than a decade ago, Liss suffered a bout of severe depression that left her unable to work, exercise or socialize. After numerous treatments attempts failed, she found herself wishing her life would end.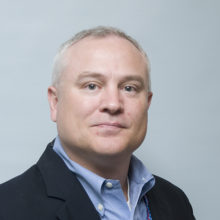 But today, Liss has regained control of her life, thanks to a small electrical device that sends impulses to the part of her brain that regulates mood. The technique, known as deep brain stimulation (DBS), is one of a number of technologies designed to help people with hard-to-treat brain conditions like depression and obsessive compulsive disorder (OCD).
"We design and conduct studies to find the right targets within the brain that respond to stimulation for our patients," says Darin Dougherty, MD, director of the Division of Neurotherapeutics. In 2006, he assembled a team of experts to successfully treat Liss Murphy's severe, lasting depression with deep brain stimulation. She was the first depression patient treated with DBS at Mass General.
Rewiring the Brain's Network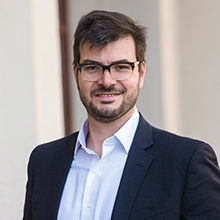 DBS literally changes the brain's circuits, says Joan Camprodon, MD, PhD, Liss's psychiatrist and director of the Mass General Division of Neuropsychiatry. "To change brain circuits with focal electrical currents is to change the very language the brain uses," Dr. Camprodon says. Brain circuits are the networks of neurons (brain cells) that communicate by way of electrical and chemical signals.
Neuromodulation technologies range from non-invasive techniques, such as Transcranial Magnetic Stimulation (TMS), which stimulates the brain with magnetic pulses, to DBS, which requires surgical implantation of electrodes in the brain. DBS is most often used to treat brain-based movement disorders, like Parkinson's disease and dystonia and some psychiatric conditions, like OCD, in patients who have not responded to first-line treatments such as psychotherapy or medication. While the FDA has yet to approve the technique as a treatment for depression, individual patients, like Liss, have found it to be a lifesaver.
Severe Depression Takes Hold
It was a sunny day in Chicago in 2004 when Liss Murphy got up from her desk and walked out of her office in a public relations firm, never to return. "It was the beginning of a complete mental, physical, psychological shutdown," Liss says. Up until that point, she had experienced only occasional, mild depression.
After moving to the Boston area, she began treatment with medications, psychotherapy, and eventually, electroconvulsive therapy. Two years passed with no relief. Her life came to a halt. Eventually, doctors referred her to Mass General's Department of Psychiatry, where she met with Dr. Dougherty, who had successfully used DBS to treat people with severe OCD. Based on a precise list of criteria, he thought it could help relieve Liss's depression.
"It was a last-ditch effort," Liss says. During the procedure, she lay anesthetized but awake while doctors secured her head in a metal frame and opened her skull to place the electrodes. "The brain feels no pain when directly manipulated," Dr. Camprodon says. The medical team tested her reactions as they placed the electrodes in her brain and turned them on and off in the "target" area known as the ventral capsule. At one point, with the electrode turned on, she felt a "warm and pleasant" feeling. For Liss, that was the moment her recovery began.
Personalized Treatment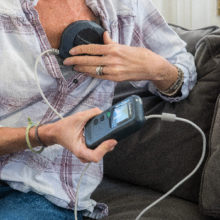 The key to DBS is the acknowledgement that each patient's brain and condition is unique. That's why the Mass General team looks at each patient's brain with a wide range of imaging technology, including electroencephalography, positron emission tomography and functional magnetic resonance imaging to determine exactly which area of the brain is in need of stimulation.
"There is no one-size-fits-all treatment for depression," Dr. Dougherty says. In addition to depression and OCD, the team is working with patients with epilepsy. Dr. Dougherty is also leading a team to create a powerful second-generation DBS device. Unlike the DBS that Liss Murphy uses, which emits a continuous, unchanging "open loop" current, the "closed loop" version detects troublesome brain states and responds with stimulation to nudge brain activity back toward normal. This new device could potentially treat conditions like post-traumatic stress disorder, major depression, traumatic brain injury, addiction, anxiety and borderline personality disorder.
The Long Road Back to Health
Now, 16 years after walking out of her office in Chicago, Liss and her husband, Scott, are helping others with severe depression. They contribute to a fund that supports Dr. Dougherty's research and also helps cover travel expenses for people who need to come to Mass General for evaluation.
"It's heartbreaking that some people are going untreated," Liss says. She wants other people to have access to the compassionate team of experts who helped her at Mass General. "They treated me like a real person," she says, "I was never just a patient."
To learn more about how you can support the research and treatment of depression, please contact us.