Pictured at Psychiatry Visiting Day, from left: Nhi-Ha T. Trinh, MD, MPH, Anne D. Emmerich, MD, Alex S. Keuroghlian, MD, MPH, and Aude Henin, PhD.
June 29, 2019
The earlier the better: LGBTQ individuals who "come out" earlier rather than later in life have lower rates of depression, anxiety, and substance misuse, Alex S. Keuroghlian, MD, MPH, told an audience gathered at the eighth annual Massachusetts General Hospital Department of Psychiatry Visiting Day on June 3, 2019.
Dr. Keuroghlian, director of the Gender Identity Program at Mass General, was one of three clinicians who spoke on the topic, "Understanding and Caring for the Mental Health of LGBTQ Individuals." He was joined by Nhi-Ha Trinh, MD, MPH, director of the Mass General Department of Psychiatry Center for Diversity and director of clinical services and multicultural studies at the Depression Clinical and Research Program, and Aude Henin, PhD, co-director of the Child Behavior Program in the Mass General Department of Psychiatry.
The rate of suicide attempts is four times greater for LGBTQ youth than it is for heterosexual youth.
Visiting Day was held at the Harvard Club of Boston, and was sponsored by the Leadership Council for Psychiatry. The council is made up of individuals and families dedicated to reducing the stigma of mental illness, increasing awareness and advancing the research and clinical care of the Department of Psychiatry. Mass General President Peter Slavin, MD, and Chief of Psychiatry Jerrold Rosenbaum, MD, delivered opening remarks. The keynote speaker was Roy Perlis, MD, director of the Center for Quantitative Health.
LGBTQ and Mental Health
Drs. Keuroghlian, Trinh and Henin described mental health challenges faced by the LGBTQ population:
LGBTQ teens experience significantly more symptoms of depression than their heterosexual peers
The rate of suicide attempts is four times greater for LGBTQ youth than it is for heterosexual youth
LGBTQ adults have more than twice as great a risk of suicide attempts compared to other adults
Among transgender adults, the lifetime prevalence of suicide attempts is 40% – the highest of any population in the U.S.
Nearly half of all individuals who identify as transgender experience depression and anxiety, compared to 6.7% and 18% of the general U.S. population, respectively
All risk factors for mental health issues in the LGBTQ population stem from what Dr. Trinh described as "the stress created by living as a stigmatized minority."
Caring for the Transgender Population
Regarding the transgender population, Dr. Keuroghlian cited a recent study of 200 individuals in Massachusetts. It found that transgender adults who had early access to gender affirming hormone therapy and surgery were more likely to enjoy good mental health and higher socioeconomic status. "People are able to live their authentic selves earlier," he said.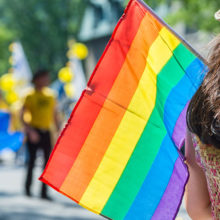 Early treatment is now available to go so far as "blocking" puberty, to give kids ages 9-15 a few years to decide which gender is for them, the clinicians noted. The American Academy of Pediatrics recently changed its guidelines for assessing and supporting children who identify as transgender. Previous guidelines took children's ages into account and the practice of "watchful waiting" discouraged decisions about gender until children entered puberty, or later. The new guidelines suggest that a child who wishes to socially transition should be supported at any age, and to medically transition as developmentally appropriate.
"This was revolutionary and very important," said Dr. Henin, who also acknowledged that "the safety risks are very real," for transgender youth. Of transgender youth, 83% report bullying, with 55% reporting having been physically attacked.
Supportive families have a profound effect on the well-being of transgender youth, the presenters said, emphasizing that medical professionals have a critical role to play in helping families support their children.
Advocacy, Support at Mass General
"It really behooves us to advocate and fight for this community, so that they can feel safe."
The clinician's role is key, Dr. Trinh said, who advocates for "cultural humility," which considers the full range of a patient's personal and cultural identity. "As a clinician, I'm sitting here with an individual and I need to look at that person and think, 'how am I going to understand them?'"
Mass General has launched initiatives in this area. "It's been a very special year for us at Mass General," said seminar moderator Anne D. Emmerich, MD, associate director of the Psychiatry Center for Diversity. The new Mass General Transgender Health Program works within the Department of Medicine and across the hospital to provide integrated care for people who are transgender. Meanwhile, the MGH Psychiatry Gender Identity Program has been established by Dr. Keuroghlian.
"It really behooves us to advocate and fight for this community, so that they can feel safe," Dr. Keuroghlian said. "We are very excited to be generating an army of clinicians who really are affirming and aware of how best to treat LGBTQ folks."
To learn more about how you can support the Mass General Department of Psychiatry please contact contact us.