Joe Gambill lost his battle with brain cancer on Jan. 13, 2017.
December 17, 2020
In January 2016, a colleague from my husband's office called me to let me know that Joe was having trouble standing up from a chair and wasn't acting himself. His boss ultimately drove him home. Earlier in the month, Joe had been suffering from piercing headaches, episodes of hiccups, feeling more tired than usual, and having trouble standing up from chairs due to weakness in his legs.
We concluded that Mass General possessed the level of expertise, technology and best team approach for treatment.
We made an appointment to see our family doctor in Hartford, Connecticut, to talk about Joe's symptoms. The doctor examined him and immediately ordered an MRI, which was performed the same day. A couple of hours later, we learned that Joe had an anomaly on the right side of his brain. The doctor scheduled an urgent appointment with a local neurologist that afternoon.
Turning to Mass General
After reviewing the MRI results, the neurologist confirmed a tumor but could not confirm the exact type. He recommended immediate surgery to remove the tumor and perform a biopsy to determine the type. We were stunned beyond belief but understood the importance of removing the tumor as soon as possible. However, we decided to get a second opinion. My sister, Peggy, told us that Massachusetts General Hospital, a couple hours from our home was one of the most well-known facilities for brain tumors in the nation. Our son, Greg, lives and works in Boston, so it was logical to go to Mass General for a second opinion. I called for an appointment and the next day, we met with Brian Nahed, MD, MSc, a neurosurgeon who specializes in brain tumors, brain mapping and intraoperative imaging.
During our appointment, Dr. Nahed confirmed that Joe did indeed have a large mass in the frontal lobe, on the right side, and based on his experience the mass was likely a type of tumor called glioblastoma. He did not pressure Joe to have surgery but instead explained the treatment options available for surgery and follow-up care.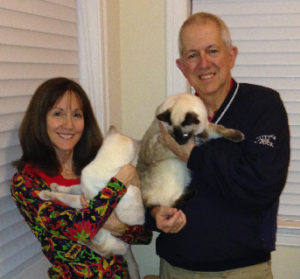 Joe and I are practical people. We're educated, and we both worked as professionals in the aerospace industry. After careful consideration, surgery seemed like the best option, but we were still left with the choice of where to have the surgery. Hartford or Boston? We concluded that Mass General possessed the level of expertise, technology and best team approach for treatment. After the tumor was removed on Jan. 19, less than a week after the initial diagnosis, Joe received follow-up care that included radiation and participated in a clinical trial. When the tumor's regrowth started causing brain seizures, Joe was disqualified from the trial.
For eight months, Mass General's Stephen E. and Catherine Pappas Center for Neuro-Oncology became a second home to us. My husband received excellent care from the entire staff throughout our time there. The staff, doctors and nurses were thoughtful and empathetic. The volunteers were also amazing. They had a keen sense of understanding when a patient isn't feeling well, were caring and always trying to help, while never accepting anything in return.
In September, Joe and I moved to Florida. And on Jan. 13, 2017, a year after the initial diagnosis, surrounded by our son, Greg, and our cats, Simba and Rascal, our small family spent Joe's last moments on earth praying over him together for the last time.
The Stephen E. and Catherine Pappas Center for Neuro-Oncology became a second home to us.
Glioblastoma Research Desperately Needed
According to the American Brain Tumor Association, glioblastomas represents about 15% of all primary brain tumor diagnoses. In recent years, glioblastoma infamously claimed the lives of senators Ted Kennedy and John McCain, as well as Joe Biden's son Beau. Yet, despite the deaths of these high-profile public figures, disparities in fundraising and awareness remain a constant struggle. We have a long way to go in the fight, yet I have faith that Mass General's glioblastoma research team will maximize the strength of every dollar donated to find new treatments or better yet, a cure.
Mass General operates the largest hospital-based research program in the country, and I know they are leading the way in researching and using promising new therapies. I am doing my part in honoring my husband's memory by raising much-needed funds through the sale of my book, Final Round: An Individual Health Journey with Brain Cancer and donations to my BeCause fundraising page, Mass General's online fundraising program. Donations will ensure that the outstanding doctors and researchers at Mass General can continue developing new treatments and finding a cure for glioblastoma for others in similar circumstances.
For more information on glioblastoma treatment and research or to make a donation, please contact us.