Every year, more than 60,000 people in the U.S. are diagnosed with leukemia. Some of the most aggressive and drug-resistant of these cases are associated with mutations in a family of proteins known as IKAROS, which was first identified in 1992 by Katia Georgopoulos, PhD — at the time a young research scientist at Massachusetts General Hospital. Nearly 30 years later, Dr. Georgopoulos — the Jean and Terry de Gunzburg MGH Research Scholar 2014-2019 — oversees her own lab in Mass General's Cutaneous Biology Research Center and continues to make bold breakthroughs in the understanding of IKAROS and its vital role in our immune system. She recently discussed her research and what it means for the future of cancer care.  
How would you describe yourself and what you do?
I'm a lymphocyte biologist. I study lymphocytes — the white blood cells that provide our day to day immune defense — how they are made, how they work and how to harness their properties to fight cancer, infection and disease. Most of my career has focused on the IKAROS family of proteins that are critical for both the production and function of lymphocytes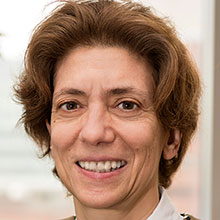 What's special about IKAROS?
IKAROS provides the blueprint for lymphocytes. It regulates the genes and mechanisms required for stem cells to become lymphocytes. However, if during those early stages of lymphocyte differentiation something goes wrong — if you have a mutation in IKAROS — you end up with untreatable leukemia. Our goal is to understand what IKAROS brings to the table and how its loss leads to disease.
How will that help patients with leukemia?
As part of its role, IKAROS represses the genetic pathways that allow leukemia cells to multiply and escape conventional treatments. We believe that these pathways will provide new targets for therapy. But its potential isn't limited to leukemia or related cancers like multiple myeloma. Hacking into these various functions could also provide us with ways to help people with compromised immune systems or autoimmune and inflammatory problems.
Why the name, IKAROS?
It's a combination of my personal life and what I do in the lab. As a Greek, I was brought up with the myths of the master builders of the ancient Greek world. Ikaros was the son and apprentice of the master builder Dedalos. Dedalos made Ikaros wings to fly north away from captivity. But Ikaros ignored his father's advice not to fly too high and crashed before he reached his destination. In our case, IKAROS generates lymphocytes by following a certain path. But if there are changes in that path, IKAROS can crash the immune system and bring about immunological disorders that range from leukemias to immunodeficiencies.
We can no longer rely on steady funding from the NIH, which is why it's so important to have the support of the MGH Research Scholars program.
How does philanthropy play a role in your research?
We can no longer rely on steady funding from the NIH, which is why it's so important to have the support of the MGH Research Scholars program. As someone doing basic science in a hospital setting, it gives me the ability to translate my research in clinical projects.
With the funding I received as the Jean and Terry de Gunzburg MGH Research Scholar, my lab was able to explore the role of genome organization in basic mechanisms of DNA repair and transcription — the process that occurs when a DNA sequence is copied. These are critical steps in the development of effective lymphocytes. Beyond the hospital, the honor and recognition that come with an MGH Research Scholar award has helped facilitate my scientific interactions and collaborations with others in the field.
The Research Institute: Saving Lives Through Science

The Massachusetts General Hospital Research Institute is the largest hospital-based research program in the United States, with a community of over 9,500 people working across more than 30 institutes, centers and departments.
Our researchers work side-by-side with physicians to pioneer the latest scientific advancements for curing disease and healing patients in Boston, across the United States and around the world.
To learn more about the Research Institute, please visit our website.