Inside the Pediatric Intensive Care Unit at MassGeneral Hospital for Children (MGHfC), two medical students, two resident doctors, three nurses and a pharmacist gather at the bedside of a young patient. Angie, they are told over the sound of her crying, has just returned from the operating room, where she had undergone a minor procedure. But Angie's heart rate is increasing, and her blood pressure is dropping. She is turning blue. Something is wrong.
Mass General has an unparalleled legacy of educating the next generation of medical trailblazers.
Behind a nearby curtain, Phoebe Yager, MD, chief of Pediatric Critical Care Medicine at MGHfC, watches the events unfold on her laptop. This isn't an actual emergency. Angie is a high-tech robotic mannequin, a simulator manipulated by Dr. Yager to judge how the team reacts in a high-stress situation.
After a few tense moments, the team deduces the source of the problem — a collapsed lung — and reacts in time to save Angie. Simulation or not, the relief on the participants' faces is as real as it gets.
"Simulated emergencies engage learners physically and emotionally," Dr. Yager says. "The more we practice teamwork and communication skills in simulated conditions, the better prepared we are when faced with real-life emergencies."
New Health Care Education Initiatives
As the first and largest teaching hospital for Harvard Medical School, Massachusetts General Hospital has an unparalleled legacy of educating the next generation of medical trailblazers. But these days, Mass General is intensifying its efforts to make health care education an ongoing endeavor, one designed to ensure that all caregivers are prepared to deliver bold breakthroughs in health care to patients' bedsides.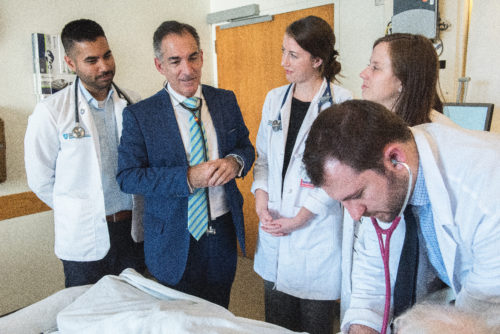 Across the hospital, high-tech simulations and interdepartmental, interprofessional trainings are improving the safety, quality and efficiency of care.
And now, with a bold plan for the creation of two new educational initiatives — the MassGeneral Learning Hospital and the Mass General Academy for Applied Learning in Health Care — Mass General is bolstering its reputation as a leader in health care education for the 21st century.
"Health care education is one of our most powerful tools for improving patient care," says Peter Slavin, MD, Mass General's president. "By expanding and rethinking our approach to it, we strengthen our capacity to deliver the latest advances in science and care to every patient, every time."
Variability in Health Care
In 19th century America, formal medical education was largely lecture and book-based. But Mass General's leaders believed it was also important to provide young doctors with first-hand patient experience. When the hospital opened its doors, its clinical centerpiece was also an integrated teaching space — the surgical amphitheater now known as the Ether Dome.
"You can't just rely on talent — that's why we prioritize developmental support at every level…"
Almost two centuries later, Mass General is the most recognized and awarded teaching hospital in the world, offering more than 20 specialized residency programs, over 130 fellowships and a wide-range of educational opportunities for health professionals at every level.
"Continuing longitudinal education is the key," says Alberto Puig, MD, PhD, director of the Core Educator Faculty Service in the Department of Medicine at Mass General and associate dean of undergraduate medical education at Harvard Medical School. "You can't just rely on talent — that's why we prioritize developmental support at every level, from medical student to established faculty."
But today's caregivers face new demands on their time and resources, restricting time for education. In addition to seeing more patients, working more intensive hours and facing more paperwork, today's providers must also keep pace with new findings, methods and technologies. This pressure can affect the quality, reliability and consistency of patient care.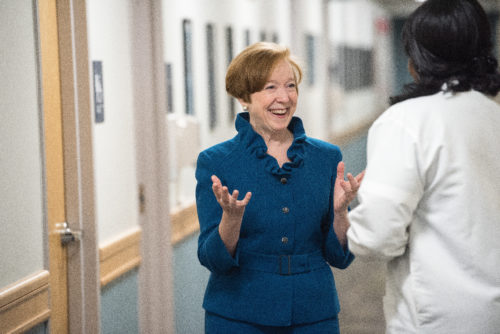 "Our goal is to provide the best care to all patients at all times," says emergency physician James Gordon, MD, MPA, who was named Mass General's first chief learning officer in 2018. "The only way to consistently deliver that level of performance in a reliable way is to give individuals and teams the time and space to practice in a way that mirrors their daily work environment."
Practice Makes Perfect
Dr. Gordon has been thinking about new ways to replicate the patient care environment and experience since he first encountered a robot mannequin early in his career during a medical education workshop.
"It could talk, blink, breathe," Dr. Gordon says. "I found it to be a meaningful, enjoyable, risk-free way to practice and teach medicine." Dr. Gordon would become one of the hospital's leading proponents of simulation and the founding director of the Mass General Learning Lab.
Dedicated to enhancing patient safety through routine practice, the Learning Lab has served as the hospital's primary simulation-based training and education center since 2009.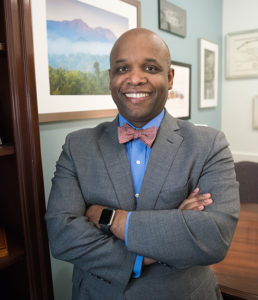 At the heart of the Learning Lab is a simulation ward, with four bays that can be reconfigured to replicate a range of different clinical environments. In addition, there are virtual-reality trainers to replicate cardiac catheterization and endoscopy, silicone dummies for intubation and IV insertions and more, as well as classroom spaces for discussion and debrief.
"The goal was to create a dedicated environment where physicians and other health care staff could learn by doing without any risk, better preparing them for on-the-job learning with real patients" Dr. Gordon says.
Crossing Professional and Departmental Lines
The Learning Lab's success has been a collaborative effort across campus. The Department of Emergency Medicine was an early adopter, working with colleagues across clinical specialties.
"Emergency medicine is a team sport with providers from multiple disciplines, so it's essential to practice together," says David F.M. Brown, MD, chief of Emergency Medicine and chair of the Executive Committee on Teaching and Education. Using the simulator mannequins, Dr. Brown and his team recreate common real-life scenarios such as patients with cardiac arrest or a life-threatening infection. These training sessions allow participants to focus on team-based communication and decision-making and learn alongside the emergency physicians, residents, nurses, advanced practice providers and consultants they work with in clinical practice.
For Debra Burke, RN, DNP, MBA, NEA-BC, chief nurse and senior vice president for Patient Care, interprofessional team trainings provide participants with a fundamental perspective into their fellow providers. Burke oversees more than 6,000 nurses, health professionals and support personnel at Mass General.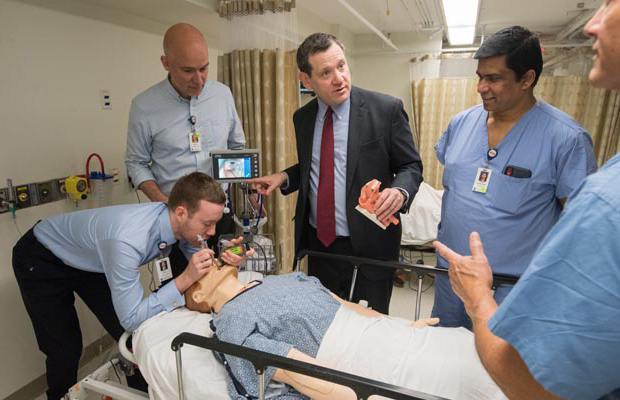 "We often get too focused on our own roles," Dr. Burke says. To illustrate the point, she gives an example of a nurse caring for a patient after an operation. That nurse knows that getting the patient out of bed to walk is an essential part of the recovery. But what would a physical therapist say about the patient's mobility?
"To give that patient the best care you need to know how to tap into the expertise of your colleagues," Dr. Burke says. "Training together provides that opportunity."
Future Health Care Education
Dr. Gordon says that, in the future, the health care systems that prioritize education will provide better care. To ensure Mass General's continued leadership in the field, Dr. Gordon and hospital leadership have proposed the MassGeneral Learning Hospital and the MGH Academy for Applied Learning in Health Care.
As proposed, the Learning Hospital would be a new space designed to look and feel like a small community hospital. It would include its own outpatient clinic, emergency department, operating rooms and specialty units. Rotating teams of clinicians would train there on simulator mannequins and with actor patients.
"To remain the world's preeminent teaching hospital, we must continually evolve," says O'Neil Britton, MD, chief medical officer at Mass General. "The Learning Hospital is a bold commitment to the future that honors the spirit and legacy of Mass General's 200 years of leadership in education."
In parallel, Mass General would create the MGH Academy for Applied Learning in Health Care. This new enterprise would consolidate, guide and promote educational efforts at Mass General. The academy would also support and develop the skill of faculty educators, explore opportunities to introduce new practices and technologies and create new programs to ensure new scientific breakthroughs are smoothly incorporated into patient care.
"I suspect there is more health care education happening at Mass General on any given day than perhaps any other place in the world," Dr Gordon says. "It's one of our greatest resources. By harnessing it, through the Learning Hospital and the MGH Academy for Applied Learning in Health Care, we can transform health care delivery and provide better care for every patient, every time.
To learn more about how you can support health care education at Mass General, please contact us.