Key Takeaways
Focus on foods you should eat.
The truth is any food can be a "good" or "bad" choice depending on the context.
Many diets are rife with inaccuracies.
The only diet advice you really need is that you probably don't need one. A "diet" in this context is defined as a weight-centered approach that relies on specific food-related rules to influence what, when, and how much we eat.
The truth is any food can be a "good" or "bad" choice depending on the context.
Here are some cues that you may be on a diet:
You are purposefully avoiding specific groups of foods.
You repeatedly have feelings of guilt after eating certain foods.
You have labels about food like "clean" or "good" versus "bad."
The truth is any food can be a "good" or "bad" choice depending on the context. Brown rice can be high in arsenic. Chocolate milk can be supportive replacement fuel after a long run. A birthday without cake can be a sad affair.
That is why figuring out what to consume can be so confusing. It is also what makes eating an extremely human process.
Diet Inaccuracies Abound
Many diets are also often rife with inaccuracies. Take the Paleo diet. In theory, it sounds relatively reasonable. We should eat the way our ancestors ate. Except experts suggest Paleolithic eating patterns varied depending on location and likely included items like lichen, organ meats and grubs. Our ancestors were not eating lettuce-wrapped burgers, they were eating bugs. They would probably not even recognize our supermarket carrots — the wild produce they ate was likely smaller and more bitter. I also suspect that if our dear Paleolithic man came across a French fry, he too would find it hard to resist.
Food plans that are very low in carbohydrates are particularly popular now and are often promoted as a "lifestyle," but they are still a diet. (Unless you can live in a world without warm oatmeal cookies and drippy kitchen sink summer peaches. I cannot.)
We can take back control by employing some common sense about how we feel when we eat a certain way.
Taking Back Control
We can take back control by employing some common sense about how we feel when we eat a certain way. For most of us, that means thinking about what we eat as a theme rather than a prescription. Trying to let go of the food guilt you might be hauling around is recommended too. But for those who work best when guided by data, there are also certain things we know from researching the eating patterns of Americans over decades.
Research indicates there are foods that, when eaten regularly, are associated with better weight control. These include — drumroll — fruits, vegetables, whole grains, nuts and yogurt. (All of these, except for nuts, are technically considered carbohydrates by the way.)
Naturally occurring chemicals found in plants, called flavonoids, may be particularly helpful. One study following American men and women for roughly a quarter century found frequently eating high flavonoid fruits and vegetables, like apples, strawberries, blueberries and peppers, helped regulate weight.
Carbohydrates Reconsidered
The problem is most Americans do not get the recommended amount of fruits, vegetables, and whole grains to begin with — more than 85 percent of us fall short. We also know that when eating habits regularly include more refined carbohydrates, like potato chips and sugary beverages, they tend to promote weight gain.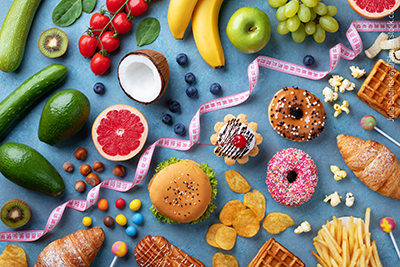 For one, research has shown that substituting saturated fat (found in animal products, like red meat) at the cost of carbohydrates, increases the risk of dying prematurely.
In contrast, we have data that suggests opting for whole grains (and unsaturated fats: like those found in fatty fish, such as salmon, and nuts) can be protective for your body, particularly your heart and brain. So perhaps we should ease up on viewing food as an enemy. All types may not be created equal. But instead of concentrating on what not to eat, it might help to focus on what we should be eating more of.
This does not mean eating potato chips is catastrophic. It does, however, suggest having them every day with your lunch may not be best practice, particularly if they prevent you from eating an apple. But perhaps the worst thing you could do is label them as "bad." This makes an immediate enemy out of a food you may enjoy and then brands the battle of whether to eat them a moral one. No one wins at this game. Except maybe the diet industry.
If you are struggling with breaking free from a dieting mentality, registered dietitians can help. At Mass General's Department of Nutrition and Food Services, we rely on facts and research to help you find a supportive, sustainable way of eating that aligns with your personal goals. Call our outpatient nutrition office at 617.726.2779 to learn more about setting up an appointment.
Emily Gelsomin, MLA, RD, LDN, is a senior clinical nutrition specialist at Massachusetts General Hospital. As a registered dietitian, she counsels on medical nutrition therapy on an outpatient basis and is co-director of Be Fit, the hospital's employee wellness program.
Jointly sponsored by The Clubs at Charles River Park and MGH Nutrition and Food Services, the 10-week program focuses on helping participants "Be Fit and Eat Right." Every ten weeks, employees from different departments within the hospital compete with each other as they make a commitment to Be Fit. Through the creation of a social environment at the workplace, participants are supported to make progress in personal lifestyle changes with the help of a unique support system that includes a dedicated nutritionist and personal trainer.
Be Fit strives to create a milieu of wellness that extends beyond the 10-week curriculum by offering features to those who are not part of the intensive program. This includes the creation of Choose Well, Eat Well, a rating system designed to help both employees and patients increase awareness of healthy choices at retail eateries within the hospital. They also publish a timely nutrition tip each month.