May 8, 2020
Physical distancing measures to limit the spread of COVID-19 have not stopped people of every age from finding ways to join the response effort. Take Dartmouth College sophomores Jason Zavras and Nate Pucci, for example. They started a Boston chapter of Fuel Our Heroes, a national fundraising initiative that supports COVID-19 frontline workers. So far, their chapter has raised more than $7,500 for Massachusetts General Hospital's Emergency Response Fund.
"We believe it our responsibility as Boston residents and neighbors to support our community members who are fighting for our wellbeing."
The Fuel Our Heroes Story
Four high school friends launched the Fuel Our Heroes campaign as a local fundraiser in the Los Angeles area. Funds raised support health care workers by providing essential items like personal protective equipment, gas cards and groceries.
Sacha Pritzker, one of the founding members, is also a Dartmouth student. "This was originally only meant to be in LA," Sacha says. "My buddies and I were all feeling somewhat helpless, so we wanted to provide an outlet for people to contribute instead of sitting on their couches." The Los Angeles campaign took off and word of its success quickly spread on social media. Other students eagerly reached out about how to start campaigns in their own communities.
Fueling Our Boston Heroes
Jason and Nate – from Dover and Hopkinton, Mass., respectively – decided to lead the Fuel Our Heroes effort locally. The two were familiar with Mass General's reputation as a health care leader. Jason had also served as a summer intern in two Mass General labs. "Mass General was the clear choice given its size and the impact it will have on the future," Nate says.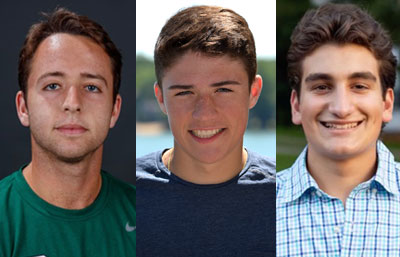 On their fundraising page, Jason and Nate write, "We believe it our responsibility as Boston residents and neighbors to support our community members who are fighting for our wellbeing. Let's do our part to show them that we recognize their courage and stand behind them through this challenge."
The two students connected with the BeCause community fundraising team in the Mass General Development Office. With a fundraising goal of $30,000, they set up an online BeCause fundraising page and reached out to family, friends, alumni networks and Boston-based companies.
"While most people believe that their responsibility ends with isolating themselves at home, others aspire to play a more meaningful role," notes friend of the Zavras family George Velmahos, MD, PhD, the division chief of Trauma and Emergency Surgery and Surgical Critical Care. "When they represent the new generation, the effort becomes even more inspiring and uplifting."
To learn more about supporting Mass General's Emergency Response Fund, please click here.
BeCause What You Do Matters
Raising funds for COVID-19 now is a top priority. How can you help? Creativity is a hallmark of Mass General's BeCause community fundraising program. In 2019, BeCause fundraisers donated more than $5 million for the hospital, through efforts like lemonade stands, birthday, bar mitzvah and wedding gift donations, sports events and personal pursuits in spinning, skating and running.
Start an online fundraiser and encourage your friends and family to give! Here are a few reasons community members are setting up BeCause fundraisers:
BeCause their Mass General experience inspired and motivated them to act
BeCause they have a friend, colleague or family member who needs help
BeCause they care about protecting and supporting our health care workers
BeCause they want to accelerate the science that leads to prevention and treatment
BeCause we are all affected in some way
For more information, please contact Leslie Ruchala at 617.724.7905 or at lruchala@partners.org.