February 18, 2021
When Jacqui Lewis received a diagnosis of cholangiocarcinoma, a rare cancer that forms in the bile ducts, she told her doctor, Lipika Goyal, MD, MPhil, at Massachusetts General Hospital that she didn't want to know the life expectancy for the disease.
Jacqui decided to approach cholangiocarcinoma as a problem she could solve.
The Marblehead, Massachusetts, resident realized she was up against dismal odds. Her cancer was diagnosed at stage IV in March 2020. It had metastasized, spreading to her lymph nodes, adrenal glands and bones.
But being an entrepreneur and businesswoman, Jacqui decided to approach cholangiocarcinoma as a problem she could solve. During a chemo session, she made up her mind to raise $1 million for rare cancer research to improve the odds for herself and other patients.
Cholangiocarcinoma: A Shocking Diagnosis
One month before she received her diagnosis, Jacqui says she "was living my best life." Her teenagers, Anjelina and Evan, were thriving, and she had traveled the world. She was featured in a Forbes magazine article celebrating her career in travel and had received awards for running one of the top women-led businesses in Massachusetts.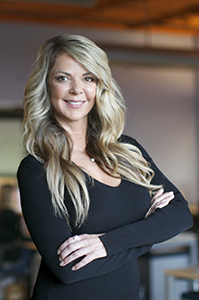 But she had a lingering pain under her right shoulder blade that had been bothering her since 2016. Her primary care doctor ordered numerous scans and bloodwork; nothing unusual showed up. Then, an MRI scan showed a lesion on her shoulder bone. A PET scan revealed more — the cancer had spread throughout her body.
"It was surreal. I felt really healthy. I was traveling quite a bit for work and doing fine, working out," Jacqui says.
Like other patients with bile duct cancer, Jacqui was diagnosed in a later stage because the disease produces few to no symptoms.
Two weeks after her diagnosis, Jacqui met Dr. Goyal, an internationally recognized leader in cholangiocarcinoma research. As they planned her treatments in the following weeks, Dr. Goyal told Jacqui that her tumor had an IDH1 mutation, a biomarker which gave her the option of targeted therapy, and that she was eligible for a clinical trial that included immunotherapy. The treatments did not work on Jacqui's cancer, leaving Jacqui with limited options.
Rare Cancer Research Needs Funding
As Jacqui learned more about rare cancers, she began to see her challenges as an opportunity to help.
After a conversation with Dr. Goyal and Dejan Juric, MD, an internationally recognized leader in drug development and director of the Henri and Belinda Termeer Center for Targeted Therapies at Mass General, Jacqui decided to raise funds for tumor research for rare diseases at the Termeer Center. The center's mission is to reduce the time it takes to develop new drugs from 10 to five years in order to bring treatments to patients faster.
Rare cancers are particularly hard to develop drugs for because there are few laboratory models to study the science and there are a limited number of patients to recruit for clinical trials, explains Dr. Goyal. Funding for rare cancer research is also less than for more common cancers, she adds.
"Jacqui took a very difficult personal situation and turned it into a way to bring hope to other patients and improve research and patient care," Dr. Goyal says. "Her passion and commitment is inspirational."
Fundraising to Improve the Odds for Rare Cancers
On Giving Tuesday, 2020, an annual day people are encouraged to donate to nonprofits, Jacqui launched The Rare Initiative and with the help of Mass General's BeCause community, created a fundraising page to accept donations. The Rare Initiative is on a mission to change the way all cancers are treated — including rare cancers and tumors that are difficult to treat.
WigOut for a Cure
After chemo caused her long, blonde hair to fall out, Jacqui began wearing wigs and scarves. This brought sympathetic words and nods from strangers, which she appreciated, but also served as a constant reminder that she was living with cancer.
So, she launched "WigOut for a Cure," a public campaign that encourages company employees, sports teams and individuals to wear wigs or scarves for a day, nominate friends to join them and donate $22 to The Rare Initiative as a tribute to the 22 percent of cancers that are rare.
Right now [Jacqui's] top priority is raising $1 million for rare cancer research at the Termeer Center.
"Considering four in 10 people will get cancer in their lifetime, the need for us to work together to find a cure for all cancers could not be more urgent," says Jacqui.
She hopes that with her Mass General medical team she will have many more years ahead. Right now her top priority is raising $1 million for rare cancer research at the Termeer Center.
Reflecting on her diagnosis, she says, "I told Dr. Goyal not to give me a life expectancy because I said I expected to be standing on a stage with her at a medical conference with other patients with cholangiocarcinoma explaining how we figured out how to get us all back to no evidence of disease.'"
To learn more about the Henri and Belinda Termeer Center for Targeted Therapies at Mass General, please contact us.