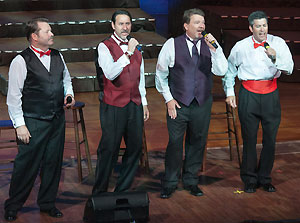 Greg Chastain spent many hours flying between Indiana and Massachusetts while caring for his mother, Barbara Byrd, before she passed away from pancreatic cancer in 2009. Most of those long flights were spent thinking about his mother and what he could do to help her. He wanted to support other families facing his same sadness and fight the disease that would quickly take her life.
Growing up, Greg's mother filled their home with music. Her favorite albums, by Neil Diamond and Mitch Miller, were always playing. She would sing along. Her love of music even carried into her death — she handpicked each song that would play at her funeral.
Greg's own career in musical theater began in the church choir at the age of 8. It went on to include instrument lessons, high school musicals and Purdue University's Glee Club. His mother, also his biggest fan, was a constant supporter of his love for musical theater.
It is thus a fitting tribute that Greg has chosen to honor her memory by founding the Voices of Hope, an all-volunteer organization of local performers who raise money for cancer research through annual musical celebrations and charity events. Six months after his mother's death, the group performed its first show at the Next Door Theatre in Winchester, Mass., to a crowd of 135 people. To date, the Voices of Hope has raised more than $190,000 to support cancer research at Massachusetts General Hospital and the Dana-Farber Cancer Institute.
Following his mother's passing, Greg found solace in the theater community. Before she fell ill, he was set to perform in a local production of "Aida." He returned for the show's final two performances and was moved by the love and support he received from fellow performers. By talking and sharing with cast members, he realized how many others had experienced the same grief.
When Greg first had the idea to put on a show to raise money for cancer research, he asked 20 of his closest theatrical friends
When Greg first had the idea to put on a show to raise money for cancer research, he asked 20 of his closest theatrical friends, including current board members Dana and Ed Siegal, Mike and Beth Consoli, Amy Falk and Robert Hallisey to join him for a one-night-only performance, "kind of like the old Mickey Rooney, Judy Garland, let's put on a show sort of thing," he reflects. That show raised an impressive $17,000. Since their first performance in 2009, the group has grown to include more than 100 members. It has performed at a New England Patriots game, Fenway Park and Boston's Symphony Hall. The group has been joined on stage by Boston radio personalities Jordan Rich and Candi O'Terry, as well as singer-songwriter Livingston Taylor. In 2011, the Voices of Hope were honored by Mass General at the one hundred, an annual event that recognizes 100 individuals and groups who have made significant contributions to the fight against cancer.
At the one hundred the Voices of Hope were first introduced to the Mass General Cancer Center and the groundbreaking work being done at the Henri and Belinda Termeer Center for Targeted Therapies. Because most members of the Voices of Hope had been affected by cancer, Greg knew supporting the Termeer Center was a perfect fit.
"We had been looking for a place that treats a diverse group of cancers, and not one particular area," Greg explains. "They just sold us on the work they're doing. It was a perfect fit and it's been great ever since."
The Termeer Center aims to speed the discovery and delivery of new targeted cancer therapies by identifying specific genetic mutations that enable tumors to thrive. The targeted therapies are made to match these abnormalities, so they can attack the tumor on a molecular level. This represents a significant shift in the focus of research and care. Instead of looking at the cancer based on location, scientists hone in on the genetics of each individual's cancer cells to create a unique treatment plan. The Termeer Center's goal is to cut the average time for drug development in half and make new therapies more accessible to patients through its unique, first in human clinical trials program.
In 2012, Voices of Hope donated $55,000 to the Termeer Center. Greg cites the check presentation to Keith Flaherty, MD, director of the Termeer Center, as one of the highlights of the Voices of Hope journey.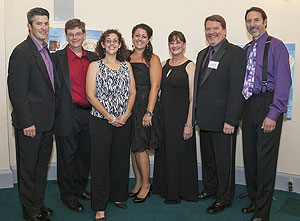 "Dr. Flaherty told us that our donation would be enough to help four or five patients. That doesn't seem like that many, but the results found in just one of those patients could lead to something that has the potential to help thousands of other patients —it could even be the patient that helps to find a cure," Greg says
"We share those stories with our group," he adds. "Those are great moments, to see where our money is going."
While Greg's mother was fighting cancer in Indiana, a family of cardinals built a nest on her sun porch. Over the phone, Greg would ask for daily updates on the cardinals and joke that the birds were taking care of her. The state bird of Indiana, a cardinal now serves as the Voices of Hope logo and as a constant motivator for the group to continue their important work. With fans frequently posting pictures of cardinals on their website, Greg knows his mother is proud, "she's always there," he says.
To buy tickets to Voices of Hope's May 11 production of the popular 1970s rock opera "Jesus Christ Superstar" at North Shore Music Theater, visit www.voicesofhopeboston.org. Money raised from the show will benefit the Henri and Belinda Termeer Center for Targeted Therapies at Mass General Cancer Center.