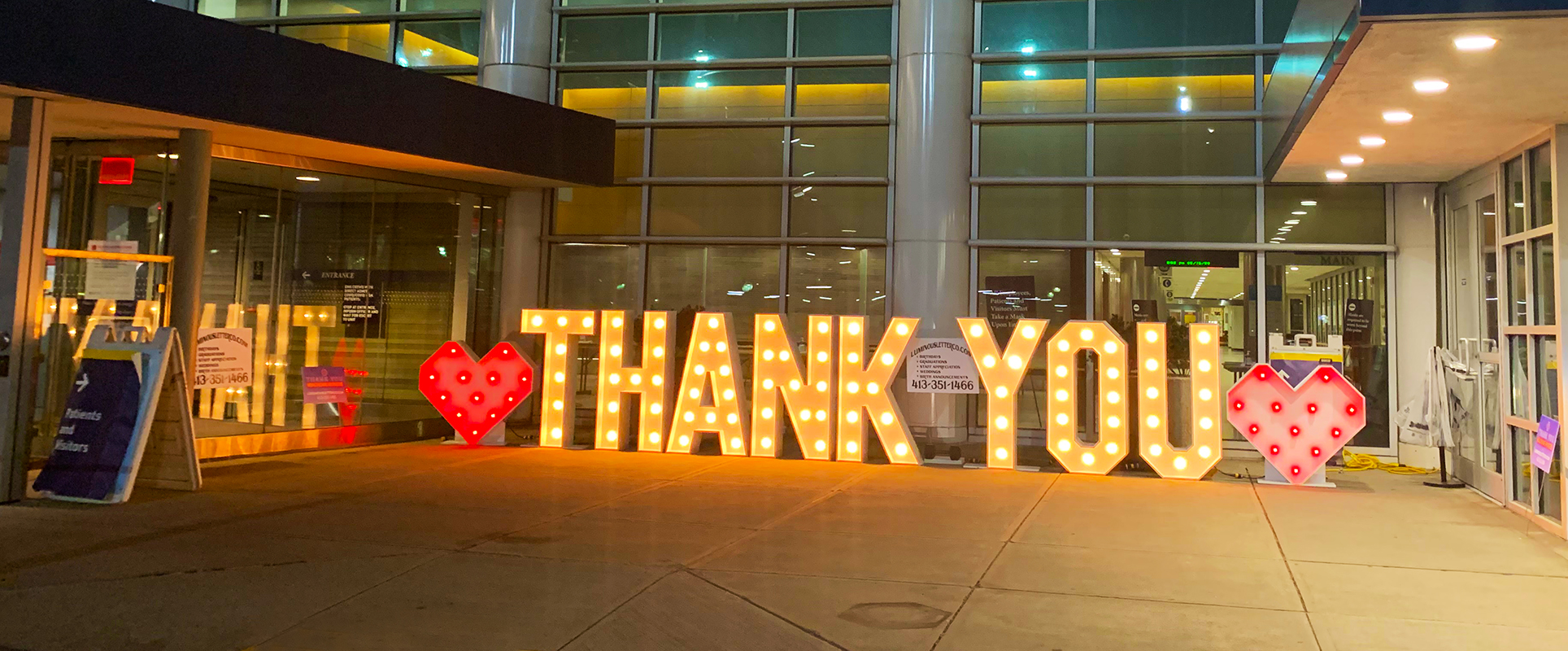 7 Ways Your Gift Has Made an Impact
Thanks to your generosity, we have made important headway in our battle against COVID-19. Our attack on this invisible pathogen is comprehensive — at the bedside, in our labs and classrooms, and throughout our local and global communities — efforts buoyed by stories of strength, resiliency and hope.
YOUR SUPPORT HAS HELPED US:
1. Keep our patients and healthcare workers safe.
Mass General acquired and distributed personal protective equipment — including masks, face shields, gloves and other supplies — to protect patients and employees. Teams rapidly reconfigured hospital space to accommodate COVID-19 patients and more than double Mass General's Intensive Care Unit (ICU) capacity.
Nurses and interpreters staffed our COVID-19 Hotline, ready to offer help at any hour of the day, regardless of immigration status or insurance.
2. Develop innovative solutions for much needed equipment and supplies.
Through the Mass General Brigham Center for COVID Innovation, hundreds of scientists, inventors, engineers, clinicians and industry members have collaborated to swiftly design, validate and produce critical devices for patients and frontline workers, including emergency use ventilators, patient isolation booths and hoods, face shields, N95 respirators and surgical masks.
3. Create new methods to test, diagnose and treat COVID-19.
Mass General clinicians and investigators have developed new testing practices and platforms, advancing worldwide efforts to identify patients who have the virus and to broadly scale up testing capacity.
Through a rigorous scientific review process, we are now focused on 23 of the most promising treatment trials. A vaccine developed at the Ragon Institute of MGH, MIT and Harvard is expected to be in clinical trials in humans this fall.
4. Respond with urgency in COVID-19 hotspots like Chelsea and Revere.
We created and implemented a four-part, community-based strategy to control the spread of COVID-19, address critical social needs and help hard-hit neighborhoods recover.
Mass General's Center for Community Health Improvement worked with local officials to help provide food for thousands of families. In Chelsea and Revere, teams delivered more than 11,000 care kits with masks, hand-washing supplies and educational information in English and Spanish.
5. Re-deploy, train and support staff to meet evolving needs.
Mass General redeployed nearly 1,000 employees, many of them from the research community, filling more than 9,000 shifts across the hospital.
As staff took on new responsibilities in different settings, teams developed new partnership and training models for maximum flexibility and efficiency. Some nurses even came out of retirement to rejoin colleagues on the front lines.
6. Bring relief to our employees while they battle the pandemic.
We have provided thousands of meals, childcare support and transportation subsidies as well as more than 4,000 hotel stays for Mass General staff.
Through our COVID-19 Employee Grant Program, we directed extra financial support to more than 3,600 Mass General employees facing hardships such as family job losses, medical bills and even funeral expenses.
7. Enhance telemedicine options and virtual resources to make care accessible.
Drawing upon our two decades of telehealth expertise, we transitioned in-person appointments to virtual visits to safely provide uninterrupted care for patients during the pandemic.
Mass General's Spanish Language Care Group and the Disparity Solution Center developed COVID-19 resources in multiple languages to help patients, including those with disabilities, access the care they need.