Despite six years of battling peritoneal mesothelioma, a rare and devastating cancer, Paul Pratt has continued to live life to its fullest: riding his motorcycle, enjoying his large family and sweating through countless hot yoga sessions. He also has supported research at Massachusetts General Hospital Cancer Center.
Dr. Cusack's research is helping develop a new technology that identifies cancer cells unseen by the naked eye.
Thankful for his care there, the retired electrical worker is contributing to the research of his surgeon, James C. Cusack, MD, and oncologist Andrew X. Zhu, MD, PhD. Mass General has long been a pioneer in the field of cancer treatment and research. Dr. Cusack is researching a new way to detect and treat cancers such as the one that Mr. Pratt is fighting in the peritoneum, the cavity that surrounds his abdominal organs. Dr. Zhu is researching novel treatments for cancer that affects the liver.
The Challenge of Peritoneal Mesothelioma
For three decades, Mr. Pratt, of Worcester, Mass., was employed as an electrical worker where he was exposed to asbestos on the job. Three years after his retirement, he began to experience severe abdominal pain, inexplicable bloating and constipation. He spent months on a futile quest for a diagnosis. Finally, in desperation and pain, he drove to Mass General's Emergency Department, carrying a sheaf of test results.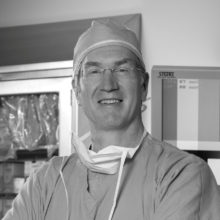 Mr. Pratt was admitted to the Mass General Cancer Center. Extensive testing revealed peritoneal mesothelioma, a form of cancer known to be caused by asbestos exposure.
"I felt kind of relieved that someone knew what was wrong," he says.
"Peritoneal mesothelioma is difficult to diagnose," Dr. Cusack explains, "because it is hard to detect on radiological scans and it lacks effective tumor markers." Relatively rare, the cancer is unfamiliar to most physicians.
Innovative Treatment
Dr. Cusack soon performed an innovative, two-part treatment on Mr. Pratt. He first removed visible tumors from the abdomen. The surgery was followed by a procedure called hyperthermic intraperitoneal chemotherapy (HIPEC), which channels heated chemotherapy directly into the abdominal cavity. For hours, the chemo soaks the abdominal cavity, destroying remaining cancer cells and tiny tumors, invisible to the surgeon's eye.
Since then, Mr. Pratt has experienced periods of remission, punctuated by more chemotherapy and two similarly grueling procedures. When feeling better, Mr. Pratt traveled — to Florida, through New England and several times to the Rocky Mountains. He also motorcycled around the country and worked on an addition to his home. To Dr. Cusack, Mr. Pratt's tenacity is extraordinary. "I've always been a fighter," Mr. Pratt acknowledges.
Care with Compassion and Creativity
He is grateful for the support of his girlfriend, Basia Kurkiewicz, and his extended family.
Mr. Pratt credits his physicians with giving him the finest care available, and doing so with compassion and creativity. "What I like about them is they listen to you," he says. Indeed, the topics of conversations with his doctors range from the next clinical steps in treatment to such alternative treatments as hot yoga and apple cider vinegar.
"Paul has an impressive understanding of the full spectrum of cancer management approaches from conventional to alternative," says Dr. Cusack, who sees Mr. Pratt's interest in yoga and apple cider vinegar as Mr. Pratt's way of enhancing his quality of life.
Now, with the assistance of Dr. Zhu and Dr. Cusack, Mr. Pratt is seeking entry into a clinical trial.
Giving to Help Others
Mr. Pratt used some of the proceeds from a court settlement related to his mesothelioma to support research by Dr. Cusack and Dr. Zhu.
Dr. Cusack's research is helping develop a new technology that identifies cancer cells in the belly cavity unseen by the naked eye. Cancer cells over-produce an enzyme that becomes visible under far-red fluorescent light.
"We are developing this technology so we can improve the removal of the cancers in the belly," Dr. Cusack says. "We will have a better chance of controlling the disease and helping people to live longer." The technology is expected to be ready for a clinic trial in about six months. Dr. Zhu is researching treatments for bile duct and liver cancers.
Both physicians are grateful to Mr. Pratt. "Without Paul's contributions and the support of other patients," Dr. Cusack says, "we could not advance new technologies and treatments through the critical, early stages of development."
Mr. Pratt was honored earlier this year by the Mass General Cancer Center's 10th annual the one hundred, a celebration that highlights 100 people each year who have made an inspiring commitment to the fight against cancer. He hopes his donations will help others facing similar challenges. "I wanted to help the cause of fighting cancer," he says.
To learn more about abdominal cancer research or to make a donation, please contact us.