Our Mass General Planned Giving team is available to work with you to create a charitable gift that meets your client's personal charitable, estate, financial and tax planning needs.
Contact us with questions or for more information on ways your clients can make a gift. We are happy to provide suggested bequest language, life income gift illustrations or the hospital's tax identification number. Working together, we can create a planned gift that meets your client's goals and makes a lasting difference at Mass General.
Check out our Online Gift Calculator here to see how a charitable gift annuity or a charitable remainder trust might benefit your client. Here is suggested bequest language to share with your client.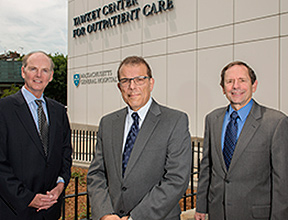 Phillips Society member
Tony Devito
is actively engaged with Mass General as a volunteer, donor and ambassador. Tony and his partners
Mark Rabbe
and
Barry Zischang
comprise Legacy Wealth Management, a subsidiary of RBC Wealth Management. They recently talked with us about philanthropic estate planning.
Q. What motivates your clients to make a charitable contribution to a certain organization?

Tony Devito: It's different for every client, but the themes that come up most often are:

A strong personal connection because the client or a loved one benefited from a service provided by the organization.
The institution is a recognized leader in its field.
Strong moral values. Clients who have done well want to "do well" by giving back.
A desire to leave a legacy to perpetuate personal beliefs or honor the life of someone who has passed on.
Tax and Estate Planning benefits

Q. How do you prefer to work with a non-profit's planned giving team?

Mark Rabbe: Good teamwork is very important. By working together with the donor to understand his or her goals and objectives, we can develop a plan for giving that meets the needs of the donor and the charity With goals clearly stated, and a plan in place, we can move ahead with the charity's planned giving team and determine the best way to make the gift.

Q. What factors are most important to consider when advising your clients on philanthropic planning?

Barry Zischang: As Mark stated, we need to understand what the client's objectives are for themselves, their family and the charity. This entails putting together a detailed plan for the client so that we understand what their cash flow needs are for their retirement and other goals. At that point, we can begin to evaluate what amounts are available to fund charitable gifts and how best to structure those gifts. This can run the gamut from very straightforward immediate gifts of cash or appreciated property to very sophisticated charitable trusts which can provide donors with help in meeting their personal goals, while at the same time benefitting charity.

Q. Can you give an example of how a charitable gift could help a client attain both a personal financial goal and a charitable goal?

Barry Zischang: There are several. Perhaps the simplest is the Charitable Gift Annuity available through MGH and many other organizations. The donor contributes cash or appreciated property and is guaranteed a lifetime income in return. The donor also receives a tax deduction, which is reduced by the present value of the lifetime income they are guaranteed. The added benefit of gifting appreciated property is that no immediate capital gains tax is owed when the charity sells the property to fund the annuity payments.

Another strategy for wealthy families who are doing estate planning is the Charitable Lead Trust. This trust will pay a charity a fixed amount of money for a specific term of years. At the end of the trust term, the remaining assets in the trust can pass to children or other beneficiaries. It is possible to structure this type of trust so that large amounts of money can be transferred to heirs free of any gift or estate tax. This can be a great way to benefit your favorite charity today and for years to come, while knowing that ultimately your heirs will receive what you wanted them to have.

Q. What holds potential donors back from implementing a charitable plan?

Tony Devito: Uncertainty! Unless we can answer the question, " Can I afford to give and not have it adversely affect my lifestyle?", most people are going to hesitate before making a major gift.

Mark Rabbe: That's right. That's why we use a number of financial planning tools and calculators to help clients answer that question.