"Beautiful" is how Arthur Epstein describes the rooftop garden and the children's courtyard in the Epstein Center for Behavioral Health which opened in October at the North Shore Medical Center (NSMC) in Salem, Massachusetts. Affiliated with the Massachusetts General Hospital Department of Psychiatry, the facility features the state's largest inpatient psychiatric service embedded in a full-service hospital. Mr. Epstein donated $5 million to the center, the largest single gift in the history of the North Shore hospital. The addition of 54 new psychiatric and behavioral health beds to the region improves access to psychiatric care while providing a safe place for families in crisis.
"We are incredibly appreciative of Arthur's gift, which will allow more people who need inpatient psychiatric care to receive the help they need …"
"Have you ever been in a mental hospital?" Mr. Epstein asks. "It's a scary place for a lot of people to go visit. But we shouldn't be afraid." With purposeful design features that allow light to stream into the facility and outdoor space for kids to play and adults to enjoy fresh air, the new Epstein Center provides a more positive environment for patients and families.
A Marblehead, Massachusetts resident for over 50 years, Mr. Epstein is a generous philanthropist who has served on the NSMC board since 2006. His transformative gift also honors his late wife, Eunice, who had bipolar disorder for most of her adult life.
"I am proud of my father's decision to make this generous and meaningful donation, in my mother's memory, to the North Shore Medical Center," his daughter, Lauren Rubin, said at the center's dedication ceremony in September. "Not only will it provide more access for North Shore families suffering from these complex illnesses, but hopefully help reduce the stigma by simply sharing our own family's journey."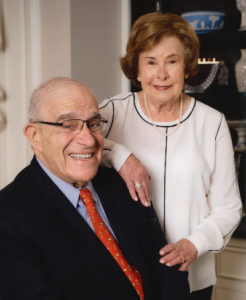 A Family's Difficult Journey
Mr. Epstein now lives in Boca Raton, Florida, with his wife, Bryna Litchman, whom he married in 2018 at the age of 81. Unpretentious and informal, with a zest for life and for fun, he is also candid about the difficult journey that began when Eunice, the mother of two small children and an infant, received her bipolar diagnosis at age 30.
"It was tough on her. It was tough on me," he admits. "When she was good, she was very good, when she wasn't…" Her illness was severe, intractable and treatment resistant. "She could never get it controlled the right way. You name the mental hospitals in Boston, I was in them."
He says he understands why spouses and family members sometimes walk away, recognizing there is a breaking point. But he speaks of his deep sense of obligation to Eunice, his high school sweetheart, who comforted him at age 16 when his father died. "She was there for me, period."
For their generation, mental illness was hidden in plain sight, the suffering exacerbated by shame and incomprehension. "I always tell people, if you went by a car accident and somebody was bleeding, wouldn't you stop? Well, you can bleed internally as well as externally."
Improving Access to Psychiatric Care
Mass General was one of the health care facilities that took care of Eunice. "I think the Psychiatry Department is superior," Mr. Epstein says. Access to psychiatric treatment remains a huge challenge, he notes. "You can't get to see people. And people don't know where to turn."
"If people have a certain amount of success, they have an obligation to give back, in many forms."
Mass General Psychiatry is one beneficiary of his many charitable contributions. He also donated $1 million to the Mass General/North Shore Center for Outpatient Care in Danvers. The new Epstein Center is a strong collaboration between the Mass General and NSMC Psychiatry departments. The MDs who work on the inpatient units in Salem will have appointments at both institutions.
"Access to care is a huge problem," says Joy B. Rosen, vice president for behavioral health at Mass General. "We are incredibly appreciative of Arthur's gift, which will allow more people who need inpatient psychiatric care to receive the help they need, and in such a calming and caring environment."
An Obligation to Give Back
Mr. Epstein, who grew up in Malden, Massachusetts, is a successful entrepreneur and investor. He bought his first Midas Muffler tire shop in 1965, eventually holding 30 locations throughout New England. He was also a partner in the real estate firm Cres Development.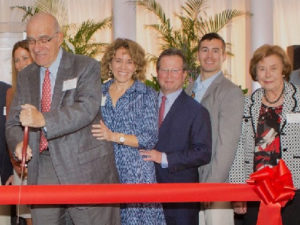 "If people have a certain amount of success, they have an obligation to give back, in many forms," Mr. Epstein says, summing up his philosophy. "There's so much out there that people need help with." Giving back, he adds, "just feels good."
Her father, says Ms. Rubin, imparted valuable lessons to her, her sister, Julie, and brother, Jonathan. "He taught us to live in the world in an unselfish way. He would tell us, 'it's not enough to be good, you need to do good.' He wants to do the right thing, and feel useful, and be of service to others. I admire that."
Ms. Rubin is a philanthropist like her father. Together with Mr. Epstein and his wife, Bryna, Ms. Rubin and her husband, Mark, are members of the Mass General Leadership Council for Psychiatry, made up of individuals and families dedicated to expanding awareness of mental illness and reducing its stigma. Mr. Epstein was asked by Council Co-Chair Michele Kessler to become a member, and he did.
"I was thrilled when Arthur agreed to become a member of the Leadership Council," Mrs. Kessler said. "He is a wonderful, generous man who knows all too well the toll of mental illness on a family—but also understands how philanthropy can help others and lessen their pain. I am proud to know him."
"It's important," Mr. Epstein says of the Council's work. The Council's motto, "No Family Goes Untouched," holds special resonance for Mr. Epstein. "We all walk on a very fine thread and you can tip either way," he says, softly.
To learn more about how you can support the Mass General Department of Psychiatry, please contact us.