Despite a 23-year battle with pulmonary fibrosis and a long stay in the intensive care unit at Massachusetts General Hospital, Diane Toomy was determined to never stop laughing.
"Life's not worth living if you can't live and enjoy it," Diane told a crowd of well-wishers who gathered in spring 2016 to commemorate her treatment by Mass General. The laugh-filled celebration was videotaped.
Diane died in September 2016, at the age of 57. But to recognize Mass General's efforts to save her life – which included a lung transplant – her son Rob is running this year's Boston Marathon as a member of Mass General's Emergency Response Marathon Team.
Rob, 33, a real estate agent who lives in Ashland, Mass., couldn't think of a more fitting way to thank the medical professionals who helped his mother live and laugh longer. "She and we were very lucky she went to Mass General," he says.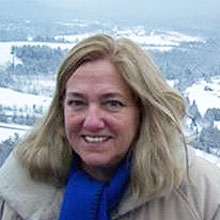 Persevering with Help
For more than two decades, Diane suffered from pulmonary fibrosis, a disease in which tissue deep in the lungs becomes thick, stiff and scarred, interfering with a person's ability to breathe. Yet, Diane never complained, even as the disease became more debilitating.
"Her attitude was things happen so you have to deal with them," Rob recalls. "There are no excuses."
Diane stayed active, even playing soccer, although for a time she needed to rely on an oxygen tank to breathe. "She lugged that tank around everywhere," Rob says. It didn't stop her from teaching pre-kindergarten classes at Mary E. Finn School in Southborough, Mass., near her home in Northborough, or from taking a trip across the United States with her husband, Mark.
A Family's Long Journey
In August 2014, Diane was near death, Rob says, and was admitted to Mass General's emergency room. She soon had a lung transplant. Because of complications, she needed 446 days – most of which were in the ICU – to recover at the hospital.
Diane's long journey to better health took a toll on Rob, his dad, and his two younger siblings, Stephen and Katie. But throughout it all, the family had confidence in Mass General staff and a strong sense Diane would recover. "I just couldn't believe all the medical advances and great care she received," Rob recalls.
Diane lost her sight, a complication from her treatment, and also fell into several comas and for a time couldn't speak. But as she recuperated, her love for Mass General's doctors, nurse and technicians never wavered, Rob says. Many of them attended her wake and funeral.
Miles of Gratitude
This will be Rob's second Boston Marathon. Ten years ago, he ran the marathon to raise money for cancer research after losing an uncle to the disease. His mother appreciated the tribute to her brother-in-law.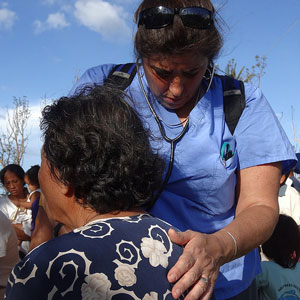 Recalling that fundraising drive prompted Rob to this year raise money for the hospital that his family credits for giving Diane a few more years of joy. His efforts have pleased his siblings and his father.
"They were married for 34 years," he says. "My mom was everything to my dad, and my dad was everything to my mom. It's been tough on him. He's a real estate agent and all that time he cared for her while running his own business. But I certainly have an amazing family after all that happened. We came together and said, 'What can we do to help?' That's why I'm running. I knew she'd appreciate it."
Please consider supporting Rob and other runners raising money for Mass General's emergency response efforts.
John Hancock and Mass General Celebrate 20 Years of Marathon Partnership
This year marks the 20th anniversary of John Hancock's partnership with the Mass General Marathon Program. John Hancock provides Mass General runners with bib numbers for the race.
Since it was formed in 1998, Mass General's Pediatric Oncology Team has raised more than $12 million to support research and child life activities for children with cancer. In 2014, John Hancock worked with the Boston Athletic Association to award the hospital additional bib numbers to create the Emergency Response Team. That effort acknowledged the lifesaving response of hospital personnel following the Boston Marathon bombing in 2013. Since then, that team has raised more than $1 million for the hospital's emergency preparedness and disaster training.
In addition to these teams, runners who obtained their own bib numbers for the Boston Marathon will run for the Miles for Mass General program, which raises funds for hospital programs that are close to their hearts. Programs being represented by 2017 runners include Botswana Oncology Global Outreach, Caring for a Cure, Cystic Fibrosis, Down Syndrome and the Lurie Center for Autism.
To learn more about the Mass General Boston Marathon Program, please visit our website.